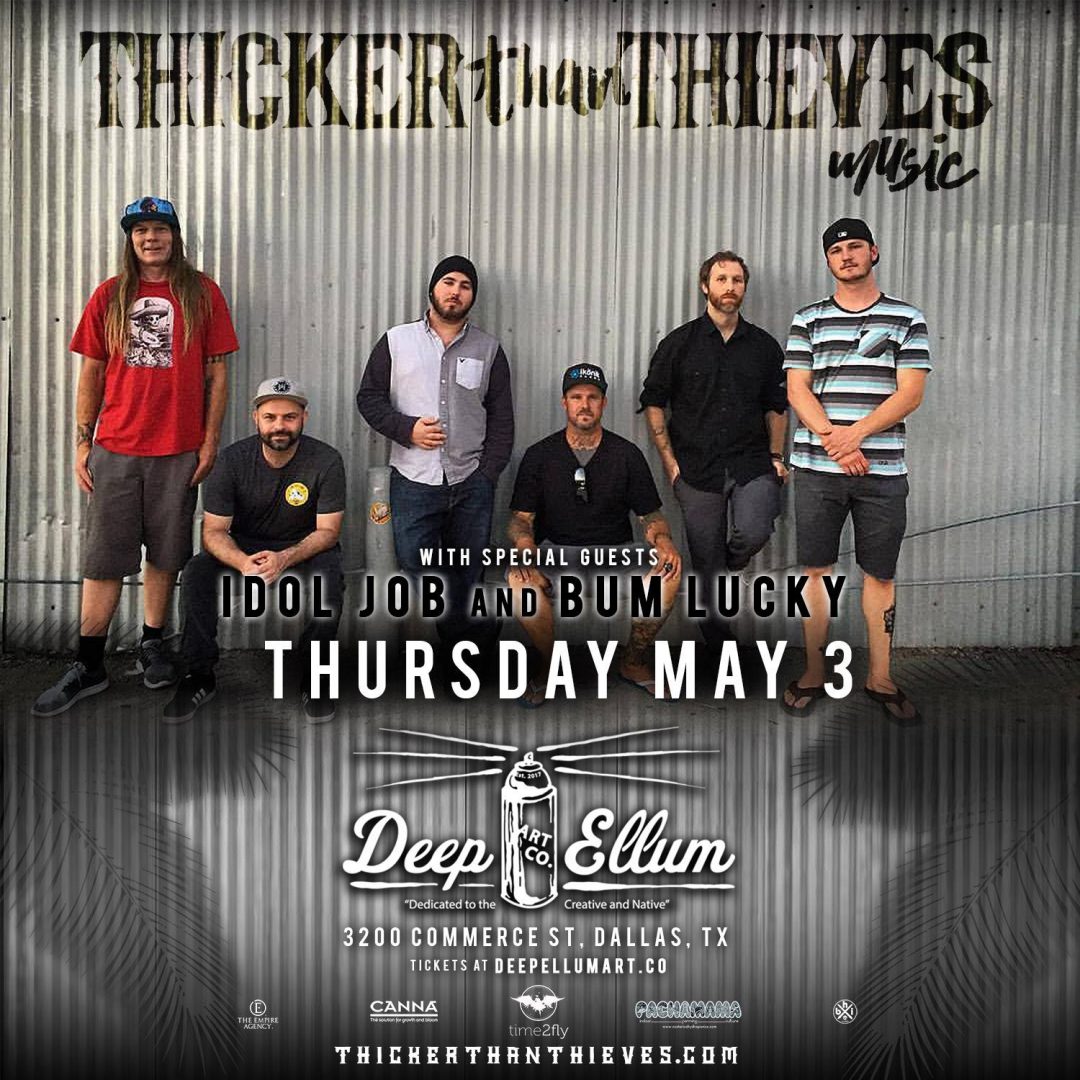 Thicker Than Thieves with Bum Lucky w idoljob
at

Deep Ellum Art Company
Deep Ellum Art Company Presents:
[ live music / art gallery / backyard / bar ]
Thicker Than Thieves
[ rock / reggae / soul ]
www.thickerthanthieves.com
Defying the current state of popular music,Thicker Than Thieves successfully blends soulful vocals, searing guitar solos, and a rock-reggae based rhythm section to create a unique signature sound.
"San Diego based, Thicker Than Thieves pump out a sun-baked and surf inspired mix of heavy, reggae inflected bass lines and blazing guitars," wrote Bill Picture, staff writer, San Francisco Examiner. Inf
luences ranging from Bad Brains, Bob Marley, The Clash, and classical composers like Dvorak, have allowed TTT to bring a multi-faceted yet widely appreciated original style to a diverse fan base.
For this hardworking band, the philosophy is simple: play positive music that makes people dance, and to inspire the youth."
Bum Lucky
[ original reggae / rock&roll / dub ]
www.bumlucky.com
Bum Lucky was born out of the desire to cultivate a distinguished reggae music scene in the Dallas-Fort Worth region. Being located far from the beaches and pot-friendly atmospheres where the genre thrives forced the four-piece to dig deeper in its songwriting and sound — a welcome challenge that thrust the music new heights and enticed bands such as Fortune Youth and Tribal Seeds to play alongside Bum Lucky in their hometown.
The band's latest EP, Show Some Love, is founded in roots-rock reggae and dub, and tinged with elements from southern rock and blues. The result is a collection of songs as gritty as they are seductive — the music embodies a rebellious spirit that serves as both a call to action and remedy on the dancefloor.
idoljob
[ sexy roots reggae ]
www.idoljobmusic.com
Roots Rock Reggae band from Arlington Texas! Bringing those smooth harmonies, heart-stoppin bass, that dub stylee and wailing guitar riffs to melt your face off! Guaranteed to make you shake it!
"When Idol's on the Job, it goes hard like cement."
Combining all their Captain Planet-like super powers of reggae, rock, roots, soul, jazz, metal, pop, hip-hop and rap – they are currently working on their debut album to be released in 2018!
>>> Tickets on Sale Now!
>>> http://bit.ly/ThickerThanThieves
>>> $10 ADV / $15 DOS
>>> Limited amount of $5 Early Bird Tickets available
PARKING:
Street parking available on Commerce (front) & Murray (side). Lot parking is available on Canton (back) across the street in the Equipment and Maintenance Services building after 6pm. We do not recommend parking in the business lot on Murray.
DRINK SPECIAL:
1/2 off Wine on Draft