HeartByrne plays Talking Heads + Thin White Dukes (David Bowie) | May 23rd
Deep Ellum Art Company Presents:
[ live music | art gallery | bar | art yard ]
http://DeepEllumArt.Co
HeartByrne
[Talking Heads Tribute]
+
Thin White Dukes
[David Bowie Tribute]
On Saturday, May 23rd.
Tickets on Sale NOW!
>>>http://bit.ly/HeartByrne_ThinWhiteDukes523
David vs David!
-HeartByrne (Talking Heads Tribute) returns to Deep Ellum for a an epic Saturday Night featuring support from Thin White Dukes (David Bowie Tribute)
-HeartByrne pays tribute to Talking Heads and David Byrne, who fused pop, funk, art rock, and African rhythms into the most adventurous, danceable and timeless music to emerge from the new wave movement.
-HeartByrne picks up the torch where the seminal concert film 'Stop Making Sense' left off, breathing new life into the classics and pushing the grooves into uncharted sonic territory.
-HeartByrne is must-see international touring act featuring vocalist Andrew Harn and an all-star lineup based out of Austin, TX.
---
GoldFish | Deep Ellum Art Co. | May 29th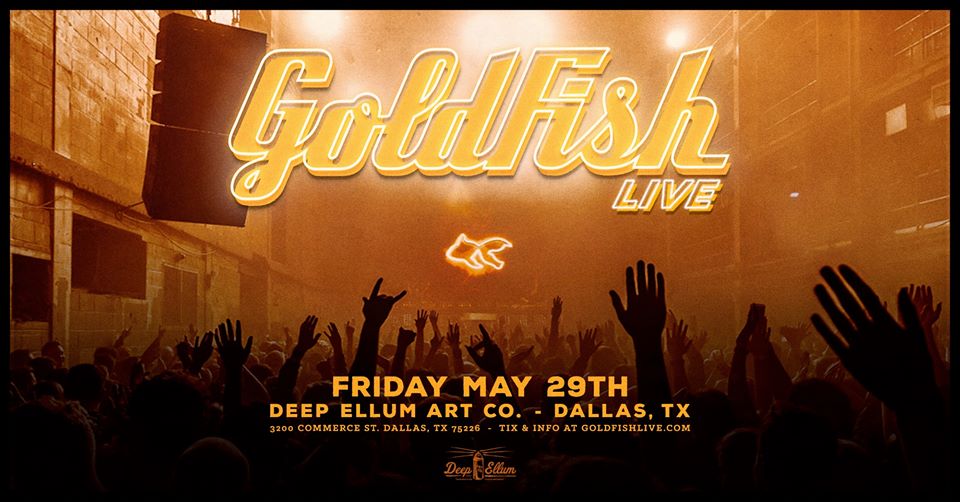 Deep Ellum Art Company Presents:
[ live music | art gallery | bar | art yard ]
http://DeepEllumArt.Co
GoldFish
[organic house | electronic | funk]
Feels like: Bakermat, Caravan Palace, Mo' Horizon
🎶:https://open.spotify.com/track/3jFGX7SScFOT7cQLqOkgbT
💻: https://youtu.be/R-tCE9Mh1kE
About GoldFish:
The secret is officially out. An electronic duo from the Southern-most tip of Africa have gone from one of Dance Music's best kept secrets to an act tipped by industry tastemakers as the band to watch this year.
Their genre-defying mix of live instruments, House beats and searing live performances has seen Goldfish go from impromtu jams at a tiny beach club in Cape Town to headlining Amsterdam's Olympic Stadium, cracking a top 10 on the US iTunes Dance chart, a residency at Pacha Ibiza with David Guetta and DJ's like Fedde le Grand knocking at their door to do remix their tracks. It's almost hard to believe that not very long ago they were just Dom and Dave, two music students who lived a relatively chilled life of surfing and playing music in their home town Cape Town.
All that really did change when they decided to record an album. Not having a record deal or much money, they simply locked themselves in a bedroom…with a double bass, a saxophone and a couple of synths, recording their debut Caught In The Loop on their own. A charming dance record that received massive support from the international dance music scene, desperate for something fresh and new. Pete Tong even called it his Ibiza Poolside Album of the Summer.
The two guys quickly found themselves maintaining gruelling international tour schedule that saw them play sold-out shows from Amsterdam to Miami, from the Sydney Opera House to Sao Paulo, in-between still finding time to mix the covermount CD for DJ mag international, garnering a record-breaking 8 SAMA nominations, numerous number ones radio at home, as well as performances at Glastonbury, Sensation White, Ultra Festival Miami, 46664 and Get Loaded in the Park amongst others.
They even got their hands on a residency to die for; Friday night at Ibiza super-club Pacha. Here they developed their sound further and presented it on their second album Perceptions of Pacha. As no other album, Perceptions Of Pacha captures the carefree vibe of the magical island of Ibiza, with their track Fort Knox cracking the Top 10 on the US iTunes Dance Charts. Following that up with the SAMA award-winning album Get Busy Living featuring the smash Youtube hit video We come together that garnered millions of online views for it's hilarious and ground breaking animation work that has become a Goldfish trademark.
With props coming from everyone from Dr Dre, Sebastian Ingrosso, Pete Tong, Sander Kleinenberg, Fedde Le Grand and Faithless, watch this space. The Re-invention of the DJ has arrived.
---