---
The Zeppelin Project, The Doors Hotel, & The Vinyl Countdown Jan. 10th
Deep Ellum Art Company Presents:
[ live music | art gallery | bar | art yard ]
http://DeepEllumArt.Co
The Zeppelin Project – A Tribute to Led Zeppelin
The Doors Hotel – Doors Tribute Band – A Tribute to The Doors
The Vinyl Countdown – A Tribute to Arena Rock
on Friday, January 10th, 2020
---
Audic Empire – Jan 10th – Sublime Tribute Concert AfterParty
Foundation Room Dallas & Time2Fly Music present;
Audic Empire playing the Foundation room after BadFish Sublime tribute in the Main Room!
---
Josh Pearson Goes Phish (2 Sets, One Phish) + Artemis Funk Jan. 11th
Deep Ellum Art Company Presents:
[ live music | art gallery | bar | art yard ]
http://DeepEllumArt.Co
Tickets on Sale NOW!
>>> http://bit.ly/JPGoesPhish_ArtemisFunk
Josh Pearson
Goes Phish
2 Sets, One Phish
+
Artemis Funk
[blues | rock | jazz
---
Lowdown Brass Band + Guerilla Funk | Dallas, TX Jan. 16th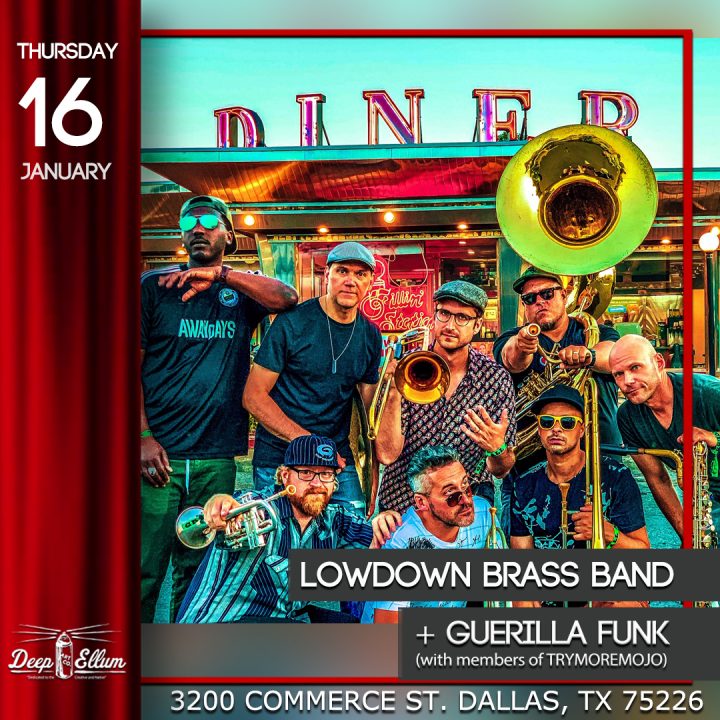 Deep Ellum Art Company Presents:
[ live music | art gallery | bar | backyard ]
http://DeepEllumArt.Co
Lowdown Brass Band and Guerilla Funk on Thursday, January 16th, 2020!
LowDown Brass Band – Chicago, IL
[brass | street funk | crunk]
Feels like: Fela Kuti, Lee 'Scratch' Perry
Guerilla Funk – Dallas, TX
ft. members of TryMore MOJO
[improv |space funk | jam]
Feels like: TryMoreMOJO, STS9, Spafford
About Lowdown Brass Band:
LowDown Brass Band (LDB), hailing from Chicago, is a horn-driven ensemble with strong roots in the New Orleans Second Line Tradition. A fierce sousaphone sets the foundation for trumpets, trombones and saxophones that intertwine in a cacophony of tight lead lines, spontaneous call-and-response and bombastic brass attacks. While taking a page from the jazz and blues giants of the past, LDB melds modern funk, hip-hop, reggae and pop into a unique style. Always a party, Lowdown forges new ground with original compositions that create a high-energy deluge of danceability!
—
"Get up everybody, clap your hands and stomp your feet—it's time to get funky!" I kid you not, these guys woke me up with a tuba keeping the main beat/rhythm for the first good portion of the song. There's no way to be lazy when somebody is working this hard to be happy. Fun fun way to start the week—thanks! Foot tapping or body swaying, doesn't matter which—the week is started with a smile."
—eartaste.blogspot.com
About Guerilla Funk:
Guerilla Funk is a collective of Dallas' funkiest and most fresh musicians, curated by TryMore MOJO
---
Jamily Sampler ft. Goodwin, Mahagonie, Chancy & Meach Pango Jan. 17th
Deep Ellum Art Company Presents:
[ live music | art gallery | bar | art yard ]
http://DeepEllumArt.Co
Goodwin
[funk | indie | pop]
https://soundcloud.com/goodwinband
Mahagonie
[psychedelic | rock | jam]
Feels like: Khruangbin, Grateful Dead
Debut Album 'Cabin Salad' out Now!
http://bit.ly/MahagonieCabinSalad
Meach Pango
[new wave | alternative | rock]
http://bit.ly/MeachPango
Chancy
[funk | electronic | rock]
http://bit.ly/Chancy_music
---
Mike Dillon Band + Ten Hands | Dallas, TX Jan. 18th
Deep Ellum Art Company Presents:
[ live music | art gallery | bar | art yard ]
http://DeepEllumArt.Co
The Mike Dillon Band + Ten Hands on Saturday, January 18th!
(ft. Norwood Fisher of Fishbone)
Tickets on Sale NOW!
>>> http://bit.ly/MDB_TenHands_Dallas
The Mike Dillon Band
[punk | funk | drum core]
Feels like: Marco Benevento, Galactic, Medeski, Martin, & Wood
+
Ten Hands
[rock | funk| jazz]
Feels like: Tripping Daisy, The Meat Puppets
---
Neal Francis & Colby Dobbs Band ‑ Heist Brewery Jan. 19th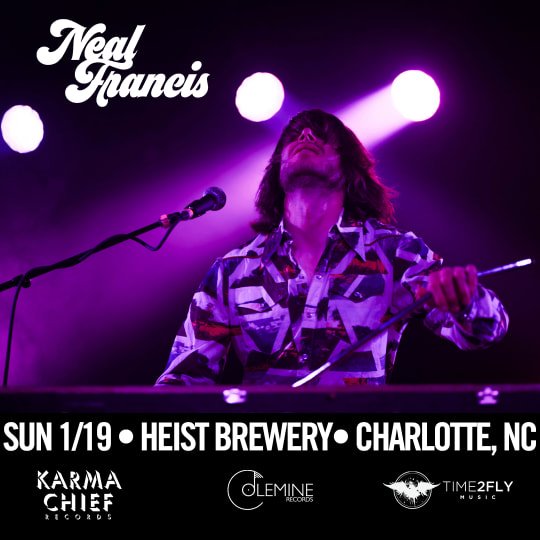 Time2Fly Music Presents – Neal Francis & Colby Dobbs Band at Heist Brewery
$10 – Presale
$12 – DOS
Neal Francis
There is a deep connection between Francis's childhood—his obsession with boogie woogie piano, his father's gift of a dusty Dr. John LP—and the songs he's created. The result is an astonishing collection of material without parallel in the contemporary funk and soul scene. The influences are unmistakable: the vocal stylings of Allen Toussaint and Leon Russell; the second line rhythms of The Meters and Dr. John; the barroom rock 'n' roll of The Rolling Stones; the gospel soul of Billy Preston; the roots music of The Band. Francis pays tribute to the masters but has his own story to tell: "It's the life I've lived so far."
Colby Dobbs Band
Colby Dobbs Band (CDB) has been steadily increasing their fanbase, catalog of songs and overall momentum since the group's inception that brought together an original mix of piano-driven, jazz-influenced pop songs in 2010. Colby Dobbs Band was formed by lead singer/keyboardist Colby Dobbs and bassist David J. Sentendrey after the two had previously worked on a project at a church outside Charlotte, North Carolina.
Both Dobbs and Sentendrey were looking to put their time, energy and talents into an original project that could appeal to a diverse audience and most importantly, produce songs that they could be enthusiastic about — and not just because they were their own. Colby Dobbs Band's original lineup produced their debut album, "The Great Unknown," which debuted in spring 2012. The album showcases the group's ability to write pop music with catchy hooks, while maintaining song structures that can be sophisticated and unique for their era.
The group has since added Curtis Wingfield (drums), Marcus Harmon (saxophone) and Charlie Trexler (guitar) to round out their sound and most importantly, add a new sense of energy to their live sound that will be driving them into a music room near you…
"On stage there were sounds being crafted unlike anything heard in the local music scene. The musicianship was apparent but not in-your-face, the songs were expertly crafted and the band was clearly having the time of its life." — Nick Dorney, Niner Online
"The reason I like this one ('The Great Unknown') so much is the fact that it has the three components that all great songs need; innovation, catchy lyrics, and great music." — Vinny Sciascia, The Under-Cover Album Review
"…I'm going to stop here and say that this is one of the best local bands in Charlotte." — Stan Cocheo, PMCR Radio Host
"Wow! That is my initial gut reaction to my experience of a live show by Colby Dobbs Band…It is obvious that this group is serious about what they do and their goal is creating amazing music that will appeal to a lot of people." — Stephen Coombs, Live Limelight
"All and all, The Colby Dobbs Band is a well-rounded group with depth that takes them a step further than many groups that do "the funk thing". No stand out rock stars or crazy antics. Mostly authentic vintage mood and good songwriting." — Charlotte Musicblog
---
Grant Farm at Deep Ellum Art Company Jan. 22nd
Deep Ellum Art Company Presents:
[ live music | art gallery | bar | art yard ]
http://DeepEllumArt.Co
Grant Farm
[cosmic americana | psychedelic rock]
Feels like: Leftover Salmon, Yonder Mountain String Band, Railroad Earth
About Grant Farm:
Boulder, Colorado-based Americana band Grant Farm has entertained a growing fan base on the nation's club and festival scene since its founding in 2009 by vocalist and National Flatpicking Guitar Champion Tyler Grant.
Built on the fundamentals of love, family, and music, the band is a sure bet for fans of high-energy, authentic artists as diverse as Sturgill Simpson, Jason Isbell, and Phish. Comprised of zany, creative and highly musical comrades, Grant Farm members include Grant (aka "The Champ"), Adrian "Ace" Engfer (bass and vocals), Sean "Magic" Macaulay (drums) and Kevin "Money" McHugh on keyboards.
Daniel Mescher of Colorado Public Radio dubbed Grant Farm "some of the ablest musicians not only in the state of Colorado, but in the nation." Members' prior experience includes playing with groups like The Emmitt-Nershi Band, Donovan Frankenreiter and Hot Soup. Collectively, they had also shared stages with notable artists Sam Bush, Jerry Douglas, Tim O'Brien, Tony Rice, Keller Williams, Jon Oates and the like and with notable groups The String Cheese Incident, Greensky Bluegrass, Yonder Mountain String Band and The Infamous Stringdusters.
The band's latest release, Kiss the Ground (Summer 2016), represents its first full-length concept album and its third album of original music. Speaking to the struggles we all face as working people, Kiss the Ground sends a positive message while acknowledging real hardship in a society that expects far too much. "We think of this as our ode to the working people," says Grant, whose song, "Get in Line," discusses the high price we pay for things we want in life. Kiss the Ground explores real and mythological connections to the human struggle and pays homage to the "Working Class Hero," an archetype famously described by John Lennon.
Previous Grant Farm albums include a 2012 self-titled debut and a 2014 follow up, Plowin' Time, which reached #2 on JamBand Radio Charts and charted on Americana Radio. In 2014, the band also released the Meeting on the Mountain EP, an inspired collaboration with the group Fruition.
The band has also created the acclaimed Meeting on the Mountain LIVE, a collaborative, live webcast concert experience featuring Grant Farm as the house band and Tyler Grant as host. To date, episodes have featured Dave Bruzza of Greensky Bluegrass, Bill Nershi of String Cheese Incident, Todd Sheaffer of Railroad Earth, The Dead Winter Carpenters and other guests.
Like a "traveling Gypsy family," Grant Farm enjoys their life of touring, writing and adventuring together as they share their music up and down the North American roots music line. For tour dates, booking and purchase information, visit GrantFarm.net.
---
Samoht | Dallas, TX | Jan. 23rd
Deep Ellum Art Company Presents:
[ live music | art gallery | bar | art yard ]
http://DeepEllumArt.Co/
Samoht
[r&b | soul]
Feels like: Avery Wilson, Brik.Liam, Durand Bernarr
Tickets on Sale NOW!
---
Perpetual Groove + Funk You | Dallas, TX Jan. 24th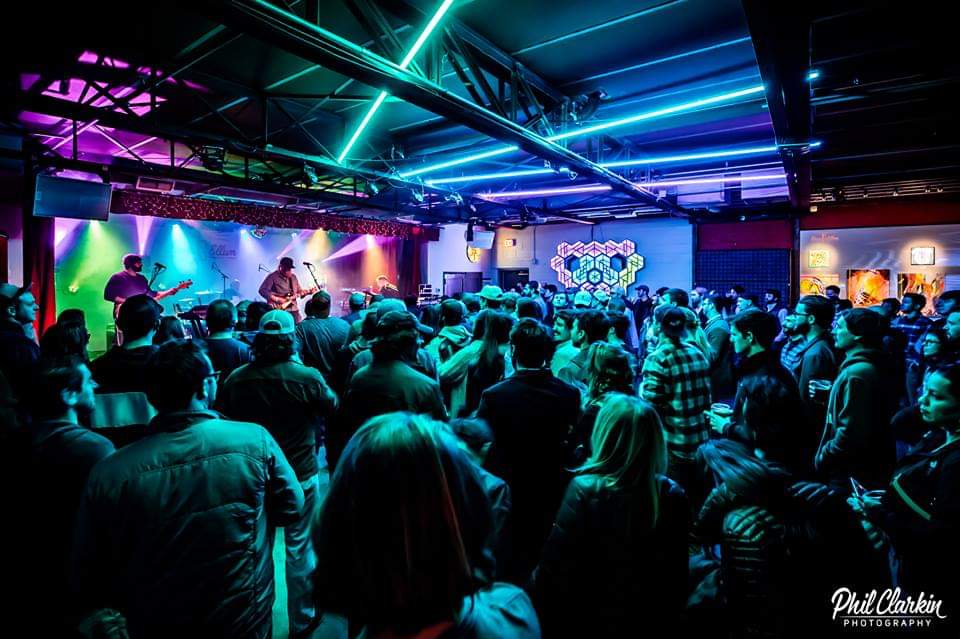 Deep Ellum Art Company Presents:
[ live music | art gallery | bar | art yard ]
http://DeepEllumArt.Co/
Perpetual Groove + Funk You at Deep Ellum Art Company on Friday, January 24th!
Perpetual Groove (Athens, GA)
[ rock | jam | prog ]
www.pgroove.net
Feels Like: Twiddle, The Motet, Lotus
+
Funk You (Augusta, GA)
[progressive funk | rock]
www.funkyoumusic.com
Feels like: Dopapod, Octave Cat, Turkuaz
About Perpetual Groove:
Perpetual Groove caught everyone by surprise in 2015 when they returned to the stage after a two-year hiatus. The band performed eight weekends that year, over multi-night runs, to sold-out shows in some of their favorite cities across the country, thus ringing in a new chapter for Perpetual Groove. The band resolved to make a big change by taking the time to craft, and bring to focus, music that stays true to their creative vision.
That change is here on their new self-titled album. The band recruited producers Jason Kingsland and Tim Friesen to help them accomplish the most engaging and sonically-gratifying Perpetual Groove album to date. While recording at The Fidelitorium in Kernersville, NC and Studio MG in Roswell, GA, the band and producers engineered an album that will define Perpetual Groove for years to come. Seven new songs were written by the band specifically for this album representing all that life brings—loss, redemption, and hope.
Perpetual Groove continues to create a cultivated, unique experience for each live show. This new chapter for Perpetual Groove showcases the continuing evolution of their music and performances. This is a band that is fully realized and ready to bring their new sound, storytelling, and live experience to the masses.
About Funk You:
Funk You humbly contributes to a music scene that has given them so much. The band steadfastly crafts and develops their sound while touring across the country, growing closer as a family of musicians. Focusing on the many styles that construct and compose the glorious genre of funk, these players artfully blend clean and powerful vocals with passionate musicianship. Funk You feels most at home on stage, their captivating live performances keep fans coming back time and time again. We look forward to sharing our music with you!
---
TryMore MOJO at Four Quarter Bar | Jan. 24th
10 pm
$8 Cover
Seeking the highest of interstellar peaks, TryMoreMOJO guides the listener on their mission through space with their blend of funky riffs, modular soundscapes, energetic vocals, and heavy grooves; inviting fans to contribute their energy in a give-and-take partnership between performer and listener.
The Dallas, TX based group has worked tirelessly to solidify and expand their position in the southern region. Starting with a sold out debut show in 2016 followed by continuous regional performances, and nominations for "Best Funk Act" & "Best Electronic Act" by the Denton Area Music Awards before the end their first year; MOJO showed a tangible amount of momentum and persistence, opening doors to many future opportunities.
That momentum has started to steamroll with the band sharing stages with national acts such as, Snarky Puppy, STS9, Papadosio, TAUK, Charli 2na, Naughty Professor, Aqueous, Chris Dave & The DrumHeadz, BIG Something, CBDB, The Werks, Ghost Light, JJ Grey, Eminence Ensemble, Cycles, Steady Flow, Voodoo Visionary, Iceman Special, Forgotten Space, Funk You, The Jauntee and more.
Meticulously working in the studio, MOJO is set to release their debut EP in Spring 2020, all the whilst maintaining a road-ready regional presence. With a growing fanbase eager to see what this band of unique personalities has to bring to the table, Its The Time to "TryMoreMOJO"
"MOJO an upcoming funk/electronic band are exactly what you need after a long week. Not only do they bring the grooves needed to wash away the stress of the week, the visuals provided are simply astounding. MOJO is like watching your own personal Pink Floyd, meets Rage Against the Machine, meets STS9, yes I went there. Do not miss these guys…" – DentonRadio.com
---
Lettuce Live at Granada Theater | Jan. 25th
Dallas, it's time to get funky! For the past two decades, Lettuce has been bringing new life to classic funk with their smooth, soulful grooves and hip-hop inspired sound. Known for their die-hard fan base and energetic shows in and out of the festival circuit, you can catch these guys at the Granada Theater on January 25th.
Goes great with: Galactic, Snarky Puppy, Umphrey's McGee, Moe.
Tickets on sale here:
https://www.prekindle.com/promo/id/530585115378492260?fbclid=IwAR2MlK_AoQKF_uOO2udsGEEdJ9IcG0JPlxbT0TmGjwzPsFUkORS_gdngJAk
---
Bandolero (Grateful Dead Tribute) ‑ Trey Anastasio Band Pre-Party Jan. 26th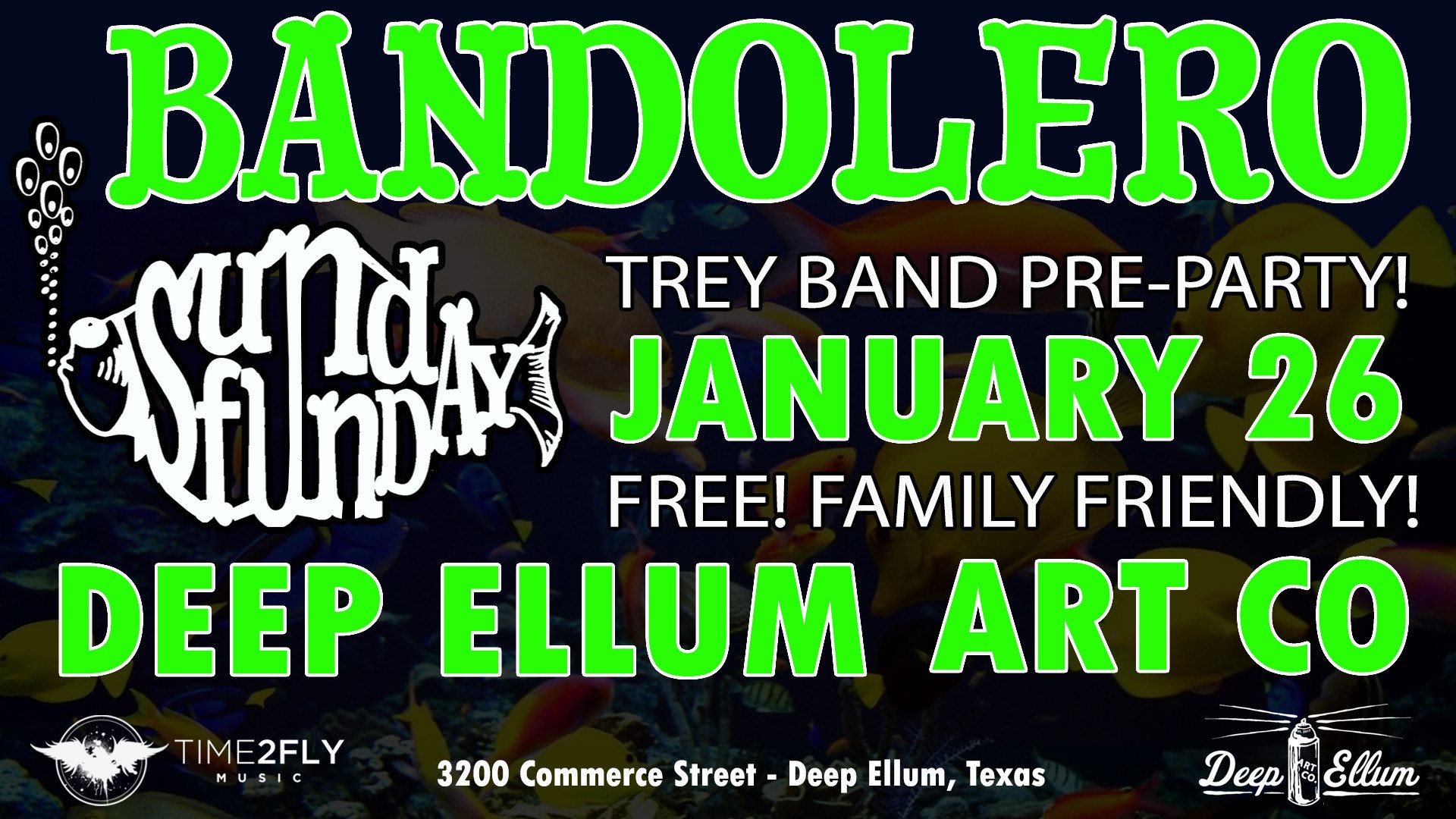 Deep Ellum Art Company Presents:
[ live music | art gallery | bar | art yard ]
http://DeepEllumArt.Co/
Bandolero (Tribute to The Grateful Dead )
Trey Anastasio Band Sunday Funday Pre-Party!
NO COVER!
---
Dallas miniFEST (1/29/20)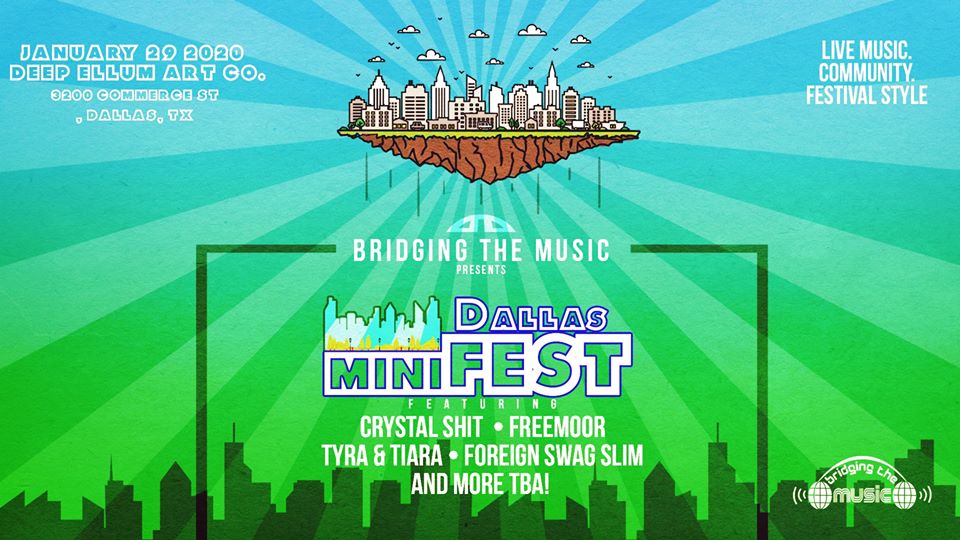 Bridging The Music Presents: Dallas miniFEST (1/29/20)
Bridging The Music is headed to Dallas for an evening of music, art & community in a festival style atmosphere!
Come support top notch local and touring acts, visual artists and more.
Date: Wednesday, January 29th, 2020
Time: 6:00 pm Doors / 7:00 pm Show
Location: Deep Ellum Art Co., 3200 Commerce St, Dallas, TX 75226
Ticket Cost: $15.00 + $2.99 Processing Fee = $17.99 Total Ticket Cost
Tickets will be $20 at the door the night of the show +$5 for under 21
Follow us on Instagram @bridgingthemusic
Interested in Performing or Creating/Selling Art/Vending? Contact us here thru FaceBook OR booking.bridgingthemusic@gmail.com
---
Henry Invisible, MONTU, & Daydream Sleepshaker | Jan. 31st
Deep Ellum Art Company Presents:
[ live music | art gallery | bar | art yard ]
http://DeepEllumArt.Co/
Henry Invisible
[funk | soul | dance]
Feels like: The Motet, Sunsquabi, The Floozies
MONTU
[jamtronica | funk | rock]
Feels like: Umphrey's Mcgee, EOTO, Papadosio
Daydream Sleepshaker
[psychedelic | rock | dream-pop]
About Henry Invisible:
Henry + The Invisibles (Henry Roland) is a live-looping, multi-instrumentalist aka "The One Man Funk Band" that loops and layers vocal harmonies, funk guitar, grooving bass, soulful keyboards and powerful percussion to create original high energy dance music that sounds like a solid 5 piece funk ensemble!
About MONTU:
"MONTU is an Oklahoma-based jamtronica act that's been consistently building a name for itself in the Midwest and beyond. Based out of Norman, Oklahoma, the electronic-infused four-piece frequently takes their show on the road, having played from coast-to-coast at a number of festivals and clubs in addition to opening for the likes of scene favorites such as Umphrey's McGee, The Disco Biscuits, Lotus, EOTO, Papadosio, The Floozies, and more. The group seamlessly fuses funk, jazz, rock, and R&B, all with the underpinning of electronic music, to create a unique sound that is wholly their own, and fans who have gotten a chance to catch the up-and-comers are left eager to hear more." – Ming Lee Newcomb, LiveForLiveMusic.com
---