HeartByrne Plays Talking Heads + Little Lies at Art Co 12/13
Time2Fly Music and Deep Ellum Art Company present
HeartByrne (Talking Heads Tribute)
with
Little Lies (Fleetwood Mac Tribute)
Fri Dec 13, 2019
Deep Ellum Art Co.
Dallas, TX
7:30pm Doors, 8:30pm show
tickets on sale now:
https://www.prekindle.com/find-tickets/id/530585115380825324?7
Heart Byrne pays tribute to Talking Heads and David Byrne, who fused pop, funk, art rock, and African rhythms into perhaps the most adventurous, danceable and timeless music to emerge from the new wave movement. HeartByrne picks up the torch where the seminal concert film 'Stop Making Sense' left off, breathing new life into the classics and pushing the grooves into uncharted sonic territory. What began as an informal 'hoot night' has evolved into a must-see touring act featuring members of the Purple Bee Crew, some of Austin, TX's most talented musicians.
Little Lies features Fort Worth's own Danni and Kris celebrating the music of Fleetwood Mac and other popular 70's hits.
---
TryMoreMOJO returns to MAD in El Dorado for Nightmare before Christmas! 12/13
TryMore MOJO
[ deep groove | space funk | fusion ]
Feels Like: TAUK, Spafford, Dopapod, Aqueous
About TryMore MOJO:
Seeking the highest of interstellar peaks, TryMoreMOJO guides the listener on their mission through space with their blend of funky riffs, modular soundscapes, energetic vocals, and heavy grooves; inviting fans to contribute their energy in a give-and-take partnership between performer and listener.
The Dallas, TX based group has worked tirelessly to solidify and expand their position in the southern region. Starting with a sold out debut show in 2016 followed by continuous regional performances, and nominations for "Best Funk Act" & "Best Electronic Act" by the Denton Area Music Awards before the end their first year; MOJO showed a tangible amount of momentum and persistence, opening doors to many future opportunities.That momentum has started to steamroll with the band sharing stages with national acts such as, Papadosio, TAUK, STS9, Pigeons Playing Ping Pong, Magic Beans, Aqueous, BIG Something, Ghost Light, CBDB, The Werks, Eminence Ensemble, Amoramora, Funk You, The Jauntee and many more.
Meticulously working on their debut full length studio album, MOJO is set to release their first EP this spring, all the whilst maintaining a road-ready regional presence. With a growing fanbase eager to see what this band of unique personalities has to bring to the table next, Its The Time to "TryMoreMOJO"
---
Coming IN Hot Dallas 12/14
Oak Cliff Lively Fest, Goodlifevip & Time2fly Presents…
Coming in Hot inna Deep Ellum
December 14th
6pm until
$10 online advance $15 day of($5.00 Early Bird online special)
Live reggae bands inside
Roots selection session outside
Live Art Works
Bands:
Poly Hwy
D'Ras & Sharac Band
Idoljob
& Cultivated
Selectors:
DJ Genius
DJ Romie
DJ Dain-Jah
Powered by:
Exodus Nuclear Sound
Caribbean food vendors
Merchandise vendors
Art Vendors
Positive Vibez Only
---
Bandolero plays the Foundation Room at House of Blues – Dallas 12/18
Grateful Dead Tribute. 'Tis the season to be grateful when Bandolero plays the Foundation Room at House of Blues Dallas. A free show presented by Time2Fly Music. Bandolero is a Texafied Celebration of the Grateful Dead and kindred spirits.
---
Dallas Jamily Sampler ft. Flow Tribe + Liquid Mirage 12/19
Our Dallas Jamily Sampler featuring Flow Tribe and Liquid Mirage on Thursday, December 19th!
Flow Tribe – New Orleans, LA
[funk | rock | psychedelic]
Feels like: The Motet, Lettuce, Pimps of Joytime
Liquid Mirage – Dallas, TX
[rock | funk | jazz]
Feels like: Talking Heads, Phish, Frank Zappa
About Flow Tribe:
Few bands arouse a crowd into a collective shake like Flow Tribe. The six-member band's onstage chemistry reflects a seamless combination of soul and movement that hits the audience within the first few notes. Virgin listeners and avid fans alike are drawn in by the distinctive sound that feels both familiar and original. Outfitted for each performance in colorful, carefully selected suits, it's clear their focus is sharp and the party has begun. This is the work of professional musicians who've found their passion, and are living a dream where everyone's welcome.
Second line brass and Cuban-Caribbean rhythms meld with R&B, soul, rock, and hip-hop beats in high-energy performances that turn every show into a celebration. New Orleans is influence itself, the unparalleled free and easy city weaving its way into track after track of original scores that make up a single definition of sound, which Flow Tribe has dubbed "backbone-cracking music."
K.C. O'Rorke (vocals, trumpet), John-Michael Early (harmonica, washboard, vocals, keyboard), Russell Olschner (drums), Chad Penot (bass, vocals), Bryan Santos (guitar, timbales), and Mario Palmisano (guitar) are native New Orleanians and high school pals who've been writing music and playing live shows since the band's inception in 2004. Post graduation, they went their separate ways, but after Katrina, each returned to their hometown, inherently becoming active members in the rebuilding of a community that's stronger than ever. Flow Tribe may well be the city's next music ambassadors.
With two full-length albums and several EPs under their belt, the crew is currently building Downman Sounds, a studio in New Orleans East where they expect to cut their next record. The Tribe can be found crisscrossing the US just about every week of the year, from Key West to California, including regular performances at the notable New Orleans Jazz & Heritage Fest and Voodoo Fest. Look for their next project to be released in early '17, a full length album entitled "BOSS" produced by New Orleans's own Mannie Fresh.
About Liquid Mirage:
Forged in the extreme Dallas heat and humidity of summer 2019 through a series of events that seem too strange to be purely coincidence, Liquid Mirage is a band of four musical brothers with diverse musical backgrounds and a shared dedication to bringing unique and creatively blended music to adventurous ears everywhere. This Texas quartet draws upon a vast spectrum of musical styles to sculpt a mixture of original vocal and instrumental songs that explore many levels of simplicity and complexity. Add to that an enthusiastic focus on incorporating extended segments of collective improvisation and the result is a one-of-a-kind live experience that's always evolving and always a booty-shaking good time!
Liquid Mirage is comprised of Austin Allen on drums; Neely Rose on electric guitar and vocals; Jordan Watson on electric guitar, mandolin, and vocals; and Colin Young on electric bass and vocals. With influences including rock, funk, jazz, bluegrass, folk, pop, metal, ambient, classical, and much much more, the group's sound is like a fusion of Frank Zappa, Phish, Talking Heads, and John McLaughlin. Despite their existence still being in its infancy, Liquid Mirage is hitting the ground running with plans to record and release their first Demo/EP by the year's end.
---
Jon Stickley Trio & Old Salt Union at Heist Brewery 12/19
Time2Fly Music Presents – Jon Stickley Trio & Old Salt Union at Heist Brewery
$12 Presale
$15 DOS
Jon Stickley Trio is a genre-defying and cinematic instrumental trio, who's deep
grooves, innovative flatpicking, and sultry-spacy violin moves the listener's head,
heart, and feet. "It's not your father's acoustic-guitar music—Instead, Stickley's Martin
churns out a mixture of bluegrass, Chuck Berry, metal, prog, grunge, and assorted
other genres—all thoroughly integrated into a personal style," writes Guitar Player
Magazine.
Premier Guitar says, "Stickley's trio… is not a traditional bluegrass group by any
means… they are just nimble and ambitious enough to navigate EDM-style breakbeats
as effortlessly as the old timey standard 'Blackberry Blossom.'"
Old Salt Union
Old Salt Union is a string band founded by a horticulturist, cultivated by classically trained musicians, and fueled by a vocalist/bass player who is also a hip-hop producer with a fondness for the Four Freshmen. It is this collision of styles and musical vocabularies that informs their fresh approach to bluegrass and gives them an electric live performance vibe that seems to pull more from Vaudeville than the front porch.
In 2015 they won the FreshGrass Band contest and found the perfect collaborator in Compass Records co-founder and GRAMMY winning banjoist and composer, Alison Brown, whose attention to detail and high standards pushed the group to develop their influences from beyond a vocabulary to pull from during improvisation and into the foundation of something truly compelling in the roots music landscape.
---
Black Sabbath Matters 12/19
The Matters perform Black Sabbath's "Paranoid" album with special guest The Rambling Souls. Get your tickets today for Black Sabbath Matters.
---
Free Ugly Sweater Party with Big Ass Brass Band 12/21
Sundown at Granada & Time2Fly Music presents:
The Big As$ Brass Band (Dallas, TX)
[ Rock / New Orleans Funk ]
A special Christmas show by The Big As$ Brass Band. Be prepared for the aristocrats of brass to leave you dancing and moving all night!!
FREE
21+
---
New Years Eve Celebration w/ Forgotten Space & TryMore MOJO | 2 Nights
---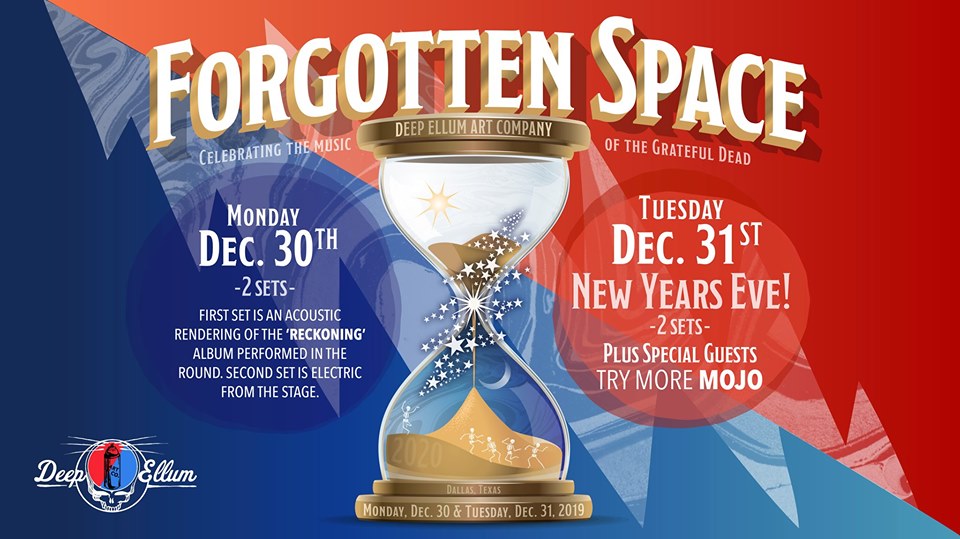 Deep Ellum Art Company Presents:
[ live music | art gallery | bar | art yard ]
http://DeepEllumArt.Co
Deep Ellum Art Company Presents:
[ live music | art gallery | bar | art yard ]
http://DeepEllumArt.Co/
Kicking in the New Year the Art Co way.. with a little Dead, a little Mojo and a few other surprises along the way.
NIGHT 2!
w/ FORGOTTEN SPACE
[ A Tribute to the Grateful Dead ]
www.forgottenspace.net
&
TryMore MOJO
[ deep groove | space funk | dance rock ]
---