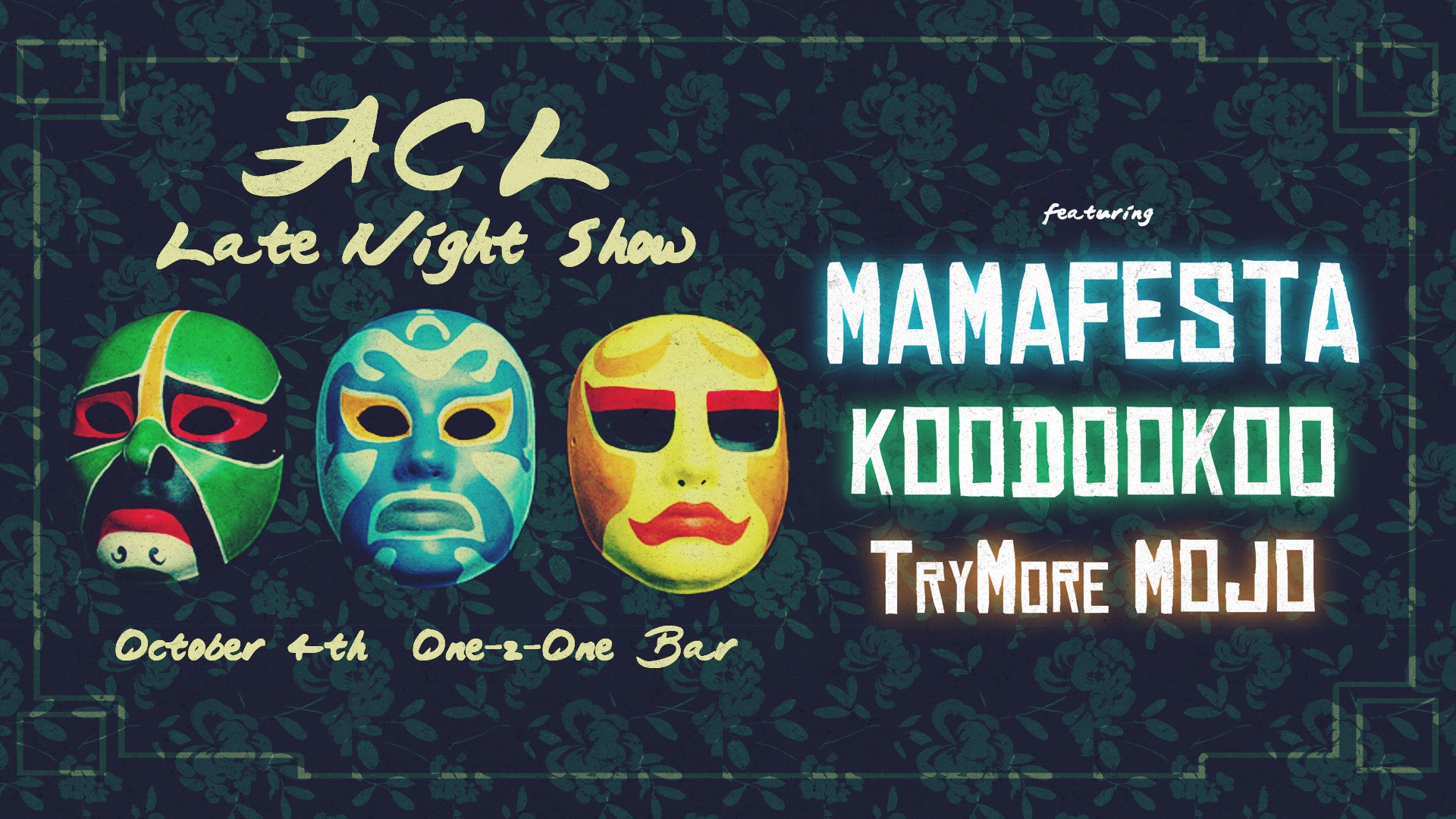 ACL Late Night: Mamafesta x Koodookoo x TryMore MOJO
at

One2One Bar
Mamafesta, Koodookoo and TryMore MOJO are very excited to present THE ACL Late Night Show to be at Wknd 1. There will be grooves, there will be jams, and there will be even more jams.
3 of Texas' premier jam acts all throwing down on the same stage for the first time together!
🎟️Tickets: http://bit.ly/FestaKooMojoACL 🎟️
$5 Early Bird (VERY limited)
$10 Pre-Sale
$15 Day of Show
🚪8pm: Doors
🐦9:00-10:30p: Koodookoo
🌵11:00p-12:45a: Mamafesta
🌑1:00-2:00a: TryMore MOJO
Mamafesta is an original groove-rock outfit that was born in the fall of 2011 with a broad pallet of sounds and a conscious awareness for the rhythms of life. Over the years Mamafesta has channeled their original sound and reach out to their audiences through their musicianship and vocal messages in and around the Austin, TX music scene. With recent major festivals such as Austin City Limits Music Festival (ACL), KAABOO Del Mar, Waterloo Music Festival, UTOPiAfest and others under their belt, the Festa train is rolling strong.
Koodookoo
Koodookoo invites you to travel the furthest reaches of the multiverse and dive into the deepest parts of your heart and mind on a consciousness-expanding journey. Formed in 2017 from the live music capital of the world, Koodookoo has developed a tidal wave of sonic abilities that bend reality, push boundaries, and transform all preconceived notions of where music can go.
Since busting out in the Austin jam scene in early 2018, Koodookoo has wiggled its way into the ears and hearts of an ever growing family they have dubbed the Koodookrew. Koodookoo has supported major acts such as Chali 2na of Jurassic 5, The Werks, and Bumpin Uglies, while also headlining shows in Austin to an always enthusiastic crowd. Although they recently returned from their first tour, the boys aren't resting: Koodookoo is booking a busy and exciting calendar for the rest of 2019 in TX and beyond. Stay tuned, things are moving fast for the Krew!
TryMore MOJO
Seeking the highest of interstellar peaks, TryMoreMOJO guides the listener on their mission through space with their blend of funky riffs, modular soundscapes, energetic vocals, and heavy grooves; inviting fans to contribute their energy in a give-and-take partnership between performer and listener.
The Dallas, TX based group has worked tirelessly to solidify and expand their position in the southern region. Starting with a sold out debut show in 2016 followed by continuous regional performances, and nominations for "Best Funk Act" & "Best Electronic Act" by the Denton Area Music Awards before the end their first year; MOJO showed a tangible amount of momentum and persistence, opening doors to many future opportunities.