The Latest Scoop
Monday-Friday
9pm to 10pm
Wednesday-Friday starting at 9:00PM
"THE ONE MAN FUNK BAND" aka Henry Roland loops and layers vocal harmonies, funk guitar, bass grooves, soulful keyboards, drum machines and percussion to create original high energy dance music that sounds like a solid 5-piece funk ensemble.
Based in Austin TX, Henry + The Invisibles have played a solid role in the funk scene both local and national. Having performed at venues and festivals around the country, H+TI is creating quite a buzz for himself and is best known for his electrifying dance-party-style live performances with a message of love and peace.
.LOVE.FAMILY.SOUL.FUNK.
—
---
The Effinays Livestream from the Deep Ellum Art Co Stage | July 15th
The Effinays
[ latin / reggae / hip-hop ]
Livestream from the Art Co Stage!
8:00pm – 9:00pm
Wednesday, July 15th 2020
ArtCo Donations //
CashApp: $DeepEllumArtCo
Venmo: @DeepEllumArtCo
PayPal: @DeepEllumArtCo
The Effinays is a funk/rock/reggae band from Dallas, TX. The band formed in 2007 and originally performed as an instrumental unit throughout the Dallas/Ft. Worth area. In 2011, the band revamped the entire line up, except for one of the founding members and morphed in to the comedic, old school funk, classic rock, reggae with flashes of Latin grooves band that one could clearly sense that they enjoy what they do.
The band has performed alongside Grammy Award winning artist such as Snoop Dogg (Lion), Grupo Fantasma and Ozomatli
Each member of The Effinays hails from different musical upbringings that they blend together effortlessly as one unit.
---
TryMoreMOJO • Live Stream • Purple Bee Live Episode 16 | July 18th
Seeking the highest of interstellar peaks, TryMore MOJO offers funky riffs, modular soundscapes, inviting vocals, and deep grooves. Purple Bee TV and Time2Fly Music present TryMoreMOJO live from Purple Bee Studios in Central Texas. Join us for 2 full-band sets with multi-camera HD video and professionally mixed sound.
 Show your Support!
http://purplebee.org/donate
As always, the show is free, but donations are highly encouraged to support the artists and crew in these wild and crazy times!
 How to Watch 
We'll post the FB video to this event as soon as we go live at 8pm ct – look for it on the discussion tab. Be sure to follow Purple Bee TV fb page to get the notifications. We'll also be streaming live on multiple platforms:
on Facebook:
https://www.facebook.com/purplebeetv
on Twitch:
https://www.twitch.tv/purplebeetv
on Youtube:
https://bit.ly/PurpleBeeTVYoutubeS
 on PurpleBee's website:
https://purplebee.org/event/trymoremojo_20200718/
Pro Tip:
Sign up for the notification list and browse our archives at:
https://purplebee.org
---
Smoking With Strangers *Art Co Live Stream* July 18th
Deep Ellum Art Company Presents:
Smoking With Strangers | A LIVE Stream Event
Smoking With Strangers will perform as a full band with FullyMaxxed & Jay Sustain. This LIVE Stream is presented by Deep Ellum Art Company, please FOLLOW THEIR PAGE to be able to catch the stream.
Smoking With Strangers has production goals & needs, like any other band. Here see some links to ways you can help us meet those goals.
www.patreon.com/smokingwithstrangers
venmo.com/SmokingWithStrangers
---
JAZZ is PHSH & Empire Strikes Brass: Live at the Drive-In! July 22nd
BRIDGING THE MUSIC is excited to present LIVE AT THE DRIVE IN CONCERT SERIES!
For our first announcement we are happy to announce:
JAZZ is PHSH & Empire Strikes Brass
This unique, socially distanced, cinema and concert experience is one the first of its kind and features live performances by JAZZ is PHSH and EMPIRE STRIKES BRASS.
**LIMITED
EARLY BIRD & VIP PARKING TIX AVAILABLE NOW** There are a limited number of vehicle passes available at each concert, so act fast!
The event follows social distancing guidelines and the event producers want you to have a safe, fun time at this incredible experience.
PORTION OF PROCEEDS TO BENEFIT CLEVELAND COUNTY COMMUNITY FOUNDATION: AN AFFILIATE OF FOUNDATION FOR THE CAROLINAS
Date: WEDNESDAY JULY 22, 2020
Doors: 6:00PM / Show: 8:30PM
** FREE ADMISSION FOR KIDS 10 YEARS OLD AND UNDER **
Venue:
HOUND'S DRIVE-IN THEATRE
114 RAVEN CIR
KINGS MOUNTAIN, NC 28086
*located just 30 mins outside Charlotte, NC, 90 MINUTES FROM ASHEVILLE, 45 MINUTES FROM SPARTANBURG
JAZZ is PHSH
http://www.jazzisphish.com/
CELEBRATING THE MUSIC OF PHISH THROUGH THE LENS OF JAZZ
JAZZ IS PHSH is an instrumental tribute to Phish inspired by the popular tribute to The Grateful Dead, "Jazz is Dead". JAZZ IS PHSH is a collective of prominent musicians from the Jazz and Jam scenes that have come together in their appreciation of Phish music to reimagine Phish in an instrumental, jazz fusion setting!
Empire Strikes Brass
www.empirestrikesbrass.com
Founded in 2012, ESB has grown from a party band of friends playing New Orleans-originated or inspired second-line and funk tunes with elements of rock and jam. Now, it consists of a collective of players, singers, songwriters, and producers who have found an original sound that fuses their individual musical influences with fresh ideas while still holding true to their foundation. Featuring rich group and lead vocals from several members including Grammy Award-winning artist Debrissa McKinney (Secret Agent 23 Skidoo), keyboardist/producer Lenny Pettinelli, and guitarist Kelly Hannah, ESB has played over 300 shows all over the country. Since their conception, they have been a constant fixture at various festivals throughout the east coast. The band has had the pleasure of having Warren Haynes (Allman Bros. Band and Gov't Mule) sit in with them at New Mountain Amphitheater in Asheville, NC and the honor of performing at the Jazz and Heritage Festival celebrating the life of Dizzy Gillespie in his hometown of Cheraw, SC for the past 6 years in a row. Empire has also co-billed with some of the biggest names in funk and soul including Mavis Staples, Dr. John, and Lettuce as well as a recent co-bill in November of 2019 at Woodlands Festival with jam band giants Umphrey's McGee.
SHOW INFO:
We are following all CDC and State guidelines. Cars will be parked at their minimum distance in accordance with State safety recommendations. If State guidelines permit, you will be allowed to be outside your car, in your car area only, but you MUST maintain 6′ distancing from other parties.
Social distancing, including if you are permitted to be outside your vehicle is subject to change.
Tickets can be purchased online ONLY to ensure contactless payment.
Audio will be transmitted through your vehicles FM Stereo, so please check and ensure your car has working speakers and radio. Please turn your key to accessory mode to keep your stereo on. You are allowed to bring portable boomboxes and stereos if you don't have a functional car stereo.
It is a 2 person per car minimum.
We encourage carpooling ONLY with people in your immediate quarantine circle.
There is absolutely no leaving your vehicle unless there is an essential need, i.e. bathroom breaks, concessions.
Entry to the venue will be cutoff 15 minutes prior to show time at 8:15 pm. No late entry will be permitted under ANY circumstance. Arrive early!
We suggest arriving between 6:00-7:00 pm — drive-in parking is first-come-first-serve, excluding VIP.
We require that you follow the current CDC guidelines in your state during this time. That means bring a mask, gloves, sanitizer.
Other notes:
YOU MAY SIT IN THE BACKS OF TRUCKS
**YOU MAY OPEN HATCHES BUT THEY MUST BE LEVEL WITH THE ROOFLINE OF YOUR VEHICLE. CONVERTIBLE TOPS CAN BE DOWN.
**DO NOT GO TO THE PLAYGROUND
**ONLY 2 PEOPLE ALLOWED IN RESTROOMS AT A TIME AND MUST STAND 6 FT APART.
If anyone is caught disobeying the rules to keep everyone safe you will be asked to leave.
Thank you, your observance of the rules helps keep this event safe for everyone!
---
—

[ deep groove | space funk | fusion ]
Feels Like: Dopapod, Lotus, Spafford
About TryMore MOJO:
Seeking the highest of interstellar peaks, TryMoreMOJO guides the listener on their mission through space with their blend of funky riffs, modular soundscapes, energetic vocals, and heavy grooves; inviting fans to contribute their energy in a give-and-take partnership between performer and listener.
The Dallas, TX based group has worked tirelessly to solidify and expand their position in the southern region. Starting with a sold out debut show in 2016 followed by continuous regional performances, and nominations for "Best Funk Act" & "Best Electronic Act" by the Denton Area Music Awards before the end their first year; MOJO showed a tangible amount of momentum and persistence, opening doors to many future opportunities.That momentum has started to steamroll with the band sharing stages with national acts such as, Snarky Puppy, Papadosio, TAUK, STS9, Ghost Note, Pigeons Playing Ping Pong, Magic Beans, Aqueous, BIG Something, Ghost Light, CBDB, The Werks, Eminence Ensemble, Amoramora, Funk You, The Jauntee and many more.
Having been meticulously working on their debut studio EP, MOJO is so excited to finally share it with you!
Join us in the new way to experience music & entertainment. #trymoremojo #DeepEllumArtCo #CapricornDriveIn
—
---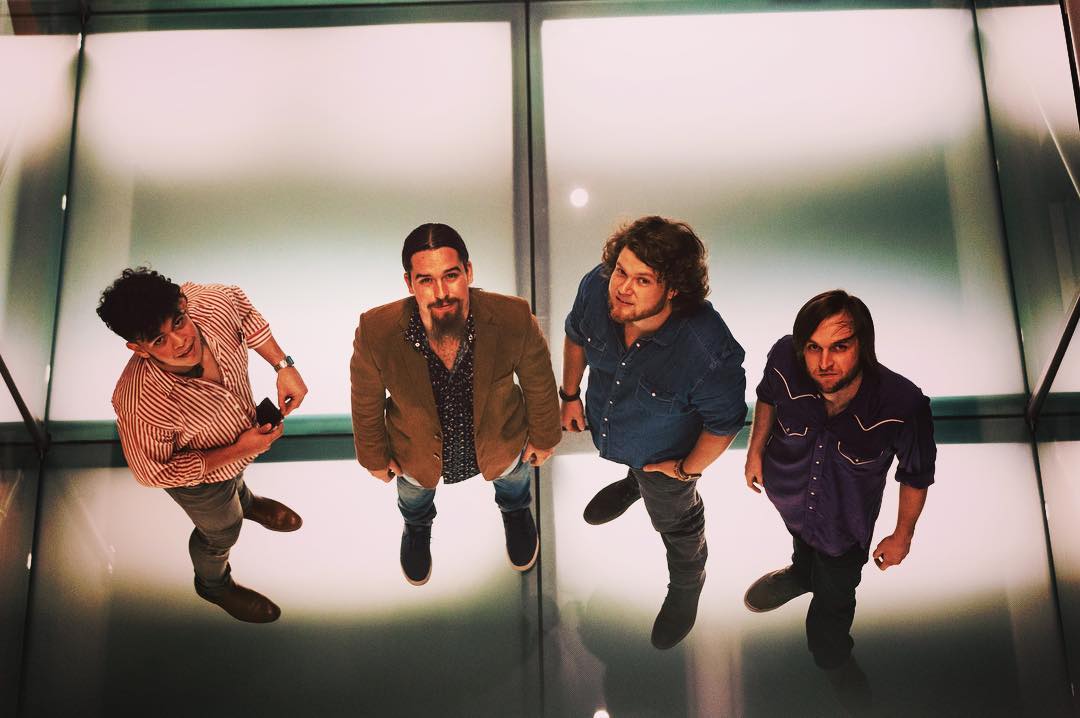 Before relocating to ATX, The Matters grew up sharing the stage in PCB. The project formerly known as Jam Therapy, features a lineup of Florida natives: Garrett Brown (vocals, guitar), Alejandro Rios (guitar, vocals), Chase Morgan (bass) and Mike Kreiger (drums). Together they performed across the southeast and released a series of EP's until their music led them to Austin, TX.
The bands electric and unapologetic rock 'n' roll — but with a whole lotta feeling– has materialized into the band's first EP Survive, set for independent release in 2018. The album was recorded in Austin, TX at the Bubble with premier rock producer Chris "Frenchie" Smith (Jet, The Darkness, Leopold and His Fiction, Purple) and expands upon the group's development with diverse songs that reinvent the far-reaching scope of rock music.
With the mystic of Zeppelin, paired with the energy of The Red Hot Chili Peppers, The Matters challenge their audiences to a fight to the death every night while conducting a stage show that is both chaotic and seductive.
---
More News >
Upcoming Events
Desert Dwellers | Dallas, TX
at

Deep Ellum Art Company
Dallas

,
Texas
Deep Ellum Art Company Presents:
[ live music | art gallery | bar | art yard ]
http://DeepEllumArt.Co
Desert Dwellers
[tribal house | psychedelic world bass]
Feels like: Bluetech, Ott, Kaminada
w/ Support from Smoking With Strangers.
Thursday, September 10th
Tickets on Sale NOW
>>> http://bit.ly/DesertDwellers_DallasTX
About Desert Dwellers:
Desert Dwellers consists of Amani Friend and Treavor Moontribe, who began their careers as independent music producers and DJs in the deserts of New Mexico and California. Coming together in the late '90s after connecting through the legendary Moontribe scene, today the duo enjoys a reputation as one of the most pioneering and prolific downtempo, psy-bass, and tribal trance acts in the United States. Desert Dwellers have toured extensively across six continents, spent a 7-week stretch on the road with renowned psychedelic artist Shpongle, and have performed at dozens of festivals, most notably Shambhala, Lightning in a Bottle, Envision, Coachella, Rainbow Serpent, and Boom. Taking a new approach to digital production, Amani and Treavor have combined the raw sounds of the natural world while skillfully blended deep bass, earthy percussion, etheric voices and cross-cultural instrumentation into sonic incense for the mind and body. Bringing the electronic music vibe to the yoga scene, and the sounds of yoga to the electronic dance scene, Desert Dwellers' global sounds are the bridge between the worlds of dance and movement.
More Events >
Join The List
find out about T2F shows in your area & chances to win free tickets
About Us
Time2fly is a booking and promotions agency based in both Texas and Charlotte, NC offering production solutions for musicians, bands and venues all across the c
ountry. Being a homegrown family organization, our mission is to spread good times to the wonderful people of this earth and to introduce new music to anyone listening.
If you need live music we have options for you.
More about T2F >
Contact >