The Latest Scoop
Space Kadet at House of Blues Foundation Room, Concert AfterParty

Time2Fly Music & Foundation Room Dallas present;
Space Kadet return from ATL on Nov 14th for a FREE Thievery Corp/Karl Denson AfterParty upstairs in Foundation Room 11pm til close.
Debut album "Simulated Reality" out now-
Soundcloud- https://soundcloud.com/thekadet/
Spotify- https://open.spotify.com/album/2UdDI4I8iX62UJ1eOhKWkc
Biography
Navigating the space ship is Alex Etheridge on bass, synth and production, Rohan Prakash on drums and samples and Thomas Garrett on guitar. Mixing elements of electronic, dance and traditional music genres such as drum and bass, house, break beats, electro funk, dub, trip hop, lofi hip hop and more- whatever it is, Space Kadet will make you dance and leave you in a trance. With Prakash and Etheridge's history of producing music together as well as the virtuosity of Garrett's guitar abilities proves that the versatility and cohesiveness of this 3 piece band surpasses many others. The band combines live improv, technical chops and atmospheric sounds with live electronic production and soaring guitar melodies. This electronic trio has been making waves through out the south east and beyond over the past 4+ years. Originating in Auburn, AL, the band now resides in their home city of Atlanta, GA. Space Kadet has had the honor of sharing the stage with fellow friends/road warriors The Floozies, Manic Focus, Sunsquabi, Russ Liquid Test, Pigeons Playing Ping Pong, The Werks, Flamingosis, The Midnight, Cycles and many more. 2019 marks a notable year for the trio as they released their debut album "Simulated Reality". Guest features on the album include Jeffree Lerner of STS9 on percussion and local Atlanta legends, The Terminus Horns. Space Kadet came together to form an always changing, never ending, groovy space odyssey.
www.spacekadetmusic.com
www.time2flymusic.com
---
Electrik Ants,Shaquan Bivens,Chilldren of Indigo: Green Elephant Nov. 15th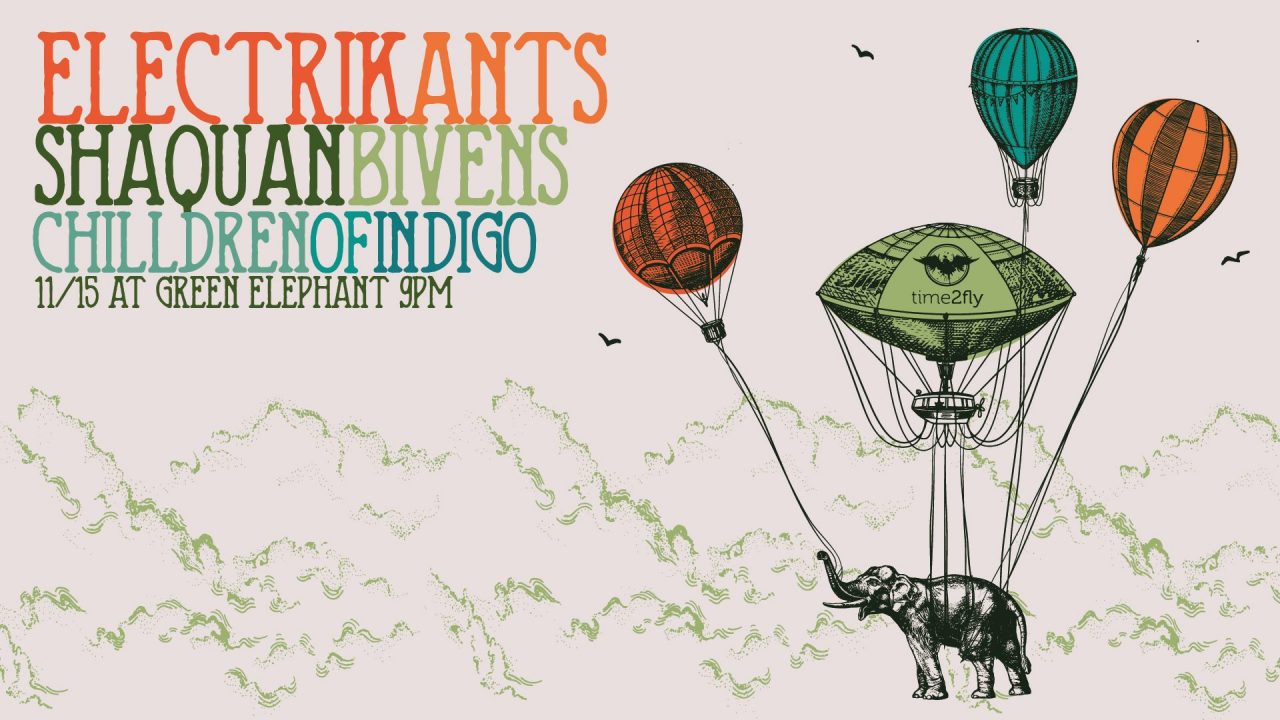 Time2Fly Music presents;
The return to The Green Elephant for the Electrik Ants new EP, RTK2 release party on Friday November 15th!
Tickets on sale NOW!!!
$7 pre / $10 door
---
Papadosio & Cloudchord • Deep Ellum Art Co • Dallas, TX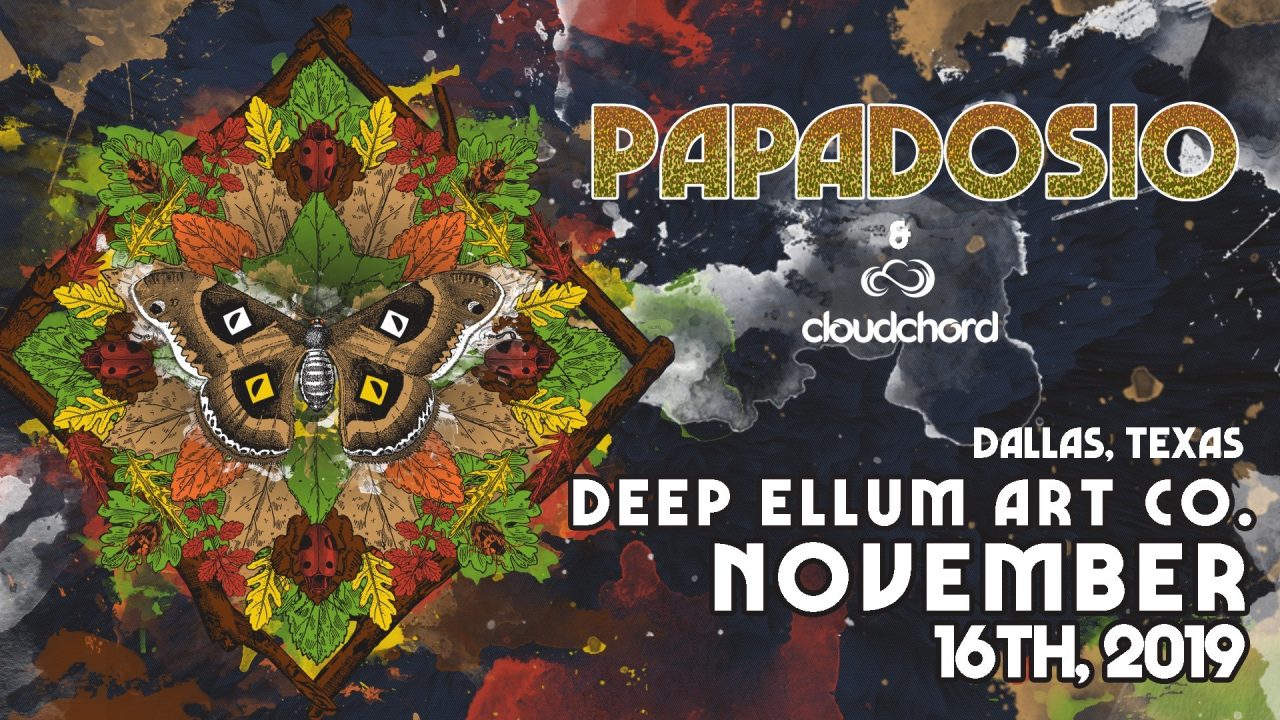 We are heading back to Dallas on November 16th w/ special guest Cloudchord!
TICKETS GO ON SALE FRIDAY AT 11AM
Ticket Prices- $20 adv/$25dos
Ticket Link- papados.io/dosiodallas
Age Limit- All Ages
PAPADOSIO BIO
Falling somewhere between rock, jazz, and electronic mayhem we find Papadosio striving to create music that is strangely familiar, and calls all walks of humanity to bask in a unique experience celebrating the one constant in an ever changing world: music.
Papadosio has packed out Red Rocks Amphitheater for headlining shows the past two years running and now they bring their music to smaller stages on a tour of more intimate performances. Characterized as a dynamic progressive rock band, Papadosio creates the sound of new age technology merging with mesmerizing instrumentation. Between the unfamiliar melodic sound and the element of production their live show will leave you wanting more.
PAPADOSIO WEB LINKS
www.papadosio.com
www.facebook.com/papadosio
www.twitter.com/papadosio
www.instagram.com/papadosio
www.youtube.com/papadosio
www.spoti.fi/2HlrjQy
www.soundcloud.com/papadosio
---
The Matters | Fred's Texas Cafe | Nov. 16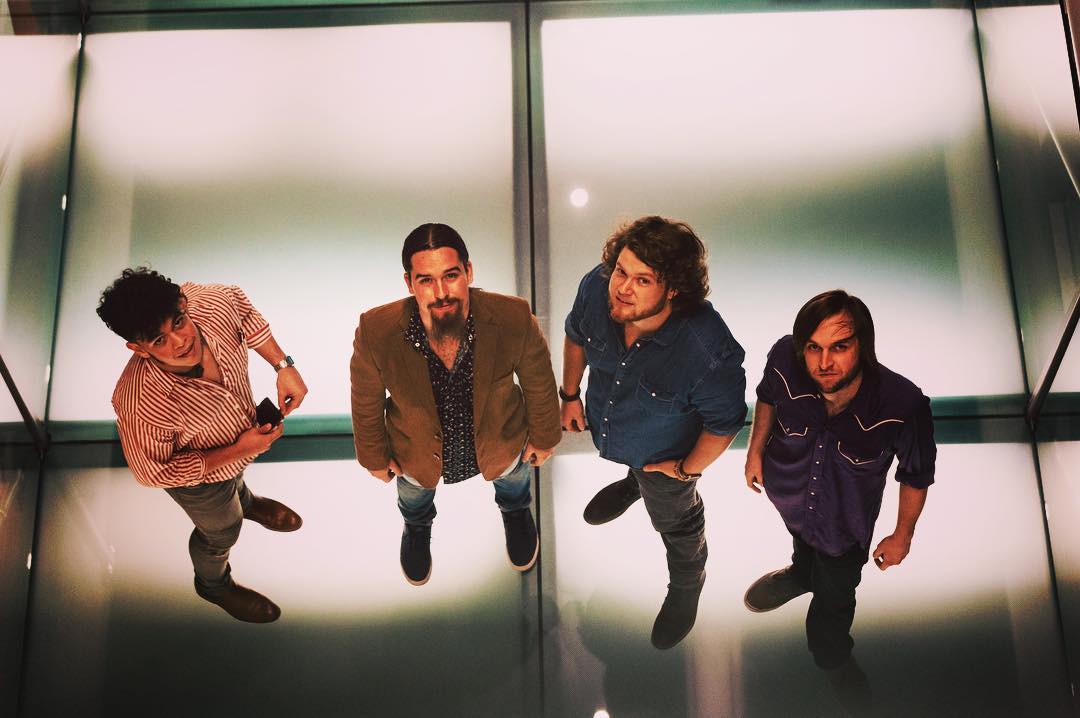 The Matters play Fred's on Saturday, November 16th | 8pm – 11pm
Check out the band →https://themattersmusic.com/home
Before relocating to ATX, The Matters grew up sharing the stage in PCB. The project formerly known as Jam Therapy, features a lineup of Florida natives: Garrett Brown (vocals, guitar), Alejandro Rios (guitar, vocals), Chase Morgan (bass) and Mike Kreiger (drums). Together they performed across the southeast and released a series of EP's until their music led them to Austin, TX.
The bands electric and unapologetic rock 'n' roll — but with a whole lotta feeling– has materialized into the band's first EP Survive, set for independent release in 2018. The album was recorded in Austin, TX at the Bubble with premier rock producer Chris "Frenchie" Smith (Jet, The Darkness, Leopold and His Fiction, Purple) and expands upon the group's development with diverse songs that reinvent the far-reaching scope of rock music.
With the mystic of Zeppelin, paired with the energy of The Red Hot Chili Peppers, The Matters challenge their audiences to a fight to the death every night while conducting a stage show that is both chaotic and seductive.
---
The Jauntee with Hippie Hoodoo :: Deep Ellum Art Co :: Nov 20th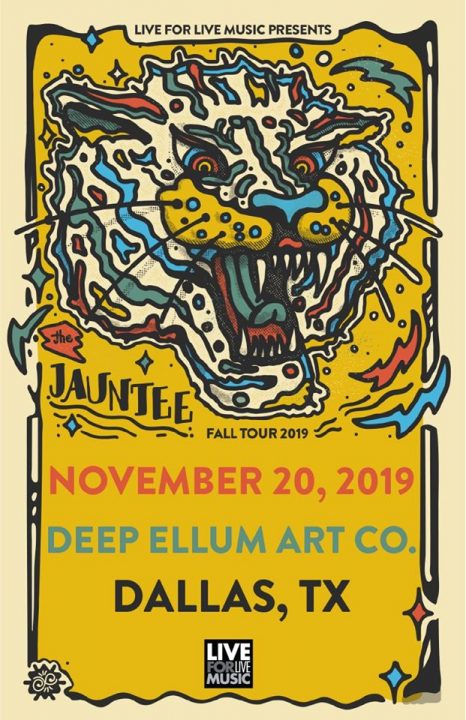 The Jauntee is back in Dallas!
www.thejauntee.com
www.facebook.com/thejauntee
thejauntee.bandcamp.com
In a world filled with instant gratification, gimmicky over saturation and a lack of true improvisation, The Jauntee pays tribute to music's ability to transcend simple entertainment and cultivate a truly distinctive experience. The Jauntee has fostered a musical community based on a breadth of original material that engages fans through nightly exploration and risk taking. Averaging over one hundred shows a year, with each containing a unique set list and their own special improvisational moments, the band is constantly expanding upon what defines them and their live performances.
With almost a decade's worth of touring experience; appearances at major festivals such as Peach Fest, Catskill Chill, and Resonance; and 36 states toured with stops at national touring staples such as Brooklyn Bowl, Georgia Theatre, and the Paradise Rock Club, The Jauntee have been nurturing a fanbase of dedicated followers who are inspired by their music and willing to travel to see what the band has in store next. Fans that thoroughly analyze their music, track their set lists and passionately promote their music. The Jauntee makes each night an exciting prospect of a new shared experience with bust-outs, fresh jamming, poignant covers, and accessible songwriting.
With Dallas' own Hippie Hoodoo + 1 more act TBA soon.
---
Pigeons Playing Ping Pong // Thumpasaurus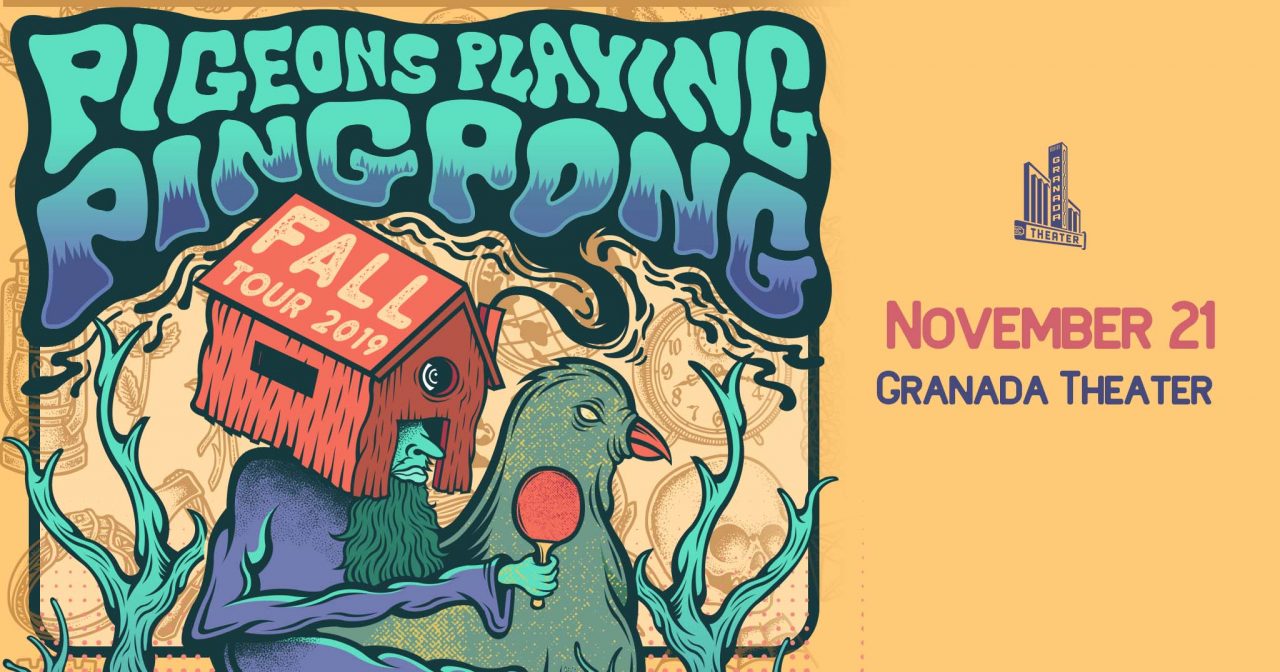 Dallas!
Psychedelic funk jam band Pigeons Playing Ping Pong are bringing their positive vibes and high energy to Lower Greenville on November 21st with Thumpasaurus.
Tickets on sale Friday, June 21st at 10AM
---
Electrik Ants w/ Famous Exchange at Harvest House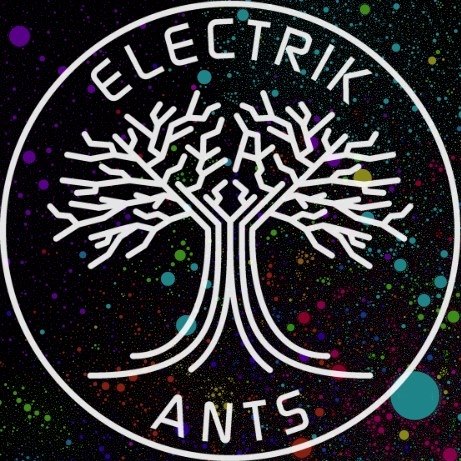 Electrik Ants is Genuine blend of Psychedelic, Funk, Hip-Hop, and Rock. As if Gorillaz, Tame Impala, & Lettuce hopped in a rocket ship!
Playing on the stage tonight with them is Famous Exchange – a collective of sonic alchemists!
Come and party with us and enjoy these two acts to achieve your sensory bliss..
FREE SHOW!!!
---
TryMore Giving with TryMore MOJO – Thanksgiving Eve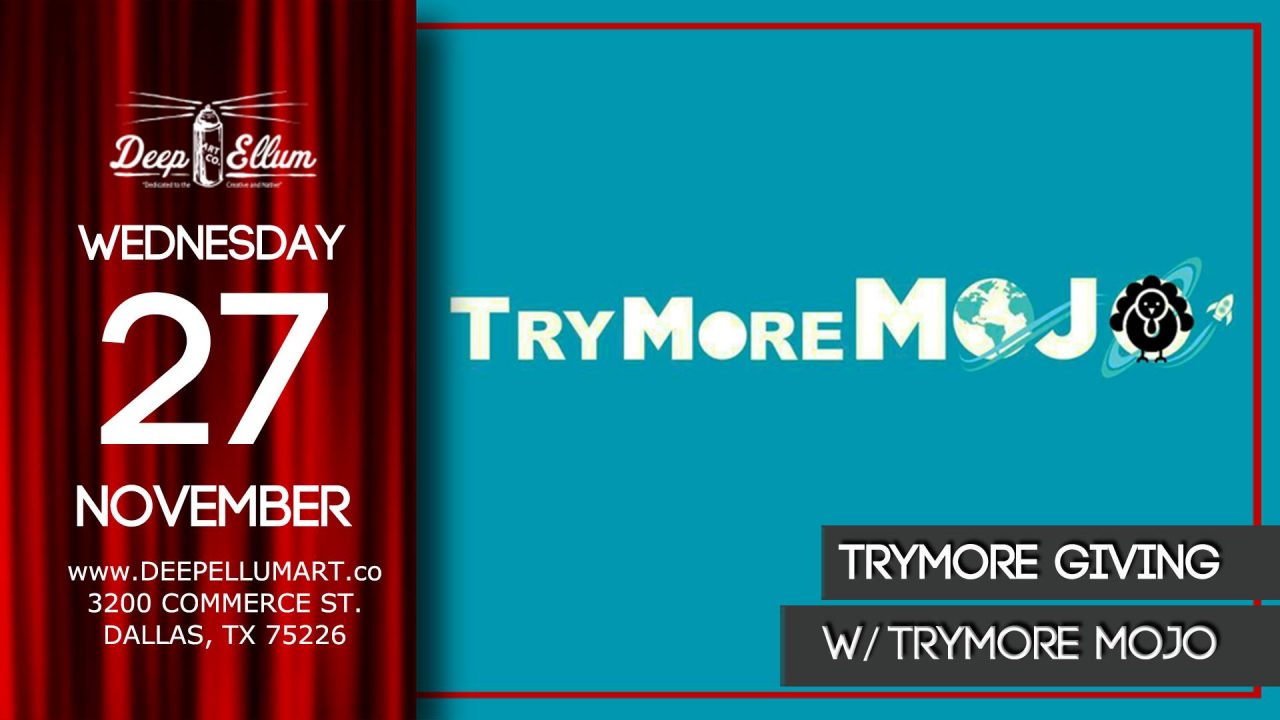 Deep Ellum Art Company Presents:
[ live music | art gallery | bar | art yard ]
http://DeepEllumArt.Co/
TryMore Giving with 2 Sets from TryMore MOJO!
A Jamily Celebration! Bring your friends, bring the munchies, and bring the grooves cause it's gonna get FUNKY!
Drink Special: Half Price Craft of Draft Cocktails
Tickets on Sale NOW!
>>> http://bit.ly/TryMoreGiving
TryMore MOJO
[ deep groove | space funk | dance rock ]
Feels Like: Spafford, Dopapod, Aqueous
About TryMore MOJO:
Seeking the highest of interstellar peaks, TryMoreMOJO guides the listener on their mission through space with their blend of funky riffs, modular soundscapes, energetic vocals, and heavy grooves; inviting fans to contribute their energy in a give-and-take partnership between performer and listener.
The Dallas, TX based group has worked tirelessly to solidify and expand their position in the southern region. Starting with a sold out debut show in 2016 followed by continuous regional performances, and nominations for "Best Funk Act" & "Best Electronic Act" by the Denton Area Music Awards before the end their first year; MOJO showed a tangible amount of momentum and persistence, opening doors to many future opportunities.That momentum has started to steamroll with the band sharing stages with national acts such as, Papadosio, TAUK, STS9, Pigeons Playing Ping Pong, Magic Beans, Aqueous, BIG Something, Ghost Light, CBDB, The Werks, Eminence Ensemble, Amoramora, Funk You, The Jauntee and many more.
Meticulously working on their debut full length studio album, MOJO is set to release their first EP this spring, all the whilst maintaining a road-ready regional presence. With a growing fanbase eager to see what this band of unique personalities has to bring to the table next, Its The Time to "TryMoreMOJO"
---
Sputacular Presents: 'Revive Live' | 11/30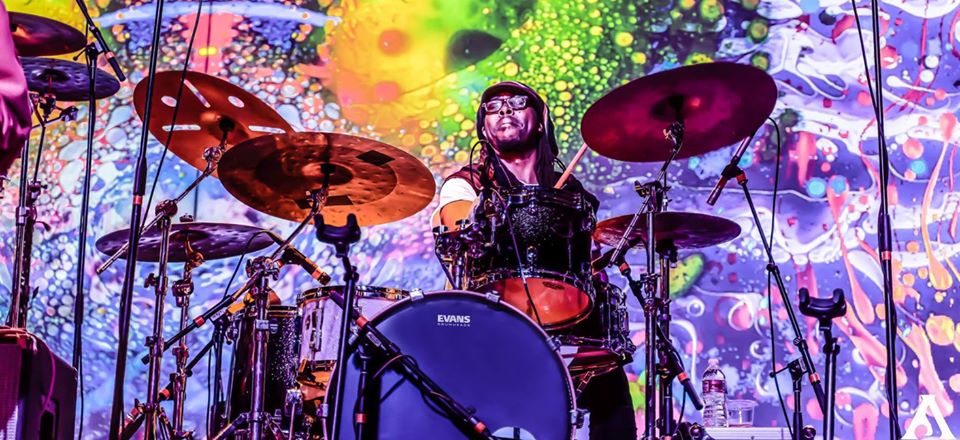 Deep Ellum Art Company Presents:
[ live music | art gallery | bar | art yard ]
http://DeepEllumArt.Co
Robert 'Sput' Searight of Ghost Note is bringing us Sputacular's 'Revive Live' on Saturday, November 30th!
---
---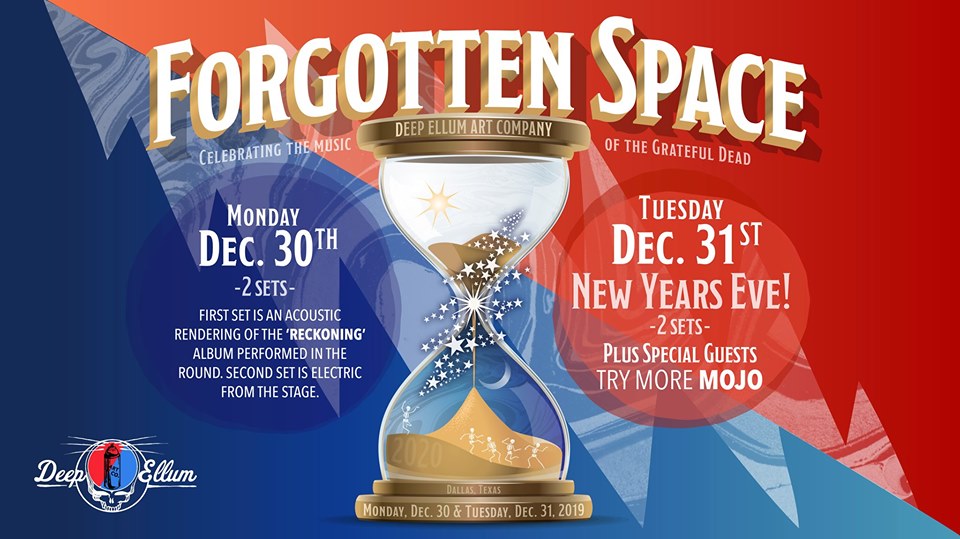 Deep Ellum Art Company Presents:
[ live music | art gallery | bar | art yard ]
http://DeepEllumArt.Co
Deep Ellum Art Company Presents:
[ live music | art gallery | bar | art yard ]
http://DeepEllumArt.Co/
Kicking in the New Year the Art Co way.. with a little Dead, a little Mojo and a few other surprises along the way.
NIGHT 2!
w/ FORGOTTEN SPACE
[ A Tribute to the Grateful Dead ]
www.forgottenspace.net
&
TryMore MOJO
[ deep groove | space funk | dance rock ]
---
More News >
Upcoming Events
Fruition | Deep Ellum Art Co.
at

Deep Ellum Art Company
Dallas

,
Texas
Fruition w/ Handmade Moments comes to Deep Ellum Art Company on Thursday, November 14th!
Tickets on-sale now 🎟️ → http://bit.ly/2kF4TmJ
🎧 → http://bit.ly/2lSLlLR
📺 → http://bit.ly/2lVSaw9
Jay Cobb Anderson (vocals, lead guitar, harmonica) / Kellen Asebroek (vocals, rhythm guitar, piano) / Mimi Naja (vocals, mandolin, electric & acoustic guitar) / Jeff Leonard (bass) / Tyler Thompson (drums, banjo)
On their fifth full-length, Watching It All Fall Apart, Fruition transform pain and heartache into something truly glorious. With their songwriting sharper and more nuanced than ever before—and their sonic palette more daringly expansive—the Portland, Oregon-based band's full-hearted intensity ultimately gives the album a transcendent power.
"The songs are mostly breakup songs," says Asebroek. "There was love and now it's gone—we fucked it up, or some outside circumstance brought it to an end. It's about dealing with all that but still having hope in your heart, even if you're feeling a little lost and jaded."
In a departure from their usual DIY approach, Fruition teamed up with producer/mixer Tucker Martine (My Morning Jacket, The Decemberists, First Aid Kit, case/lang/veirs) to adorn their folk-rooted sound with delicately crafted elements of psychedelia and soul. Showcasing the sublime harmonies the band first discovered during an impromptu busking session in 2008, Watching It All Fall Apart also finds Fruition more fully embracing their rock-and-roll sensibilities and bringing a gritty vitality to each track. "We've been a band almost ten years now, and we're at the point of being comfortable in our skin and unafraid to be whatever we want as time goes on," Anderson notes.
Recorded in ten days at Flora Recording & Playback in Portland, Watching It All Fall Apart came to life with the same kinetic urgency found in Fruition's live sound. "It's kind of an impossible task, this idea of transmuting the live energy into something you can play on your stereo, but I feel like this record comes close to that," says Asebroek. At the same time, the band pursued a purposeful inventiveness that resulted in their most intricately textured work to date. "Tucker helped us push ourselves to create something that glistens in subtle little ways that you might not even pick up on at first," says Asebroek. "We got to play around with all this analog gear and these weird old keyboards we wouldn't ordinarily use, like a bunch of kids in a toy store where everything is free."
On lead single "I'll Never Sing Your Name," that unrestrained creativity manifests in a fuzzed-out, gracefully chaotic track complete with sing-along-ready chorus. Built on brilliantly piercing lyrics ("And all those kisses that you were blowing/Somehow they all got blown right out"), the song echoes the album's emotional arc by painfully charting the journey from heartache to acceptance. "It's about going through a breakup, moping around, and then finally getting to the point where it's like, 'Okay—I'm done with feeling this way now,'" says Anderson.
Throughout Watching It All Fall Apart, the band's let-the-bad-times-roll mentality reveals itself in ever-shifting tones and moods. On the stark and sleepy "Northern Town," Naja's smoldering vocals channel the ache of longing, the track's twangy guitar lines blending beautifully with its swirling string arrangement. One of the few album cuts to have already appeared in Fruition's setlist, "There She Was" sheds the heavy funk influence of its live version and gets reimagined as a shimmering, soulful number documenting Asebroek's real-life run-in with an ex at a local bar. Meanwhile, "Turn to Dust" emerges as a weary but giddy piece of psych-pop chronicling the end of a failed romance. The song's opening lyric also lends the album its title, which partly serves as "a commentary on the general state of the world today," according to Asebroek. "Even if you're mostly an optimistic person, it's hard not to feel down when you look at all the insanity happening right now," he says.
While those unflinchingly intimate breakup songs form the core of Watching It All Fall Apart, Fruition infuse an element of social commentary into songs like "FOMO" as well. Written on the Fourth of July, with its references to wasted white girls and cocaine cowboys, the mournful yet strangely reassuring track unfolds as what Anderson calls "an anti-party party song." "It's about one of those situations where you said you'd go to party but you really don't want to go, because you know it's going to be the same old bullshit," he says. "The song is a call to defuse that guilt in your brain." And on the sweetly uplifting "Let's Take It Too Far," the band offers one of the album's most purely romantic moments by paying loving tribute to music as solace and salvation ("But don't you worry 'bout dyin'/'Cause there's no better way to go/We'll sing until we're out of honey/Then pour the gravel down our throats").
From song to song, Fruition display the dynamic musicality they've shown since making their debut with 2008's Hawthorne Hoedown LP. Through the years, the band has evolved from a rootsy, string-centric outfit to a full-fledged rock act, eventually taking the stage at such major festivals as Bonnaroo and Telluride Bluegrass (a set that inspired Rolling Stone to praise their "raucous originals filled with heartfelt lyrics and stadium-worthy energy"). Following the release of 2016's Labor of Love, Fruition again made the rounds at festivals across the U.S., prompting Rolling Stone to feature the band on its "8 Best Things We Saw" at DelFest 2016.
In choosing a closing track for Watching It All Fall Apart, Fruition landed on "Eraser"—a slow-building, gently determined epic delivering a quiet message of hope in its final line: "Let it help you heal." "Because there's so much heartbreak on this album, we wanted to end on Kellen singing that last line very sweetly," explains Anderson. "The whole point of having all these sad songs is helping people to let those emotions out—and then hopefully when they get to the end, they feel a little better about everything they've gone through along the way."
More Events >
Join The List
find out about T2F shows in your area & chances to win free tickets
About Us
Time2fly is a booking and promotions agency based in both Texas and Charlotte, NC offering production solutions for musicians, bands and venues all across the c
ountry. Being a homegrown family organization, our mission is to spread good times to the wonderful people of this earth and to introduce new music to anyone listening.
If you need live music we have options for you.
More about T2F >
Contact >