The Latest Scoop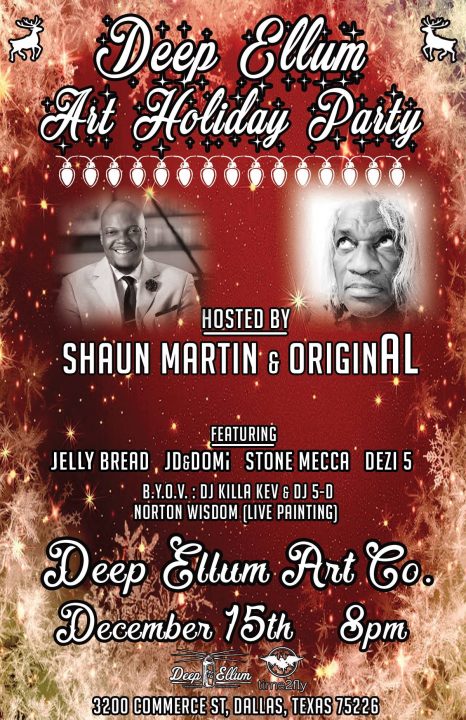 ● 🎄 Deep Ellum Art Holiday 🎅🏽 ●
Hosted by Shaun Martin & OriginAl
Saturday, December 15, 2018
@ Deep Ellum Art Company:
[ live music | art gallery | bar | patio ]
http://DeepEllumArt.Co
Tickets on Sale!
http://bit.ly/DeepEllumArtHoliday
Live Performances:
● Stone Mecca
● JD Beck Music & Domi
● Jelly Bread
● Dezi 5
Bring Your Own Vinyl (DJ set breaks)
● Killa Kev
● 5-D
Live Painting:
● Norton Wisdom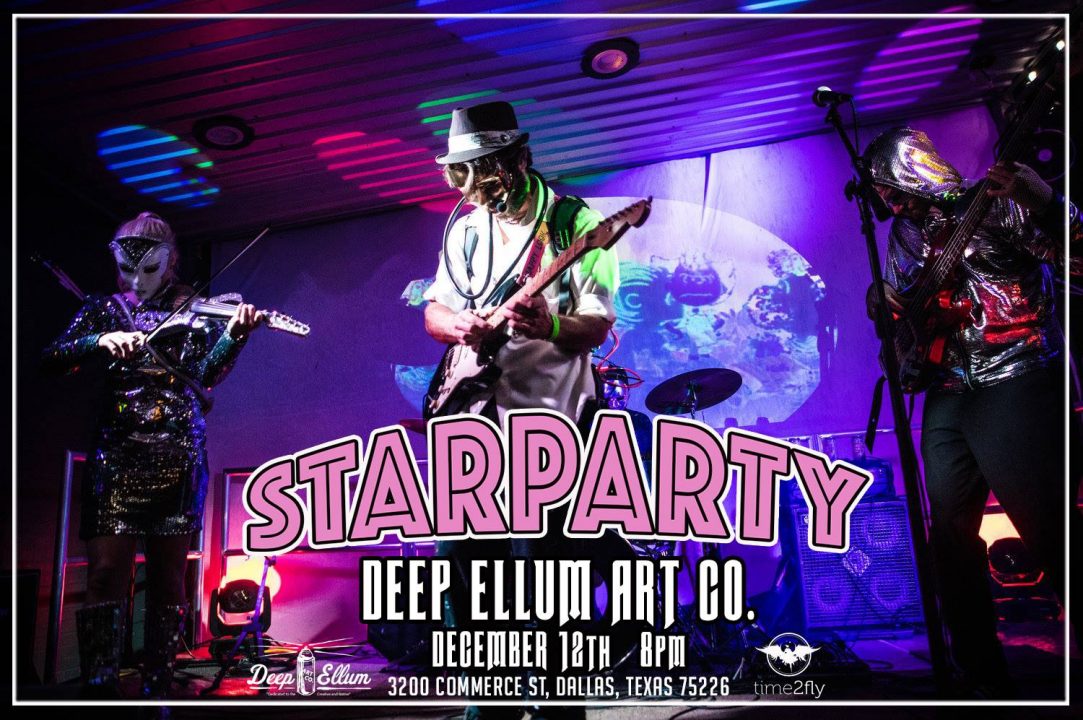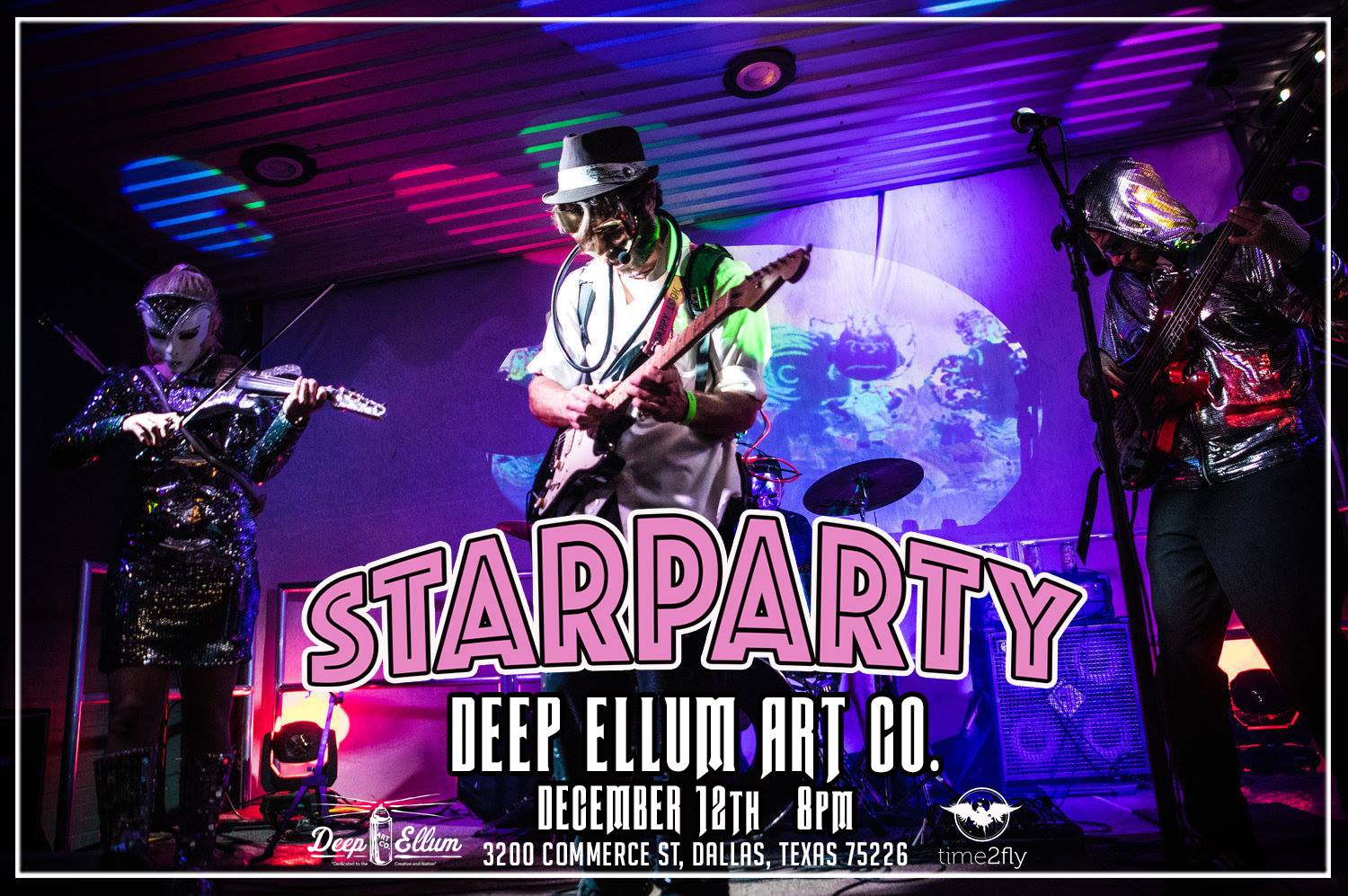 Deep Ellum Art Company Presents:
[ live music | art gallery | bar | patio ]
http://DeepEllumArt.Co
✧✦ Dance Music From Another Galaxy ✦✧
STARPARTY (Denton, TX)
[ disco | pop | rock ]
http://bit.ly/STARPARTY
Tickets on Sale:
http://bit.ly/STARPARTY-12-2
—
"Most of STARPARTY's members have been playing music virtually their entire lives. Steinberg, who had been doing covers of electronic-pop duo Daft Punk on his own, was approached by a member of another band who was interested in doing the same thing. When that band member passed away unexpectedly, the remaining group still wanted to carry out that idea: a Daft Punk cover band with some individuality of their own."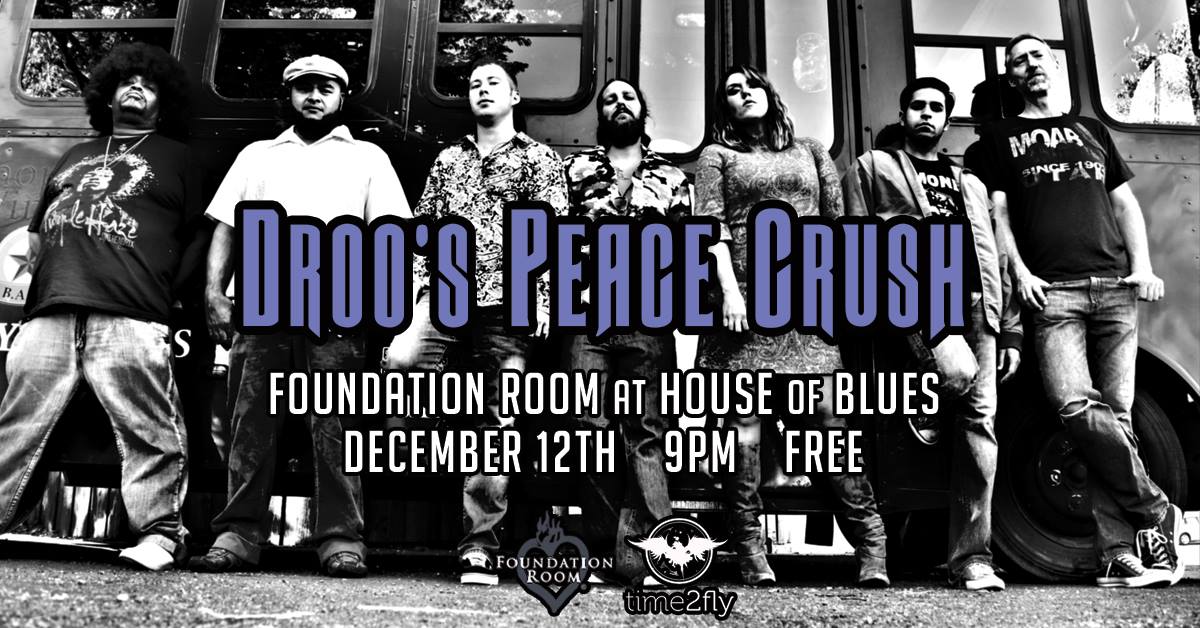 Droo's Peace Crush will be performing in Foundation Room for the return of Wednesday Night Live! Since their musical elements are as eclectic as the Peace Crush-ers themselves, sonically the band is like nothing else that you've ever heard before…and because of the extremely diverse cover song selections they've performed over the years, their original tunes are a pop-heavy beautiful mix of energetic melodies, sounds, and collaborations that they derive from all these influences.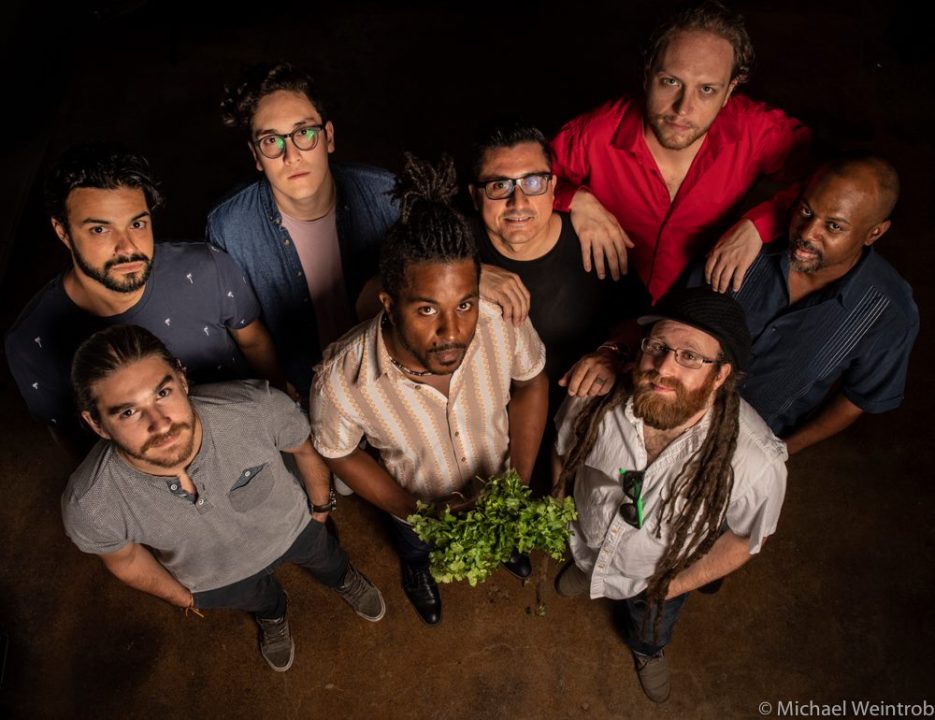 Deep Ellum Art Company Presents:
[ live music | art gallery | bar | patio ]
http://DeepEllumArt.Co
➤ Cilantro Boombox
[ dance | world | funk ]
www.cilantroboombox.com
➤ Graveltooth
[ rock n roll | blues | soul ]
http://graveltoothmusic.com
➤ Ryan Viser
[ livetronic | funk | bass ]
www.ryanviser.com
➤ KatsüK
[ conscious | world | folk ]
www.katsuk.com
Tickets on Sale Now!
http://bit.ly/Fridays-at-ArtCo-12-14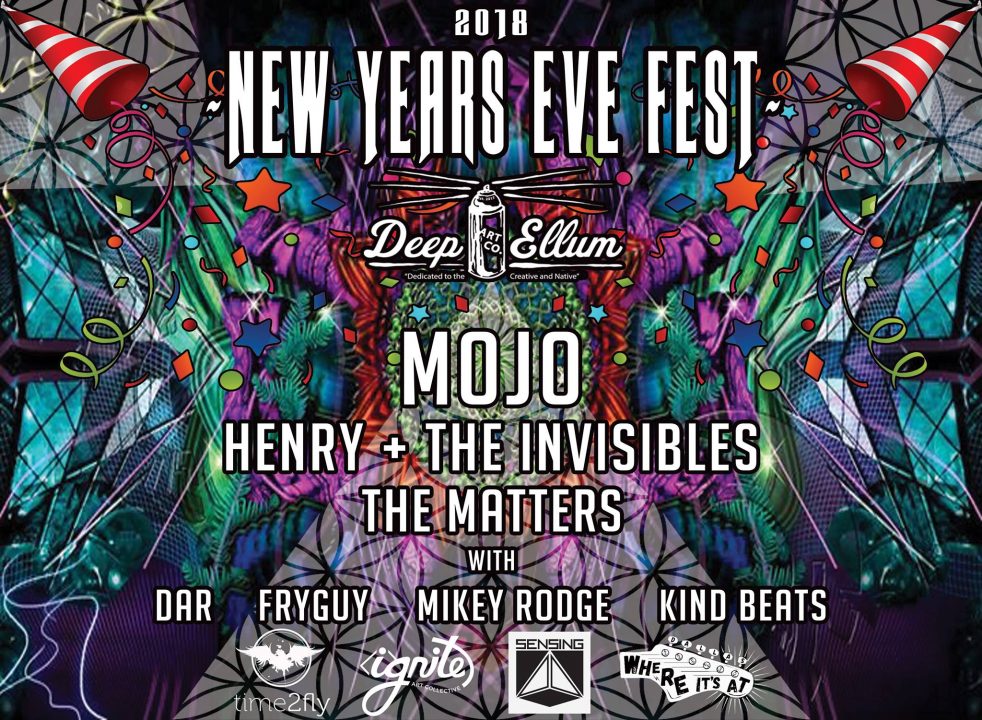 Deep Ellum Art Company Presents:
[ live music | art gallery | bar | patio ]
http://DeepEllumArt.Co
💫🌟 New Year's Eve at Art Co 🌟💫
✨ Monday, December 31, 2018 ✨
Limited Tickets on Sale Now!
http://bit.ly/NYE-at-ArtCo
—
Live Music:
▶ Main Stage ◄
MOJO -trymoremojo
[ jamtronica | space funk | psychedelic ]
http://trymoremojo.com
An introspective look at funk and electronic music; MOJO offers funky riffs, spacey soundscapes, inviting vocals, and heavy grooves.
Henry + The Invisibles
[ soul | funk | dance ]
www.henryinvisible.com
"THE ONE MAN FUNK BAND" aka Henry Roland loops and layers vocal harmonies, funk guitar, bass grooves, soulful keyboards, drum machines and percussion to create original high energy dance music that sounds like a solid 5-piece funk ensemble.
Kind Beats
[ lo-fi | chill | hip-hop ]
https://soundcloud.com/kindbeats
The Matters
[ rock | groove | jazz ]
http://themattersmusic.com
▶ Pavilion Stage ◄
DAR
https://soundcloud.com/david-dar-carroll
DJ Mikey Rodge
http://www.soundcloud.com/mikeyrodge1
Dj Fryguy
soundcloud.com/dj-fryguy
Mixcloud.com/djfryguy
Kind Beats
https://soundcloud.com/kindbeats
—
MORE GOODIES TBA!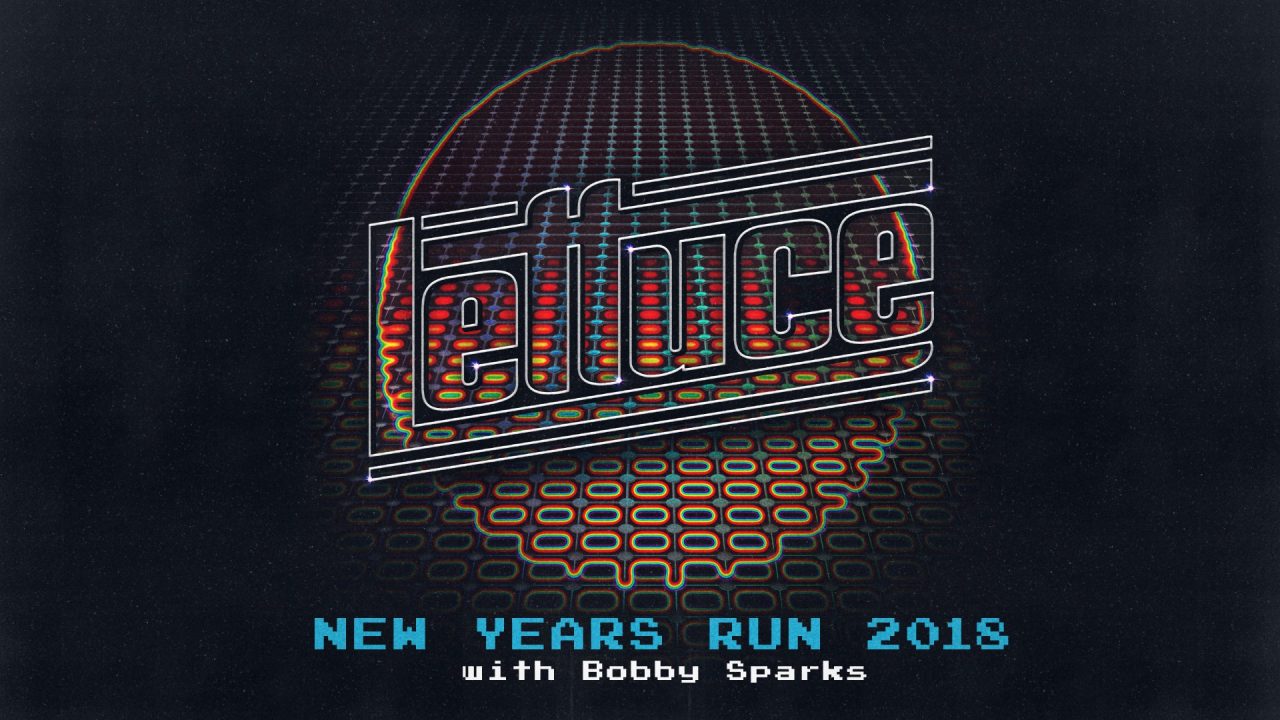 Saturday, December 29th, we welcome Lettuce and opener Bobby Sparks to the Granada Theater! Lettuce are a funk band who bring a new vitality to classic funk,matching their smooth and soulful grooves with a hip-hop-inspired urgency and mastery of beat. Grab your tickets to join them for this awesome night of funk jams!
Goes Good With: Galactic, Snarky Puppy, Umphrey's McGee, Moe.
More News >
Upcoming Events
Flowmoon with Left/Right, Electrik Ants, and DJ Titan
at

Deep Ellum Art Company
Dallas

,
Texas
Ignite Art Collective | Time2Fly Music | Deep Ellum Art Companypresent: FLOWMOON with Left/Right, Electrik Ants, and DJ Titan
Performance Artists | Live Music | DJs | Vendors | Art | Glass Blowing | Live Graffiti | Open Fire Circle & much more!
This holiday season, we're indulging more than usual in the amazing local talent Dallas has to offer. Check out our headliners below, and stay tuned for more updates!
Tickets on Sale Now:
http://bit.ly/December-Flowmoon
||| MUSIC |||
>>> Left/Right
Left/Right works from the shadows as a DJ, producer, promoter, and professor. His music has been featured in DJ Mag, Mixmag, UKF, Dancing Astronaut, and Insomniac and garnered support from Oliver Heldens, Zeds Dead, Wuki, My Nu Leng, Mr Carmack, BBC Radio 1, Rinse FM and more. L/R works as an artist and A&R for Stanton Warrior's label PUNKS, his own imprint/brand, BRØKEN, and has released on Dirtybird, Audiophile XXL, and Insomniac's In Rotation.
With degrees in both music composition and audio engineering, Chris loves to create. His tunes and DJ selections feature a diverse sound that drive his energetic performances and introspective mixes. L/R is regularly booked coast to coast and internationally to move dance floors – including sets at Fabric (London), Burning Man, SXSW, WMC, MiddleLands, Glastonbury, and his resident BRØKEN events.
soundcloud.com/leftrightmusic
twitter.com/leftrightmusic
instagram.com/leftrightmusic
youtube.com/leftrightmusic
>>> Electrik Ants
Electrik Ants live in the vibe of the music – a genuine blend of hip hop, funk, psychedelic, and groove, unique and exciting. They are a seven-piece band with sax, DJ, drums, bass, and three members that rotate between rapping, singing, guitar, keys, synth, and percussion, The Ants are have great freedom in performing and writing; A freedom explored and expressed with emotional and technical dedication. There isn't a live or recorded band as ambitious, capable, or unique as Electrik Ants.
Their debut album, Rhetorik One out now! bit.ly/RhetorikOne
https://www.electrikants.com
https://www.youtube.com/channel/UCK_DeZ4qpJ7-norwkGDOPVA?view_as=subscriber
https://twitter.com/electrikants
https://soundcloud.com/user-186676609
>>> DJ Titan
The Texas raised DJ Titan has been a Dallas Drum and Bass ambassador for almost two decades. He started DJ'ing house parties in 1999 and has been known as the Drum and Bass Resident at the world famous Lizard Lounge Night Club since 2003. His consistent club background has taken him from Brooklyn to Cancun, Denver, LA, Mexico City, St. Louis, and much more. He represents his hometown with a solid reputation and continues to rock venues all over.
http://djtitanofficial.com
https://twitter.com/djtitanrocks
https://soundcloud.com/djtitan
https://www.youtube.com/watch?time_continue=8&v=M0eaoJujCRI
More Events >
Join The List
find out about T2F shows in your area & chances to win free tickets
About Us
Time2fly is a booking and promotions agency based in both Texas and Charlotte, NC offering production solutions for musicians, bands and venues all across the c
ountry. Being a homegrown family organization, our mission is to spread good times to the wonderful people of this earth and to introduce new music to anyone listening.
If you need live music we have options for you.
More about T2F >
Contact >