Josh Pearson Goes Phish :: House of Blues :: Foundation Room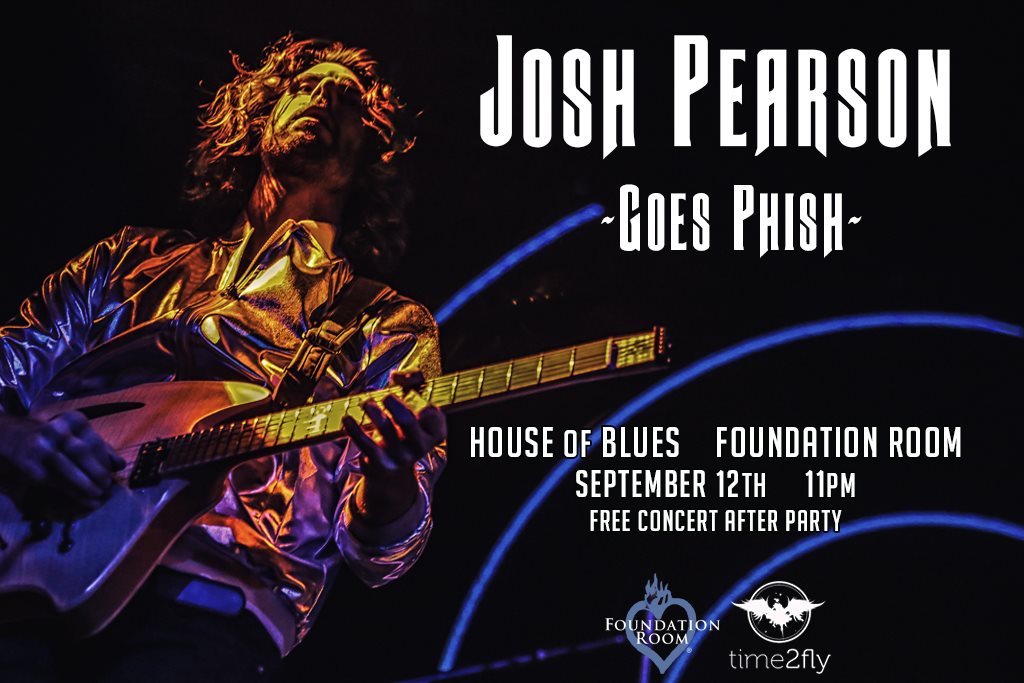 Time2Fly Music & Foundation Room Dallas present;
Josh Pearson goes Phish upstairs in the Foundation Room Dallas after JRAD in the main room!
---
The Motet: Speed of Light Tour at Deep Ellum Art Company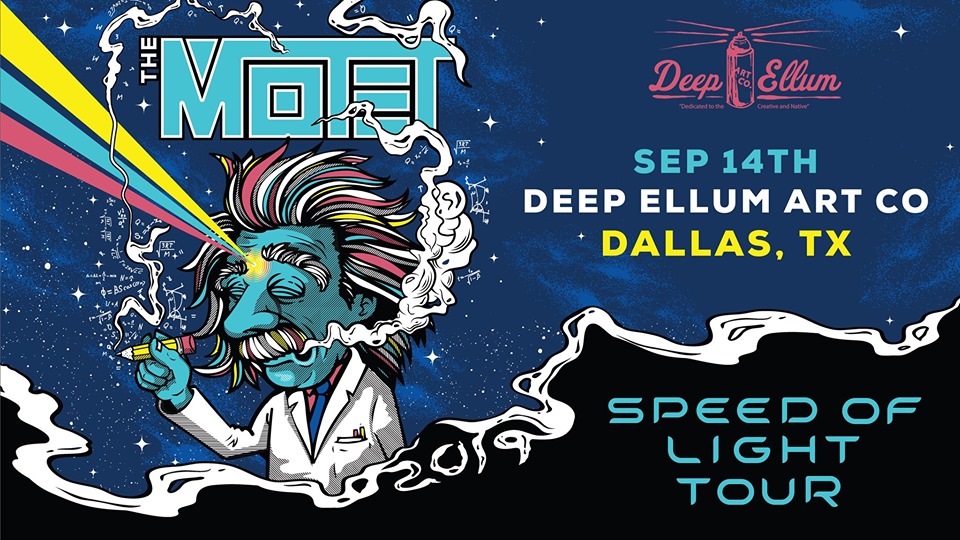 Deep Ellum Art Company Presents:
The Motet: Speed Of Light Tour in Dallas, TX on September 14th, 2019 with DJ Williams Shots Fired
Tickets on Sale FRIDAY, JUNE 28TH!
The Motet
[funk | soul | dance]
Feels Like: Galactic, Funk You, Lettuce
A concert or an album can unlock another world, if you let it. The Motet respect and revere this time-honored phenomenon. Fusing fiery funk, simmering soul, and improvisational inventiveness, the Denver, CO seven-piece—Lyle Divinsky [vocals], Dave Watts [drums], Joey Porter [keyboards], Garrett Sayers [bass], Ryan Jalbert [guitar], Parris Fleming [trumpet], and Drew Sayers [saxophone]—have continually provided an escape for listeners over the course of seven full-length albums since 1998, including their latest release Totem and with an upcoming 2018 release. That extends to countless sold out shows and festivals everywhere from Bonnaroo, Electric Forest, and Summer Camp to All Good Music Festival and High Sierra Music Festival as well as 16 consecutive years of themed Halloween concerts.
"When you're listening to us, I want your mind to be taken away from wherever you are during the day and into some other place," states Dave. "It's all about that."
After quietly building a diehard and devoted following, 2016 represented a watershed year for the musicians. They welcomed Lyle and Drew into the fold and released Totem, which drew acclaim from Relix, AXS, 303 Magazine, and many others. For the first time, The Motet sold out the legendary Red Rocks Amphitheater—the holy grail venue of their hometown—cataloged on Live at Red Rocks. Sell-outs followed everywhere from The Fillmore (San Francisco) and Tipitina's (New Orleans) to Brooklyn Bowl (Brooklyn), Park West (Chicago), and Crystal Ballroom (Portland). The group locked into an unbreakable groove.
"We've never been a band that just blew up overnight," Dave goes on.
"We've been very tenacious about our movement forward. We've been through many different iterations throughout the years. Right now, it feels like we've got the lineup that's making an impression on our scene. Lyle is the perfect match for us. He's got musicality and this raw energy we all resonate with. He ignited this spark to put work in and write inspiring music."
That spark lit again in 2017. Following Jam Cruise and a second Red Rocks gig, the band fired up the new single "Supernova." Strutting between hypnotic horns and swaggering guitars, the track sees The Motet blast off to another galaxy. Quickly racking up over 150k Spotify streams in a month's time, it instantly excited fans.
New Album DEATH OR DEVOTION now available!
Listen here –> http://smarturl.it/motetdeathordevotion
---
Jam Room Sessions hosted by Tito & Brighton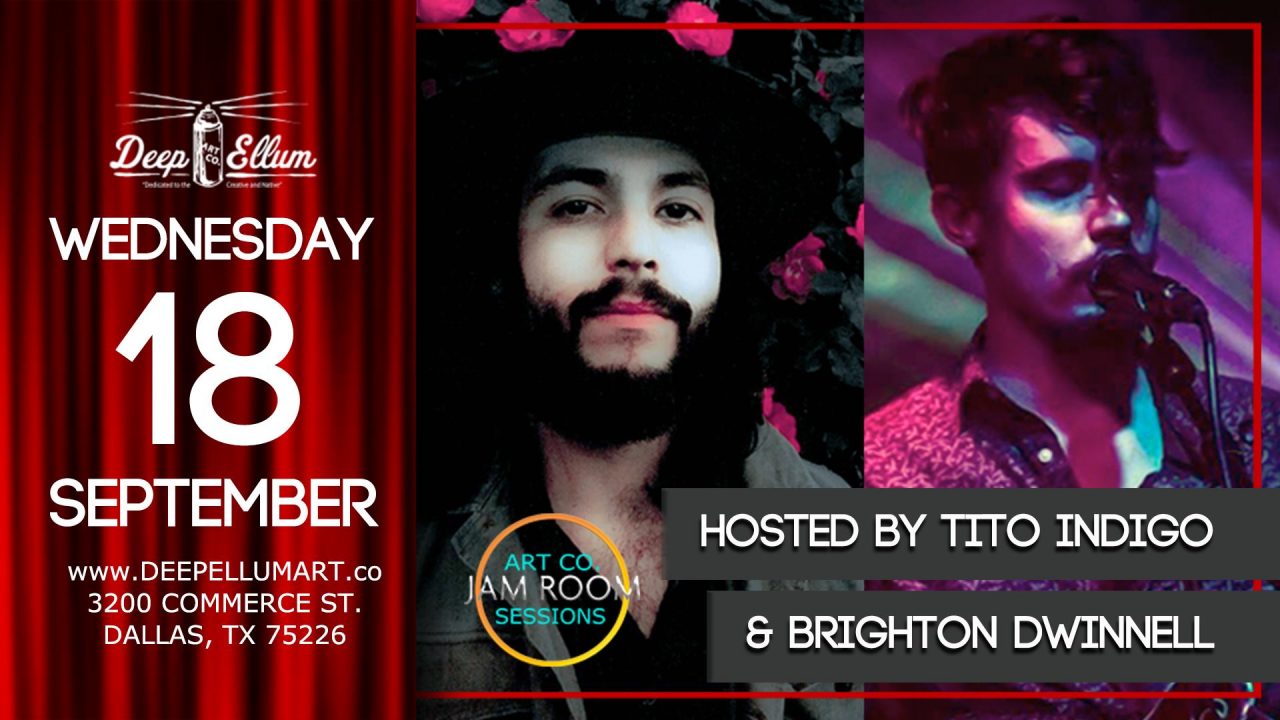 Deep Ellum Art Company Presents:
[ live music | art gallery | bar | art yard ]
http://DeepEllumArt.Co
Jam Room Sessions
Hosted by Tito Indigo & Brighton Dwinnell (of Chilldren of Indigo & Sagacious Zoo)
Featuring DFW musicians
Please reach out to Tito or Brighton if you'd like to join the jam!
Wednesday Sept. 18th, 2019
8PM-2AM
>>> NO COVER <<<
DRINK SPECIAL:
🍹Half Price Craft Cocktails 🍹
🍻Pint Night – $10 souvenir glass + draft beer of choice – $5 refills all night long🍻
PARKING:
Street parking available on Commerce (front) & Murray (side). Lot parking is available on Canton (back) across the street in the Equipment and Maintenance Services building after 6pm. We do not recommend parking in the business lot on Murray.
---
House Music NIghts | Hosted By Jay Sustain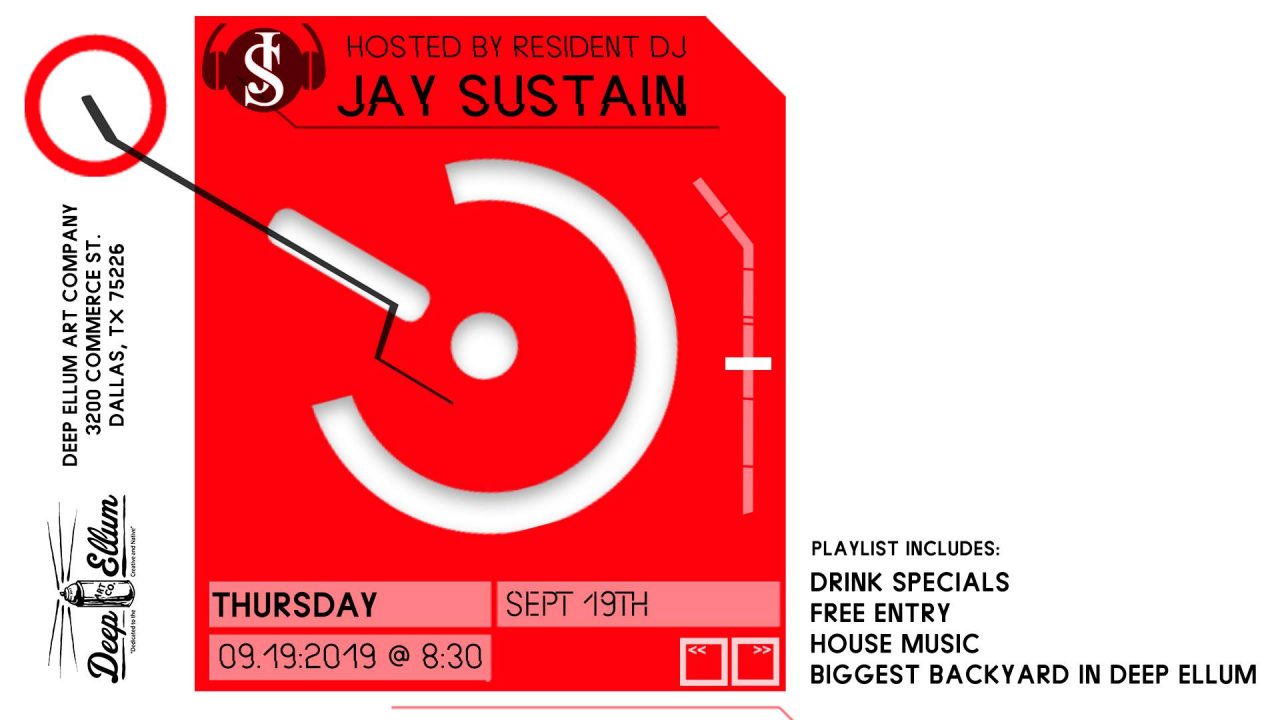 Deep Ellum Art Company Presents:
[ live music | art gallery | bar | art yard ]
http://DeepEllumArt.Co
Thursday, September 19th 2019
This is a FREE Event
Jay Sustain
[electronic | ambient | down-tempo]
Jay Sustain is Deep Ellum Art Company's resident DJ.
---
Eric Krasno Trio at Deep Ellum Art Co 10/4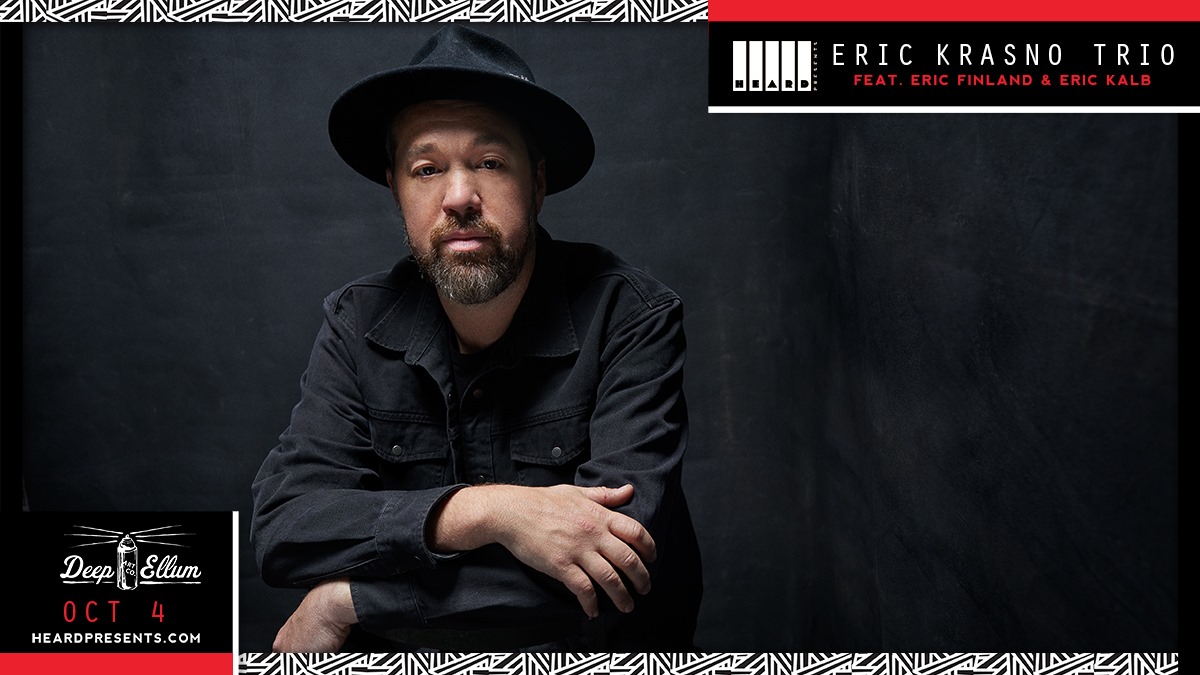 Heard Presents:
Eric Krasno ft Eric Finland & Eric Kalb
at Deep Ellum Art Company 10/4
🎟: http://bit.ly/EricKrasnoTrio_Oct4
☞: 18+
🚪: 8pm
---
Official Snarky Puppy Immigrance Afterparty-Dallas w/TryMoreMOJO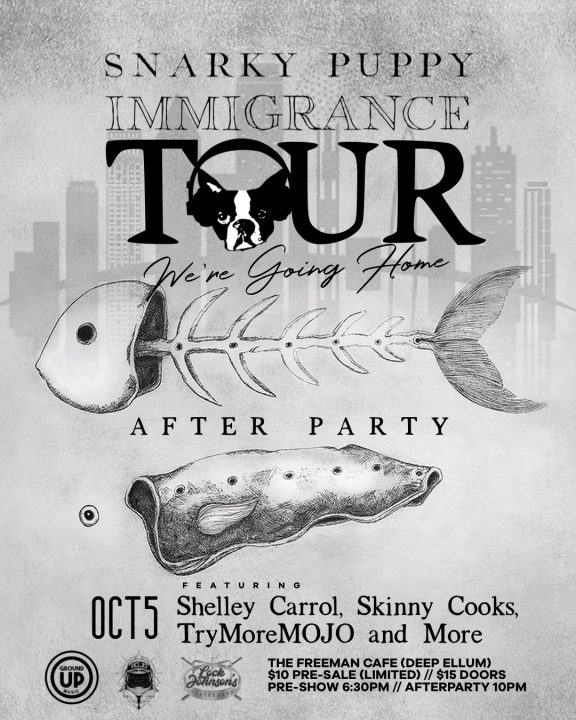 Snarky Puppy & GroundUP Music present;
The OFFICIAL Snarky Puppy Immigrance Tour Dallas afterparty! Headlined by TryMore MOJO, in conjunction with LockJohnson's Playground, featuring Skinny Cooks & Shelley Carrol.
Celebrating the end of their US tour after a 7 month trek around the globe, with 2 more months to go!
Saturday 10.05.19, destination The Freeman Café
2630 Commerce St. Dallas, Tx 75226
Pre-Show 6:30pm, AfterParty 10pm, $10 PreSale (Limited Amount), $15 Doors.
Powered By TryMoreMOJO, LockJohnson's Playground, Time2Fly Music and GroundUp Music
#SnarkyPuppy
#LongLiveMusic
#JammGoodTime
#TryMoreMOJO
#staywokewebeendope©️
#ComeHearWhatMusicLooksLike™️
TryMore MOJO
[ Psychedelic | Spacefunk | Deep Groove ]
http://trymoremojo.com/
Seeking the highest of interstellar peaks, TryMoreMOJO aims to guide the listener on their mission through space with their blend of funky riffs, modular soundscapes, energetic vocals, and heavy grooves; inviting fans to contribute their energy in a give-and-take partnership between performer and listener.
An introspective look at funk and electronic music; MOJO offers funky riffs, spacey soundscapes, inviting vocals, and heavy grooves.
"MOJO an upcoming funk/electronic band are exactly what you need after a long week. Not only do they bring the grooves needed to wash away the stress of the week, the visuals provided are simply astounding. MOJO is like watching your own personal Pink Floyd, meets Rage Against the Machine, meets STS9, yes I went there. Do not miss these guys…" – DentonRadio.com
Goes well with:
TAUK, Lettuce, Ghost-Note, Snarky Puppy, Spafford, Aqueous, Papadosio, Magic Beans, STS9, BIG Something, Umphrey's McGee, Emancipator Ensemble, Pigeons Playing Ping Pong, Earphunk
---