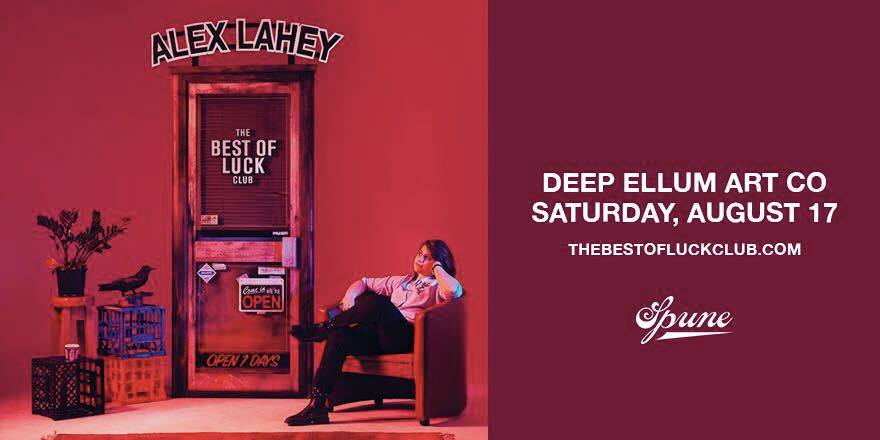 Alex Lahey | Deep Ellum Art Co.
at

Deep Ellum Art Company
Alex Lahey | Deep Ellum Art Co.
🎟 Tickets on sale Friday, April 5 at 10am
📺 youtube.com/watch?v=Uu1qtIk5eoY
On her sophomore LP, The Best of Luck Club, 26-year-old Alex Lahey navigates the pangs of generational ennui with the pint half-full and a spot cleared on the bar stool next to her. Self-doubt, burn out, break-ups, mental health, moving in with her girlfriend, vibrators: The Best of Luck Club showcases the universal language of Lahey's sharp songwriting, her propensity for taking the minute details of the personal and flipping it public through anthemic pop-punk.
Lahey's 2017 debut I Love You Like a Brother encases Lahey's knack for writing a killer hook and her acute sense of humor delivered via a slacker-rock package — and, in a way, The Best of Luck Club picks up where that record left off but sprinting forward. Lahey dives headfirst into a broader spectrum of both emotion and sound through polished, arena pop-punk in the vein of Paramore with the introspective sheen of Alvvays or Tegan & Sara. Here, Lahey documents "the highest highs and the lowest lows" of her life to date.
The first inklings of The Best of Luck Club came together on a shitty guitar while Lahey spent the bulk of her time on the road. The break-out success of I Love You Like a Brother took her beyond the adoration of Australia to her first taste of global touring; festival slots at the likes of Lollapalooza, Bonnaroo, and Osheaga; and her American TV debut on Late Night with Seth Meyers. Amidst the frenzy, Lahey found the time to tinker with her thoughts, eventually landing in Nashville for intensive songwriting sessions. Lahey would lock herself in a room for 12-hour days and ended up churning out more than half the songs for the record. Most importantly, Lahey found The Best of Luck Club thesis while she was there — which explains the familiarity and relatability through Lahey's new LP.
"When I was writing all the stuff in Nashville I was really inspired by the dive bar scene there and the idea that at these dive bars there's no pretentious energy," she explains. "Whether you've had the best day of your life or the worst day of your life, you can just sit up at the bar and turn to the person next to you – who has no idea who you are – and have a chat. And the response that you generally get at the end of the conversation is, 'Best of luck,' so The Best of Luck Club is that place."