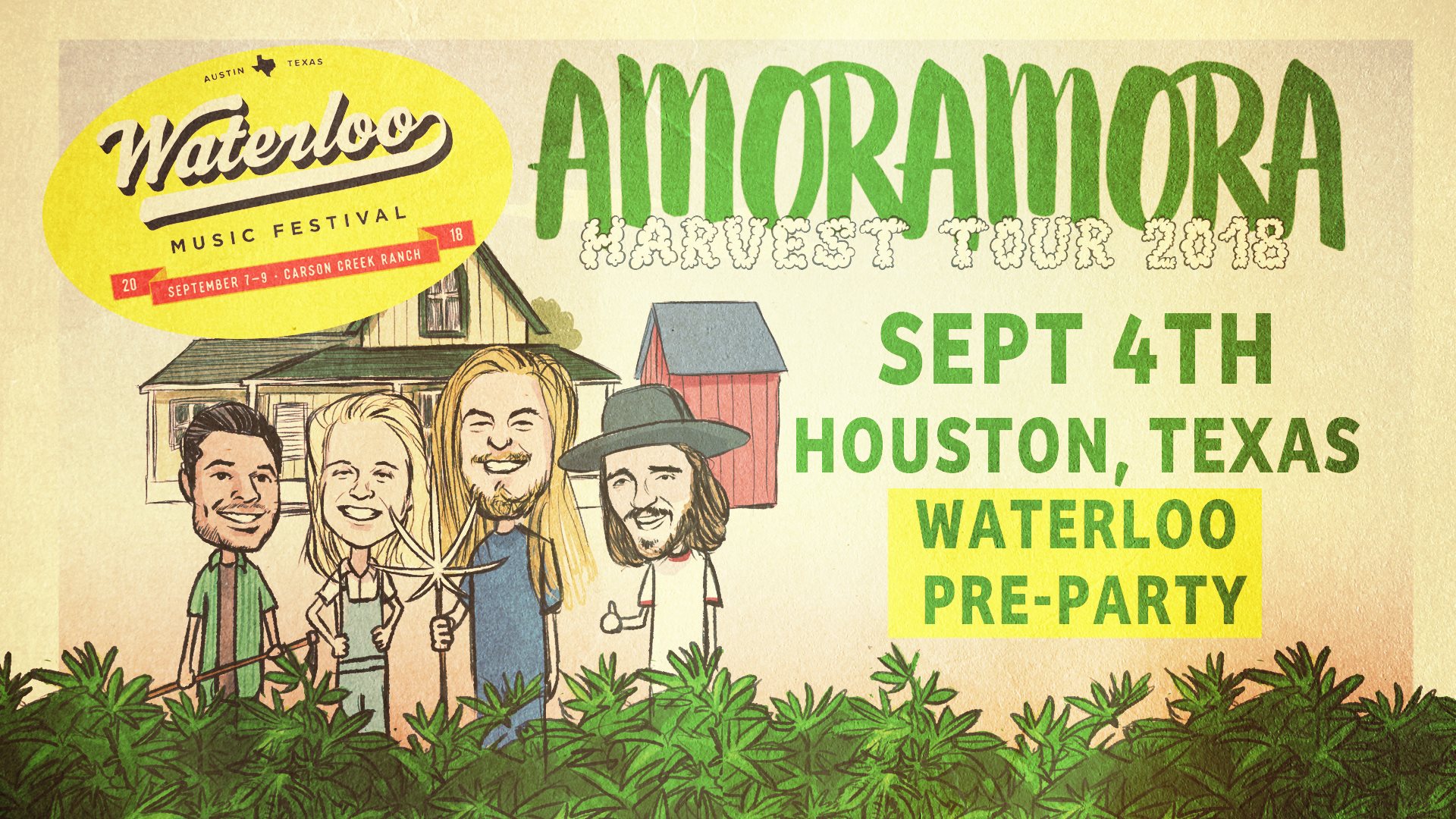 Amoramora & trymoreMOJO
at

Last Concert Cafe
Tuesday

,
September
04
2018
**FREE ENTRY for Waterloo Music Festival Ticket Holders**
ADV $8 // DOS $10
DOORS: 8PM
TWO SETS
:|: BIO :|:
Amoramora played over 100 shows in 60 different cities around the U.S. in 2017, toured to both coasts twice and played two sold-out hometown shows at the Fox Theatre and Boulder Theater. Their song 'Bloom' was featured on Sirius XM's Jam On channel, and their song 'Coming Back' was featured in Relix Magazine's August 2017 Issue.
Featuring an upbeat blend of Funk, Bluegrass, African Highlife and Jazz Fusion, these Rocky Mountain Boys harken back to the early days of the jam-rock scene that just oozed positivity which nurtured bands like Blind Melon, String Cheese Incident, and Strangefolk . Fueled by high-energy improvisation, the undeniable joy this quartet shares onstage and offstage is reflected by their devout and growing fanbase, the Amorons. Based out of Boulder, CO, the band has a commitment to consistently changing setlists, expanding their already extensive catalog of original material, and stirring the musical gumbo. Along with the deep instrumental blend of guitar, keyboard, trumpet, EWI, bass & drums, all four members are also vocalists.
++ MOJO -trymoremojo
[ jamtronica | space-funk | psych ]
http://trymoreMOJO.com
Seeking the highest of intergalactic peaks, we're just a few funky fellas trynna make you dance.
An introspective look at funk and electronic music; MOJO offers funky riffs, spacey soundscapes, inviting vocals, and heavy grooves.
"MOJO an upcoming funk/electronic band are exactly what you need after a long week. Not only do they bring the grooves needed to wash away the stress of the week, the visuals provided are simply astounding. MOJO is like watching your own personal Pink Floyd, meets Rage Against the Machine, meets STS9, yes I went there. Do not miss these guys…" – DentonRadio.com
Goes well with:
The Werks, Papadosio, Spafford, STS9, Lettuce, Pigeons Playing Ping Pong, Umphrey's McGee, Earphunk, Tauk, Tycho, Zoogma
:|: LINKS :|:
↳ bit.ly/AmoramoraSpotifyLink
↳ http://bit.ly/AmoramoraYouTube
↳ bit.ly/AmoramoraRocksYourSocks
↳ bit.ly/AmoramoraTweets
↳ bit.ly/AmoramoraInsta