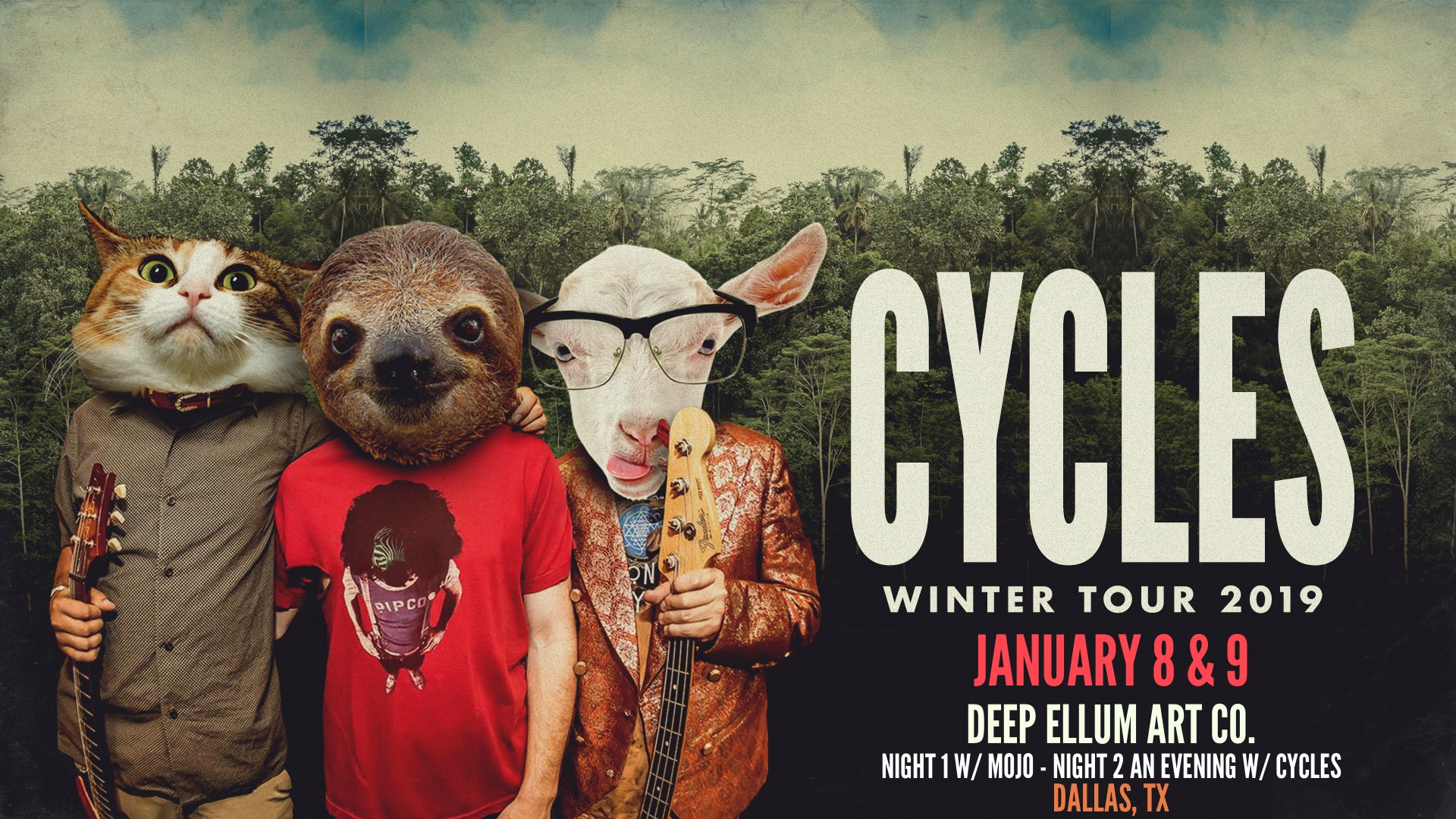 An Evening with Cycles at Deep Ellum Art Company
at

Deep Ellum Art Company
Wednesday

,
January
09
2019
Deep Ellum Art Company Presents:
[ live music | art gallery | bar | patio ]
http://DeepEllumArt.Co
Cycles (Denver, CO)
[ psychedelic rock fusion ]
http://cycles.band
Cycles is a three piece band that blends several musical genres including rock, jazz, hip-hop, soul, funk and more.
► Tickets on Sale Now!
► http://bit.ly/Cycles-ArtCo
Wednesday Happy Hour:
1/2 off Signature Cocktails
—
Cycles epitomize the power-trio format with ripping guitar, fat bass grooves played out through furious slapping, and dynamic drum beats flowing over intricate tempo changes. Each member wields a unique take on their instrument that when played together, forms a truly fresh and cohesive sound. Patrick Harvey commands the guitar with speed and precision reminiscent of Jimmy Herring while using his loop pedal virtually as its own instrument, a skill unique only to him. Michael Wood has subtly forged a drum style that showcases his rare ability to mashup funky hip-hop beats with frenzied rock riffs and only displays flashy technique when necessary while implementing the creative use of various sound-modulating drum triggers. At the heart of the band lies Tucker McClung's dominant slap-bass chops that captivates audiences and pumps the musical blood through the band.
The current incarnation of the ever-developing sound of Cycles reveals itself today as a staggering display of seemingly innocuous lyrics over purposeful compositions that only begin to mean more with time. Screaming peaks and balanced grooves find their way out of the chaos of a jam while samples ripped from anything between Prince, Missy Elliott, Chris Farley and Mortal Kombat movie quotes (and much more) ring out in the mix adding to the multicolored blend of sound filling a room and often standing out as comedic elements of the show. Drawing influence from artists such as Rage Against the Machine, J. Dilla, Primus, Weather Report, and many more, Cycles fuse an eclectic blend of genres to produce an original sound that has become harder and harder to find. Although only a few years old, Cycles have over 250 shows under their belt with tours extending across the entire U.S. A heavy touring schedule keeps them on their toes while providing the inspiration to continue to write and always strive to play better. Look out for their name soon on a festival schedule in your hands or a club marquee playing with your favorite bands.