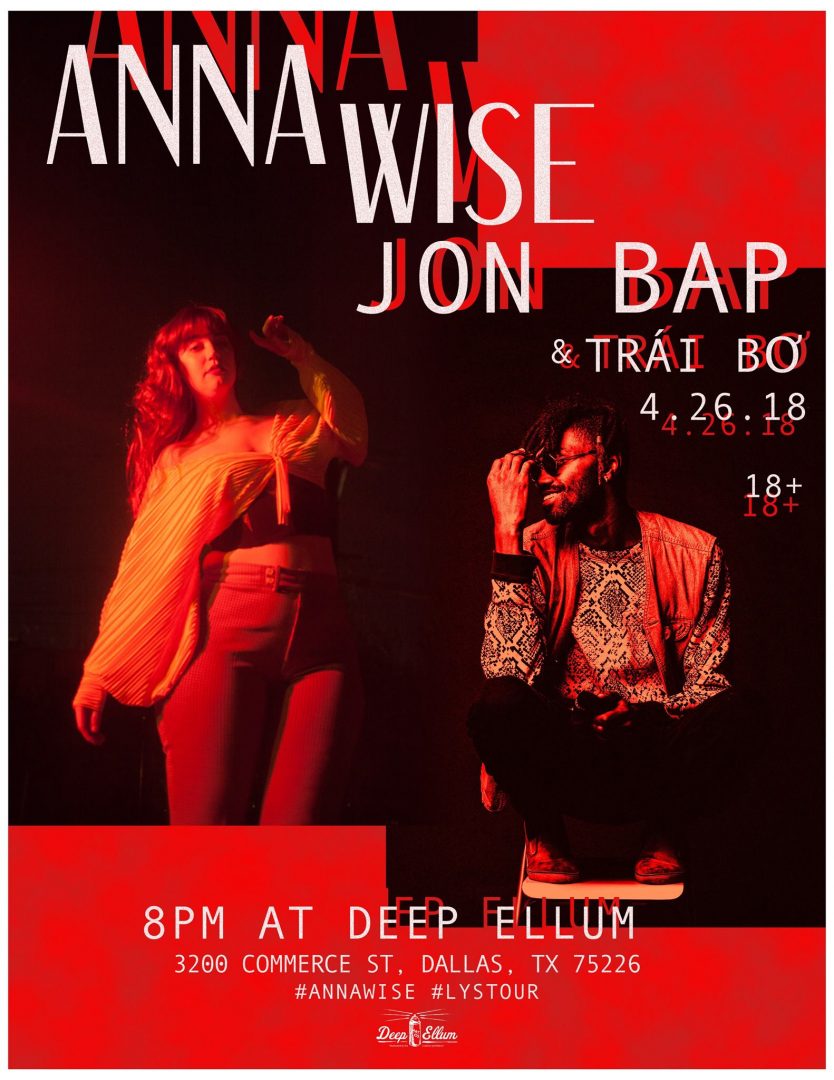 Anna Wise, Jon Bap, & Trái Bơ
at

Deep Ellum Art Company
Deep Ellum Art Company Presents:
[ live music / art gallery / backyard / bar ]
>>> 4pm: BAR OPENS
>>> 8pm: BOX OFFICE
>>> 8:30pm: MUSIC STARTS
Anna Wise
[ alternative / R&B / pop ]
www.annathewise.com
Anna Wise is a Grammy Award winning singer, songwriter, and performer based in Brooklyn, NY. Anna has garnered a dedicated following amongst musicians and music fans alike ever since her collaborations with Kendrick Lamar on good kid, m.A.A.d city ("Real," "Bitch Don't Kill My Vibe," "Money Trees"), To Pimp a Butterfly ("These Walls," "Institutionalized") & untitled unmastered ("untitled 01 | 08.19.2014." & "untitled 05 | 09.21.2014."). Their song "These Walls" won the Grammy Award for Best Rap/Sung Collaboration at the 2016 Grammy's.
As a staunch supporter of independent artists in the entertainment industry, Anna is hands on with other mediums as well, creating works of video, photo and other various design to accompany her music. Anna also performs alongside her band, Sonnymoon, with whom she has released three albums, Golden Age, Sonnymoon, and The Courage of Present Times. Anna has shared the stage with artists such as Kendrick Lamar, Kimbra, The Roots, Third Story, Givers, Flying Lotus, Bilal, Teebs, Tei Shi, and more.
In 2017, Anna continues her story with The Feminine: Act II. Available now.
JON BAP
[ soul / jazz / IDM ]
https://soundcloud.com/jonbap
"While it's difficult to find a box that he fits into neatly, Bap is perhaps best described as an experimental soul artist. His background is in many ways traditional: He was raised in a musical family, first found his voice in the church choir, and clearly draws a lot of inspiration from classic funk, soul and R&B. The forms that his songs take, however, push beyond the commonly understood bounds of those genres. His aesthetic as a recording artist is one of disorderly virtuosity, a composer who piles up home-recorded sounds in unexpected and sometimes stunning ways.
Nowhere is Bap's outsider stance more clear than in his approach to percussion. The drums on Jon Bap songs clash and clatter, fighting for control of the tempo and the listener's ear. He allows beats to collide at odd angles, to play counter-rhythms, to create an air of barely-contained chaos." – Pitchfork.com
Trái Bơ
[ garage / prog / art rock ]
http://traibo.bandcamp.com/
"Denton has its fair share of psych-rock bands that pump out adrenaline-filled melodies for crowds that want to exercise the limits of their joint movements. Trái Bơ's newest release, Adulthood in the Context of Total Noise, establishes their brand of psychedelia by placing it in a murk. It's 12 tracks with an odd field interview and 11 tunes that can be regarded as a toned-down version of My Morning Jacket with a funk edge." –theDentonite.com
Tickets on Sale Now!
$10 ADV / $13 DOS
http://bit.ly/AnnaWiseDTX
PARKING:
Street parking available on Commerce (front) & Murray (side). Lot parking is available on Canton (back) across the street in the Equipment and Maintenance Services building after 6pm. We do not recommend parking in the business lot on Murray.
DRINK SPECIALS:
1/2 off Wine on Tap