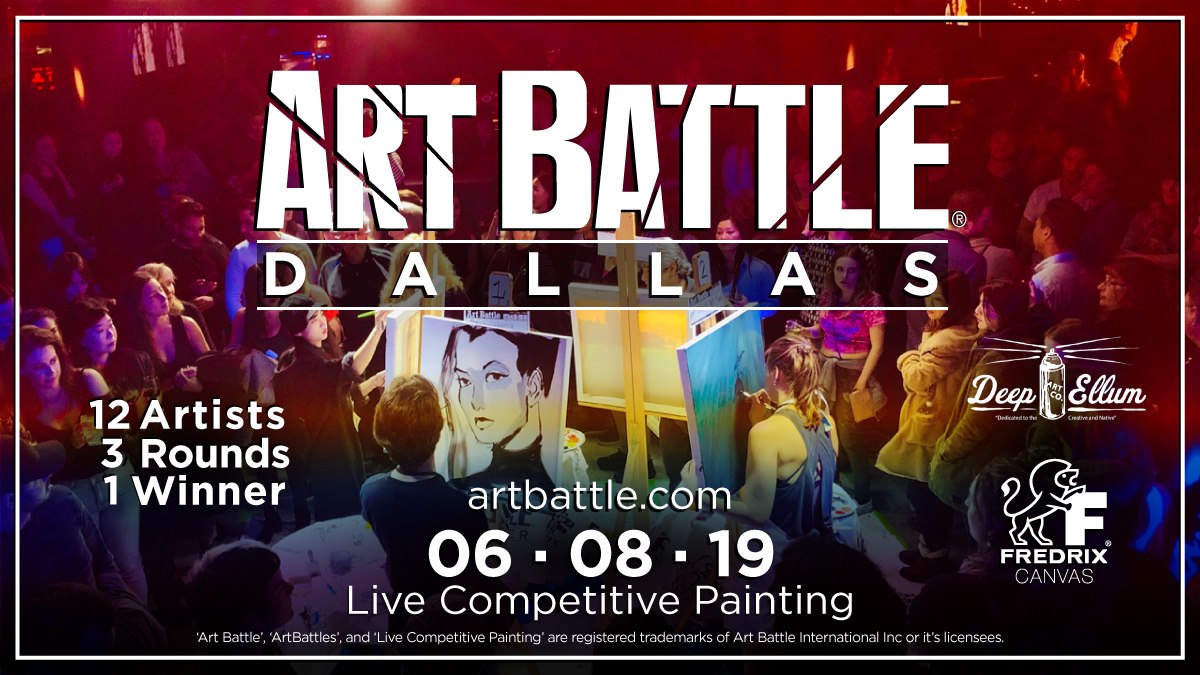 Art Battle Dallas ‑ June 8, 2019
at

Deep Ellum Art Company
Join us for a sizzling experience of creation and community at Deep Ellum Art Co!
It's a wild night; great music, paint flies and masterpieces are created before your eyes!
12 amazing painters put their skills to the test with only 20 minutes to turn blank canvases into incredible pieces of original art that will be available via silent auction.
Watch the creative process unfold and help vote for the Winner!
Art Battle® Dallas is proudly sponsored by Fredrix Artist Canvas!
Follow us on Instagram @ArtBattleDallas!
Doors @ 2:00pm
Painting @ 3:00pm
TICKETS –
https://www.eventbrite.com/e/art-battle-dallas-june-8-2019-tickets-61391664120
General Admission $20
Early Bird $15
WHAT IS ART BATTLE?
Art Battle® is live competitive painting. Painters create the best work they can in 20 minutes. As they work, patrons move around the easels, closely watching the creative process. The medium is acrylic paint and the tools allowed are brushes, palette knives or any non-mechanical implements. At the end of the round, the audience votes democratically for their favourite painting and bids in silent auction to take the work home. Art Battle happens in 50+ cities worldwide, check artbattle.com for local listings!
WANT TO PAINT IN ART BATTLE? Apply via https://artbattle.com/register/