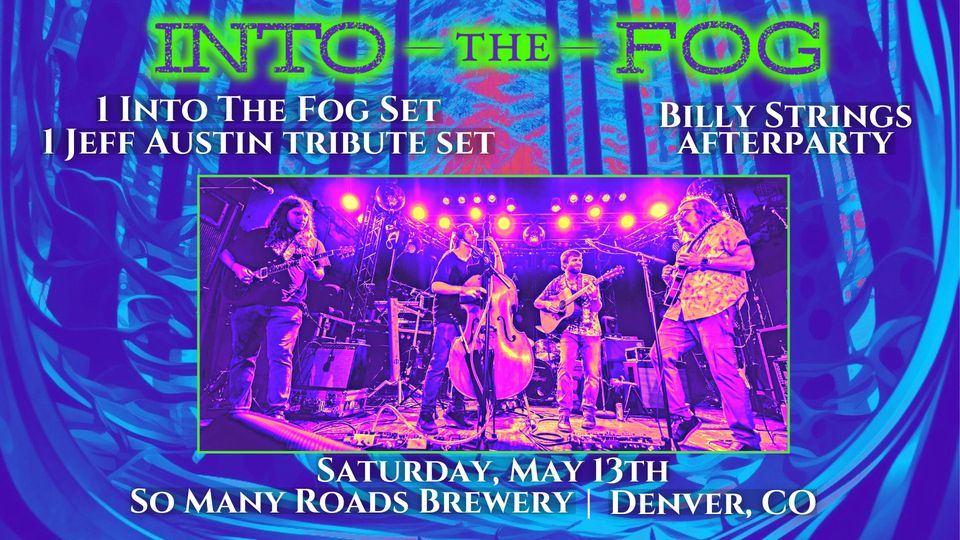 Billy Strings afterparty w/ Into The Fog at So Many Roads Museum & Brewery | Night 3
at

So Many Roads Museum and Brewery
at
So Many Roads Museum and Brewery
Billy Strings afterparty w/ Into The Fog at So Many Roads Museum & Brewery | Night 3
1 Into The Fog set
1 Jeff Austin tribute set
Winners of the 2021 MerleFest Band Competition, Into The Fog is a genre-jumping string band based out of Raleigh, North Carolina. Think jamgrass… but funky.
The band is made up of Brian Stephenson(Acoustic guitar, Vocals), Winston Mitchell(Mandolin, Vocals), Derek Lane(Bass, Vocals) and Connor Kozlosky (Electric guitar, Vocals).
Originally formed in Wilmington, NC, Into The Fog immediately hit the ground running as a band by heading across the country to compete at the 2018 Telluride Bluegrass Festival Band Competition only a few months after coming together. That cross country trip was recorded by friend of the band and videographer Mason Godwin in his documentary Band #7:The Ride to Telluride.
After the Telluride trip, the band got to work playing as much as they could around North Carolina. Becoming a mainstay at over 30 different breweries around the state Into The Fog started to quickly make a name for themselves. Then in November of 2018 the band went to a cabin outside of Waynesville, NC and spent a week recording their debut album Wishin' It Would Rain, which was released on February 22, 2019.
"The trio crafts a dynamic mix of songs and sounds, from the gypsy feel of "Caawphonation" to the running-from-Johnny-Law feel of instrumental "Cedar Island Rendezvous."- Brian Tucker(Star News)
With their debut album under their belt Into The Fog started to pick up momentum exchanging brewery gigs for music venues and festivals with opportunities like playing Shakori Hills, Rooster Walk, FloydFest, MerleFest, NC Homegrown Music Festival, IBMA, and Front Porch Fest along with opening slots for national touring acts Sam Bush, Ghost of Paul Revere, Jon Stickley Trio, Keller & The Keels and Town Mountain. Into The Fog solidified their sound further with their 14 track sophomore album Runnin' Blind and Chasin' Time which was released in May of 2021.
"While purists might label label their sound as Newgrass, those in attendance respond to the gospel they are preaching and seem perfectly content with the foggy genre, since the sound is so clear"- Donna Davis(The Daily Reflector)