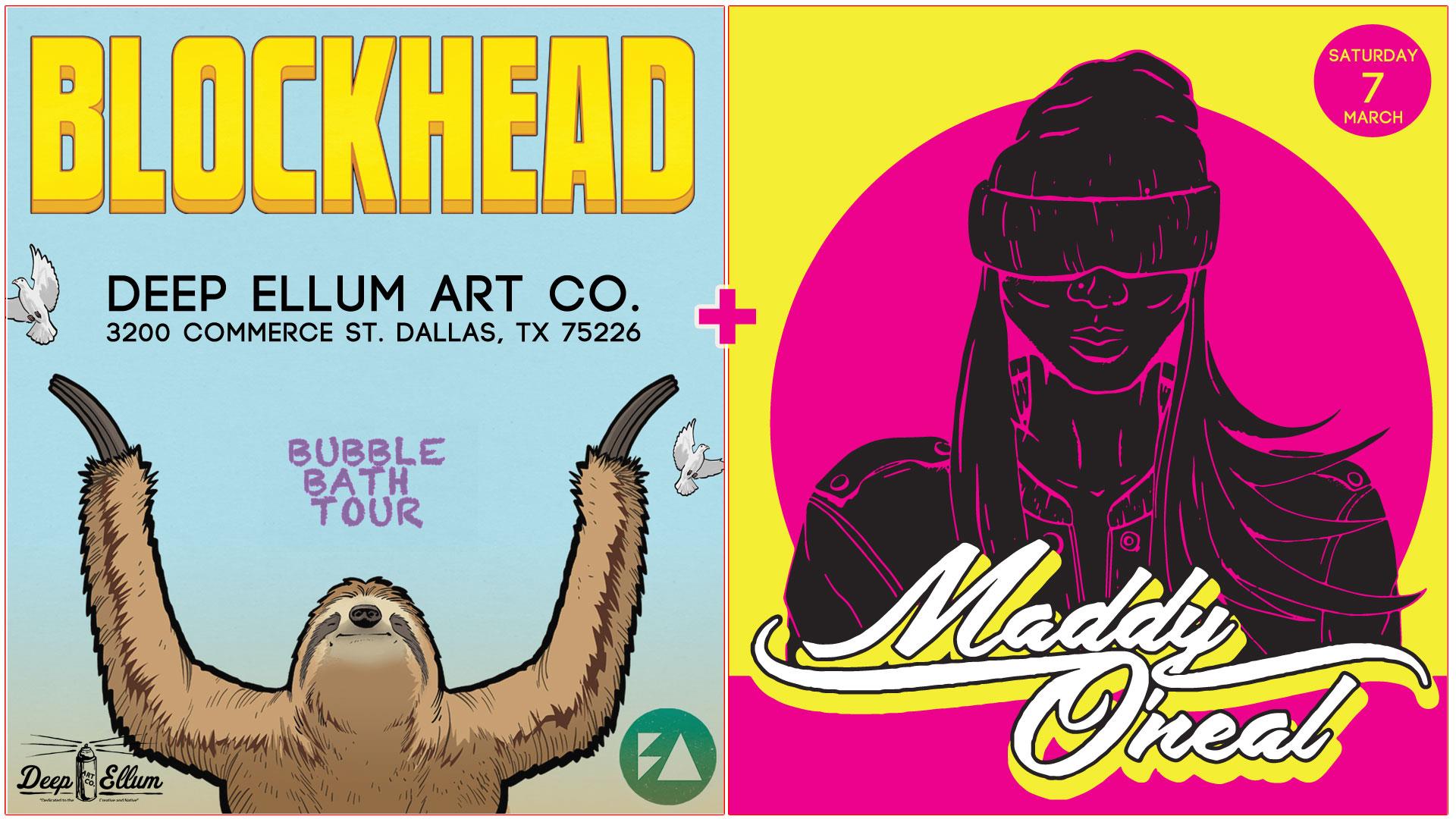 Blockhead + Maddy O'Neal | Dallas, TX
at

Deep Ellum Art Company
Deep Ellum Art Company Presents:
[ live music | art gallery | bar | art yard ]
http://DeepEllumArt.Co/
Blockhead + Maddy O'Neal on Saturday, March 7th 2020!
Tickets on Sale Friday, November 22nd!
>>> http://bit.ly/Blockhead_MaddyONeal
Blockhead
[down-tempo | hip-hop]
Feels like: Amon Tobin, Little People, RJD2
Maddy O'Neal
[jamtronica | electronic | funk]
Feels like: Manic Focus, Break Science, Vibe Street
About Blockhead:
The internationally renowned NYC producer Tony Simon, aka BLOCKHEAD, has released 10 albums over the past 15 years, including four acclaimed records for Ninja Tune and numerous production jobs including notable works with Aesop Rock. He is regarded as one of the modern masters of instrumental hip-hop, and the forthcoming new album sees him return to record-label-released music with the bold and exciting roster at Future Archive Recordings (co-founded by artists Arms and Sleepers, Sun Glitters, Little People and CNJR, and also co-run by Mark McGlinchey).
BUBBLE BATH, OUT NOW on Future Archive Recordings, is a record born out of meditative expression and ongoing personal creative challenge, key for a producer of BLOCKHEAD's experience. Carried forward are the incredible hook and sample placement skills of classic works such as Uncle Tony's Coloring Book and Music By Cavelight, but what has emerged is an overwhelming sense of natural musicality and sophistication.
"I want the music I make to be unaffected by outside influences. I like the idea of working in a bubble… …When I have to describe what I do, to someone, it's always a little awkward because it starts as "I'm a musician" and as questions come back it gets broken down. "No, I don't play any instruments" "No, I'm not trained in musical theory" "I make beats". When it comes down to it, everything I do has always been guided by my ears and sensibility."
About Maddy O'Neal:
Maddy O'Neal has been catching the eyes and ears of music fans around the world with her tasteful versatility and mixing style. Hailing from Denver, CO Maddy O'Neal has carved out her niche in the always changing and very diverse electronic genre. Maddy's rock n' roll family roots and growing appetite for old-school hip-hop, give her a sound that sets her apart from other artists in the scene.
It's this versatility, paired with her meticulous ear and effortless mixing style that allows Maddy to connect with her audience. Self taught – Maddy incorporates influences from the entire spectrum. Maddy's productions and original sets are full of melodic overtones, driven basslines, and jazzy hip-hop. Laying her heart and soul out every time she hits the stage, her undeniable passion gives her a massive appeal that any music junkie can relate to.
Maddy O'Neal has been seen at Electric Forest, Camp Bisco, Summer Camp, Summer Meltdown, Red Rocks (x2) and many more. Her touring resume is long and accomplished by supporting such artists as Pretty Lights, Big Gigantic, The Floozies, Cherub, SunSquabi, Manic Focus, Russ Liquid and so on.
Look for Maddy O'Neal to continue to push through the electronic music genre in 2019 and beyond.