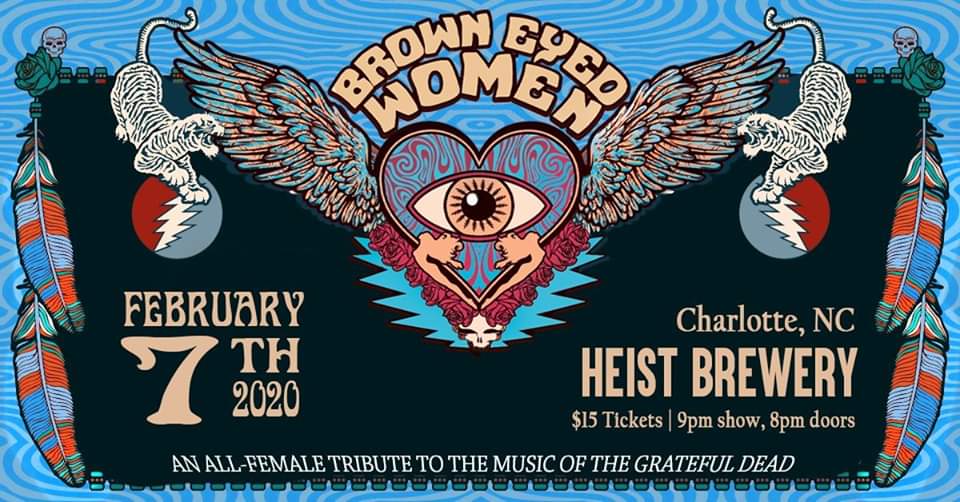 Brown Eyed Women Grateful Dead Tribute ‑ Heist Brewery
at

Heist Brewery
Time2Fly Music Presents – Brown Eyed Women all female Grateful Dead Tribute at Heist Brewery.
$15 Presale
Brown Eyed Women is a collection of talented female musicians from around the country, all powerhouse players who currently perform in well-respected Grateful Dead tribute bands.
Members hail from Florida, Georgia, Massachusetts, New Jersey, New York and Pennsylvania. They were drawn together because they all bring a high caliber of musicianship as well as a shared love of The Grateful Dead. This compelling ensemble recognizes the need to be different in a space with many acknowledgements to The Grateful Dead. BEW brings soulful new dynamics to the familiar catalog as they pursue a unique take on the music.
Meet the Band:
Joni Bottari – Lead Guitar
Joni Bottari grew up on the Jersey Shore, and picked up the guitar at an early age while tagging along with her brother to his band rehearsals. Her earliest influences were The Band, Bob Dylan, The Beatles and The Rolling Stones. In 1970, her brother brought home American Beauty and Workingman's Dead and that was it, a 10 year old Deadhead was born.
Upon moving to NYC in 1983, she answered an ad in the Village Voice, and auditioned for lead guitar for an all-female punk band called Spellbound. Joni performed in iconic venues in NYC, including CBGB's and The Bitter End. In 2007 Joni relocated to florida and cofounded several Grateful dead tribute bands including Unlimited Devotion, Girl Jerry, and Spiral Light. While Joni's most significant influence is Jerry Garcia, like Garcia, she enjoys playing all genres of music including blues, country and rock. In 2018, Joni's guitar playing attracted the attention of Rock n Roll Hall of Famer, Dion Dimucci. Dion requested that Joni accompany him on guitar and the duo played an invitation only gig in Palm Beach, Florida.
And now the journey continues. Joni is excited to share the stage with these super talented female musicians and perform in Brown Eyed Women for deadheads everywhere. All the years combined, they melt into a dream.
———————————
Dana D'Agostino Carroll – Bass
Dana D'Agostino Carroll originally hails from Philadelphia PA,. Dana began playing bass at the age of 12, influenced early on as a young fan of Paul McCartney. She played with several Philly area rock cover and original projects in her early years.
Upon relocation to New Jersey in 2005, Dana joined Nocturnal Element, and original project, and TS Express, a bluegrass project. She played in an opening act for 60's band Vanilla Fudge's 2011 tour at the iconic Stone Pony in Asbury Park. Dana performed as bassist for two years with South Jersey's Dead Reckoning.
Dana ultimately found her joy upon forming New Jersey's popular Grateful Dead tribute Lovelight Band in 2011. Lovelight continues to this day to be her musical heartbeat.
Dana has had the privilege of sharing the stage with Terrapin Family Band's Scott Guberman, and other notable musicians in her local music scene.
Dana is excited to be a part of Brown Eyed Women, and feels it is an idea whose time has come, she is looking forward to joining in song with these incredible women! "….without love in the dream it will never come true…."
———————————
Caroline Killoh – Keyboards, Vocals
Caroline Killoh developed a passion for music at an early age. She trained in classical piano at Worcester School of Performing Arts (MA) as a teen, but it wasn't long before she began focusing most of her attention toward the rock genre.
Since then, she has been keyboardist/vocalist in several Massachusetts-based rock bands. Past bands include: Hoobis Doobis, Smokehouse, Undercover, and BeatleTracks. Current bands include Brown Eyed Women, Fennario, Don't Let Go and Ship of the Sun. Most notable performances as keyboardist/vocalist include: Terry Sylvester (The Hollies) show covering Rubber Soul album; Fennario at Fenway Park for Grateful Dead night; BeatleTracks Dead Air Live at Somerville Community Access TV, Women of Worcester concert. Caroline also has her own side band, called Sonejy, featuring her jam-oriented originals.
Current musical equipment includes: Nord Electro 4D, Hammond XK-1C keyboard, and QSC K12. Outside of music, Caroline owns her own accounting/bookkeeping business, and lives with her partner Dan, and their 3 cats Simba, Roscoe and Luna in the Boston MA region.
———————————
Kate Moore – Guitar
Kate grew up in upstate NY, but has called Atlanta home since her teens. She taught herself at age 8 by studying her parents' guitar lessons after they went to bed. Her earliest influences include the Beatles, Pink Floyd, The Who and Dire Straits.
She saw her first Dead show in 1981, and was drawn in by the rootsy authenticity of the band — and the people who followed them. (You may have seen her dancing in the taper section at a show, or bought one of her veggie sandwiches afterward!)
As a player, Bob Weir's complex, jazz-based rhythms became an immediate obsession, and continue to influence her style.
Kate was among the founding members of the Atlanta jam scene as part of the first incarnation of The Grapes. She is a photographer, traveler, animal lover, songwriter and guitarist in numerous acts, from acoustic Dead to New Orleans funk. Her primary band is Atlanta's Deep Blue Sun, who has enjoyed sit-ins by Oteil Burbridge, Col. Bruce Hampton, Jimmy Hall, Yonrico Scott and more.
Kate is thrilled to join this lineup of world class players — who happen to be female — who are all similarly committed to finding new dynamics and nuances within the songs they've loved all these years.
———————————
Denise Parent – Drums, Vocals
Denise Parent has been singing for as long as she can remember and started playing drums at the age of sixteen on Long Island. She fell in love with the Grateful Dead when she was 18 years old and started going to as many shows as she could. Denise spent her early twenties learning from the Dead and Long Island favorites, the Zen Tricksters.
After moving to New Paltz,NY to finish college, Denise joined The Deadbeats as their drummer and vocalist . The Deadbeats are a long standing Grateful Dead tribute band in the Capital Region. Helping to expand their repertoire beyond Dead, she has been singing songs by Janis Joplin, Aretha Franklin, Bonnie Raitt and Grace Slick, taking the shows to a new level.
Denise has played approximately 3500 shows, honoring the music of the Grateful Dead. She has played with Buddy Cage, Vassar Clements, Garth Hudson, and has been the opening act for inspiring artists like NRPS, and the David Nelson Band.
When she's not playing with the Deadbeats, she can be found singing and playing drums and guitar with an assortment of players in the Woodstock area. After many years of dreaming up the all-female Dead band, she has now helped put together the pieces of Brown Eyed Women. Now there's nothing left to do but smile, smile, smile.
——————————–
Jill Simmons – Lead Vocals
Jill Simmons hails from Pittsburgh, Pa. and has sang from the moment she could talk according to her parents. Jill's musical background runs the gamut from musicals and gospel to blues, jazz and jam bands. Jill never had singing lessons, and her she honed her skills on the stages of many Pittsburgh music clubs. Jill's influences include Barbara Streisand, Aretha Franklin, Bonnie Raitt, Eva Cassidy, Ella Fitzgerald and Susan Tedecschi.
Multi-dimensional singer, Jill Simmons, got on the bus 10 years ago as one of the lead singers for Pittsburgh jam band, theCAUSE. Her ability to channel Pig Pen tunes in her own style has been a hallmark trait of ability to elevate theCause into one of the top jam bands in the Northeast.
Jill's musical journey in the jam band scene has given her the opportunity to share the stage with David Gans, Roosevelt Collier, Steve Kimock, Lisa Mackey and Jeff Mattson from Dark Star Orchestra. Grass is Dead, Unlimited Devotion and Playing Dead. Her energy on stage and talented vocal abilities has earned her a national reputation and her contribution to Brown Eyed Women will be undeniable.
Her ability to take Dead tunes and make it her own has been her trademark for many years.