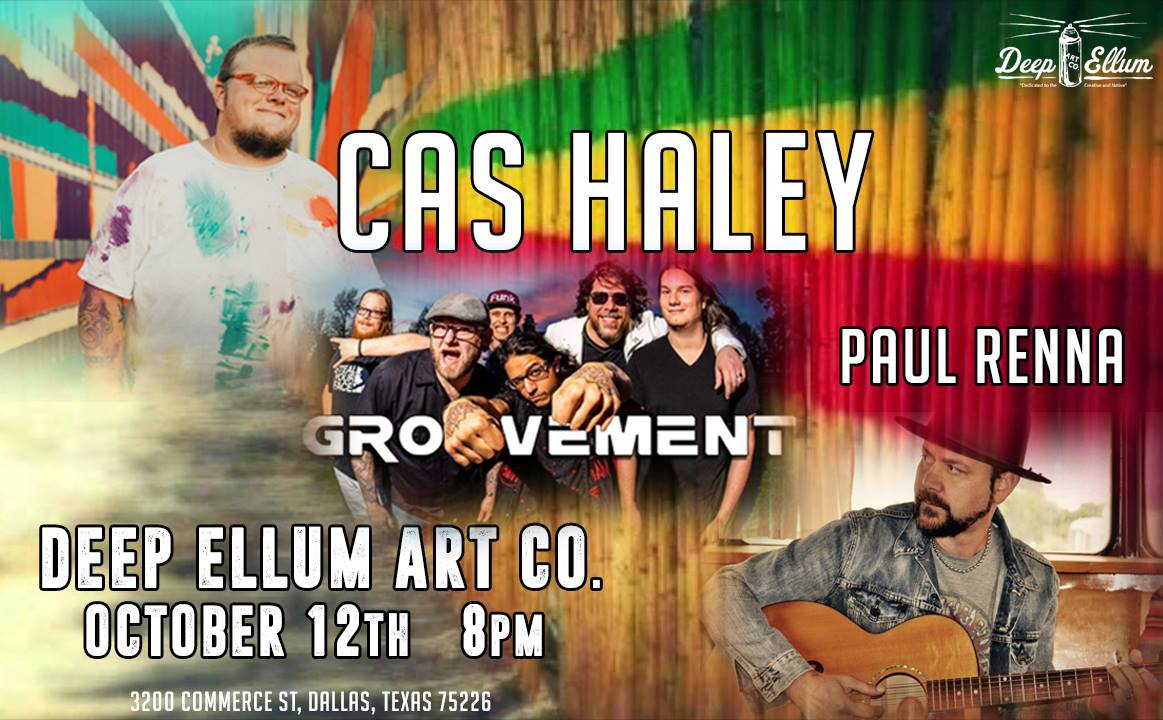 Cas Haley + Groovement & Paul Renna at Deep Ellum Art Co
at

Deep Ellum Art Company
Deep Ellum Art Company Presents:
[ live music | art gallery | bar | yard ]
http://DeepEllumArt.Co
An evening with Cas Haley,
Groovement, & Paul Renna Music
Friday, October 12
>> 4:20 PM: BAR OPENS
>> 8:00 PM: BOX OFFICE
Only 50 Early-Bird Tickets Available!
http://bit.ly/CasHaley_Groovement
Cas Haley
[ reggae / soul / blues ]
www.cashaley.com
Texas native, Cas Haley is a soulful contemporary artist who has captured the heart of America through his upbeat Motown reminiscent melodic lyrics and rhythmic guitar-riffs, which are infused with a groovy surf-roots signature sound that only Cas Haley can provide. With over 50 million YouTube views in total and more than two million SoundCloud followers, the Billboard charting artist has engraved his name as a mainstay industry artist. His music conveys messages of Hope, Love and Unity. The married father of two delivers nothing less than impactful social goodness and pounds full of positivity in each and every song.
Cas's music and infectious personality has attracted harmonious collaborations & tours with the likes of UB40, Josh Heinrichs,Al Green, Sheryl Crow, Allen Stone, SOJA, Ziggy Marley, Blues Traveler, Something Corporate, The Rocket Summer, The Green, G.Love, Easy Star All-Stars, Seth Walker, Trevor Hall, Anuhea and Nahko and Medicine For The People, among many others. He has also performed at renowned music festivals all over the world including Hangout Music Festival, California Roots Music and Arts Festival, Reggae on the River, and Mighty Sounds in the Czech Republic.
+ Groovement
[ rock & roll | funk ]
www.groovement.band
Anyone who has seen Groovement live will easily understand why fans and event promoters are so impressed: Their sound incorporates funky dance grooves, high-energy rock and roll, pop-style song structure with catchy, melodic hooks, and a flexible jam-band style of improvisation – so no two shows are ever the same. Fans have compared their sound to the likes of Jamiroquai, The Main Squeeze, Galactic and Trombone Shorty.
& Paul Renna Music
[ blues | americana | country ]
www.paulrenna.com
Paul Renna is a visionary singer-songwriter from Austin, Tx. with the extraordinary ability to raise hidden emotions in his listeners, surreptitiously forcing feelings of love, longing, happiness, and heartache from the depths of even the most hard-edged among us. With the release of his highly anticipated new acoustic album, Reflections, available on iTunes, Renna seems to have broken through to a new plane of existence, exploring the deepest recesses of his heart and soul both lyrically and musically.