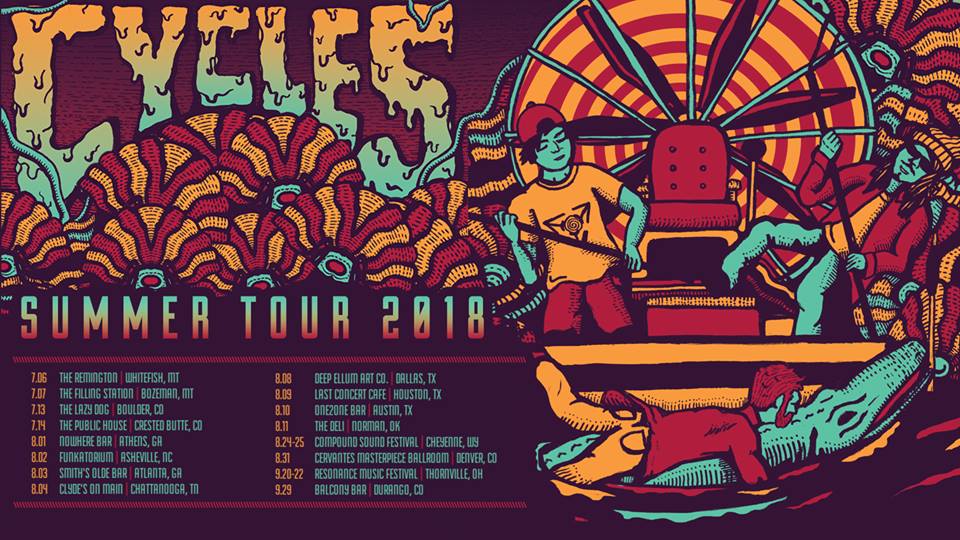 Cycles w/ Sagacious Zoo | Aug 8
at

Deep Ellum Art Company
Wednesday

,
August
08
2018
Deep Ellum Art Company Presents:
[ live music | art gallery | backyard | bar ]
http://DeepEllumArt.Co
Cycles (Denver, CO)
[ psychedelic rock fusion ]
http://cycles.band
>> Tickets on Sale Now!
>> $5 ADV | $10 DOS
>> http://bit.ly/Cycles_SagaciousZoo
INFLUENCED BY: Primus, Phish, J. Dilla
Cycles epitomize the power-trio format with ripping guitar, fat bass grooves played out through furious slapping, and dynamic drum beats flowing over intricate tempo changes. Each member wields a unique take on their instrument that when played together, forms a truly fresh and cohesive sound. Patrick Harvey commands the guitar with speed and precision reminiscent of Jimmy Herring while using his loop pedal virtually as its own instrument, a skill unique only to him. Michael Wood has subtly forged a drum style that showcases his rare ability to mashup funky hip-hop beats with frenzied rock riffs and only displays flashy chops when necessary. At the heart of the band lies Tucker McClung's dominant slap-bass chops that captivate audiences while pumping the musical blood through the band.
Drawing influence from artists such as Rage Against the Machine, J. Dilla, Primus, Weather Report, and many more, Cycles fuses an eclectic blend of genres to produce an original sound that has become harder and harder to find. Although only two years old, Cycles have over 200 shows under their belt with tours extending across the entire U.S.
Check out some video!
"Live at Bridgeside Studios"
https://www.youtube.com/watch?v=YsKGwQnINHo&t=906s
w/ local support by
Sagacious Zoo
[ indie pop rock ]
http://sagaciouszoo.com
INFLUENCED BY: Punch Brothers, Snarky Puppy, Alabama Shakes
Dallas progressive indie rock pop band that will make your vegan juicer stand up and say hello! An accessible palette of rock, folk, punk and jazz, formed by friends on a lifelong creative pursuit.