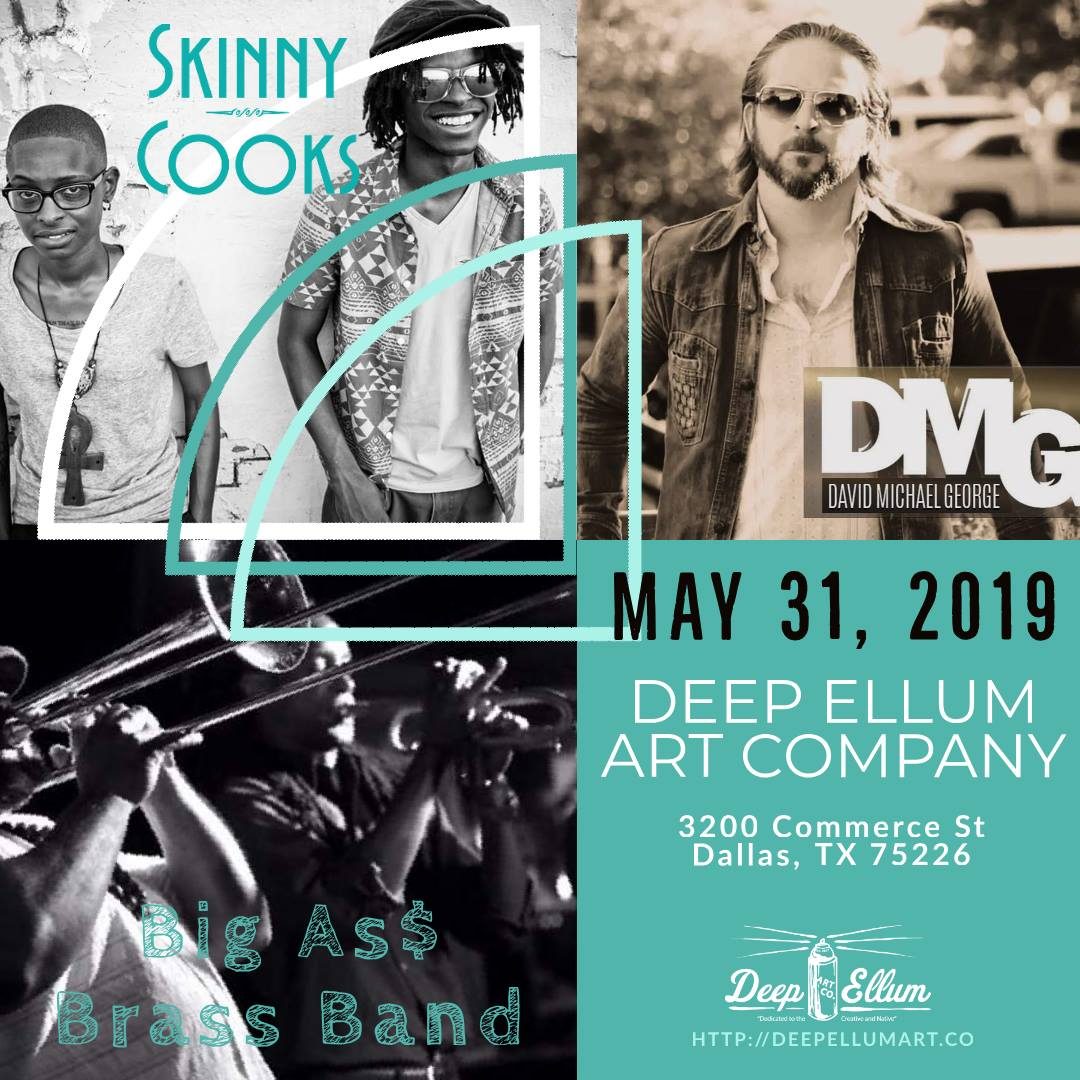 David Michael George, Skinny Cooks & Big As$ Brass Band‑Art Co
at

Deep Ellum Art Company
Deep Ellum Art Company Presents:
[ live music | art gallery | bar | art yard ]
http://DeepEllumArt.Co
David Michael George
+ Skinny Cooks
& The Big As$ Brass Band
Friday, May 31, 2019
(8:00 PM – 1:00 AM)
Tickets on Sale Now!
http://bit.ly/DMG-SkinnyCooks-BigABrass
—
★ ABOUT DAVID MICHAEL GEORGE ★
David Michael George aka DMG is a Rock/Soul/Funk artist from Dallas,Texas. With roots firmly planted in high energy Rock/Soul/Funk & Blues ("Find My Way Home", "Step Aside"), to raw & expressive ballads with layered depth ("Villain", "Just Ain't The Same"), 1,000 YARD STARE keeps you in the moment and never lets you go. Funky, soulful, and bluesy, first note to last, it is an album full of heartfelt blues-rock, sharp as a needle, delivering George's message of perseverance straight to the heart of his listeners.
★ ABOUT SKINNY COOKS ★
"From Dallas, TX, Skinny Cooks play music they describe as 'Funk, Flip Flop, R&BLT, Psychedelic Souffle'. We don't know about that, but it sounds great…"
Groovilicious. We're not doctors, but we can definitely fix whatever it is that's wrong with you. We fully understand the benefits of a healthy, balanced, wholesome groove, an uncompromised groove, a GROOVY groove…
★ ABOUT BIG ASS BRASS BAND ★
Bringing a brassy combination of Funk, Rock, and traditional New Orleans music to the Dallas Metroplex. In summer of 2015, a group of local Dallas musicians were kidnapped and forced together by the mysterious Yellow King to help bring the Carcosa sound to the Dallas area. Seeing the lack of musical diversity in brass music, they decided to play a combination of music of Traditional New Orleans Jazz, Afrobeat, Rock, and Funk to dominate and control the ears. If you're prepared, the apocalyptic aristocrats of brass are ready to leave you dancing and moving and coming back for more!!!