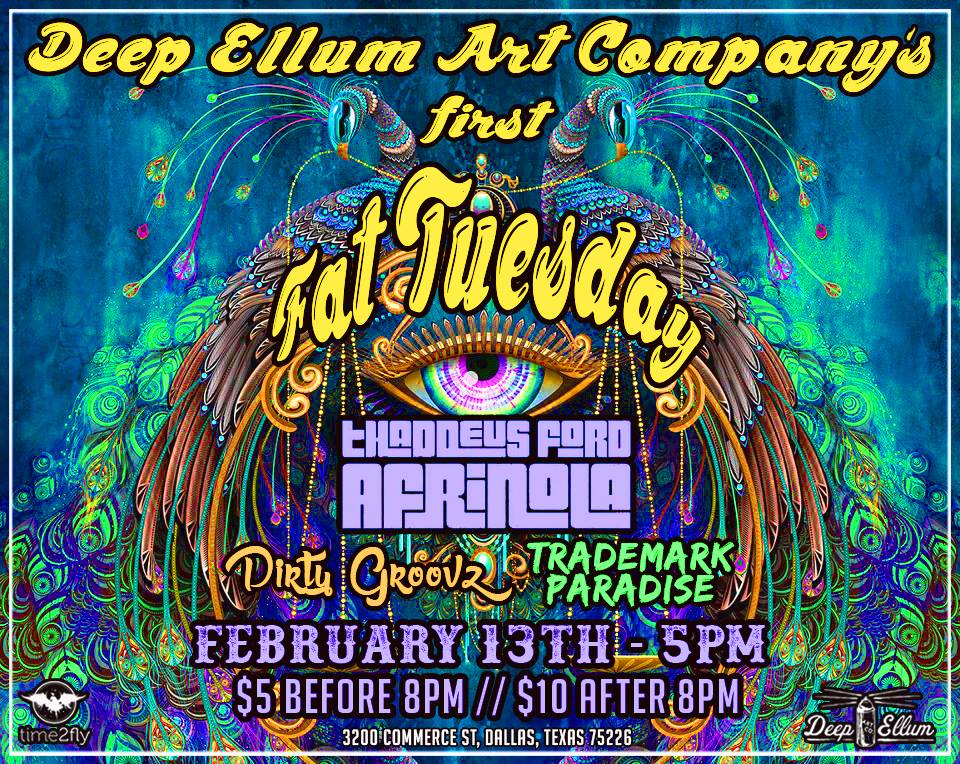 Mardi Gras with Thaddeus Ford, Dirtyz Groovz & Trademark Paradise
at

Deep Ellum Art Company
Tuesday

,
February
13
2018
Deep Ellum Art Company Presents:
[ live music / art gallery / huge backyard / bar ]
OUR FIRST EVER FAT TUESDAY CELEBRATION!
Thaddeus Ford Music
[ jazz // alternative ]
Thaddeus is currently based in the Dallas area and maintains an international itinerary, the most recent being a three month residency at the House of Blues and Jazz in Shanghai, China. In 2013, on the eve of a "world premier" concert in Dallas, Thaddeus suffered a heart attack at age 35. For health concerns, a year was taken off from performing (and playing the trumpet in general). In October 2014, a comeback was launched, alomg with a Indigogo campaign to raise funds for his debut EP "The Secret Place". Thaddeus resumed his local itinerary, fully recovered. In 2016, Mr. Ford traveled the country with GRAMMY winning Gospel star Kirk Franklin (with musical director Shaun Martin of Snarky Puppy) for Franklin's "Twenty Years In One Night" tour. Currently, Thaddeus is composing new music, developing a youth summer Jazz workshop, a jazz curriculum for elementary schools, a 501-3(c) organization as well as collaborating with an array of local talent on recording and performing projects.
Dirty Groovz
[ house // nu funk // rare groove ]
Dirty Groovz is a DJ & Musician collaborative that focus on music genres of Down Tempo, Drum & Bass, House & Rare Groove.
Depending on the venue, we also play genres including Latin, 70's/80's/90s and of course current music.
Trademark Paradise
[ jazz // hip hop // r&b ]
Led by Christopher Simms is a powerhouse of a group. Trademark Paradise has caused enough of a ruckus in Denton and is moving onto bigger challengers, Deep Ellum. Trademark is the band of your dreams, combining Jazz, melting in some R&B, and with a little muscle and electrical power, the final installation of Pop and Hip-Hop. Deep Ellum, we're ready for you, we hope you are too!
DOOR COVER:
$5 before 8 pm
$10 after 8 pm