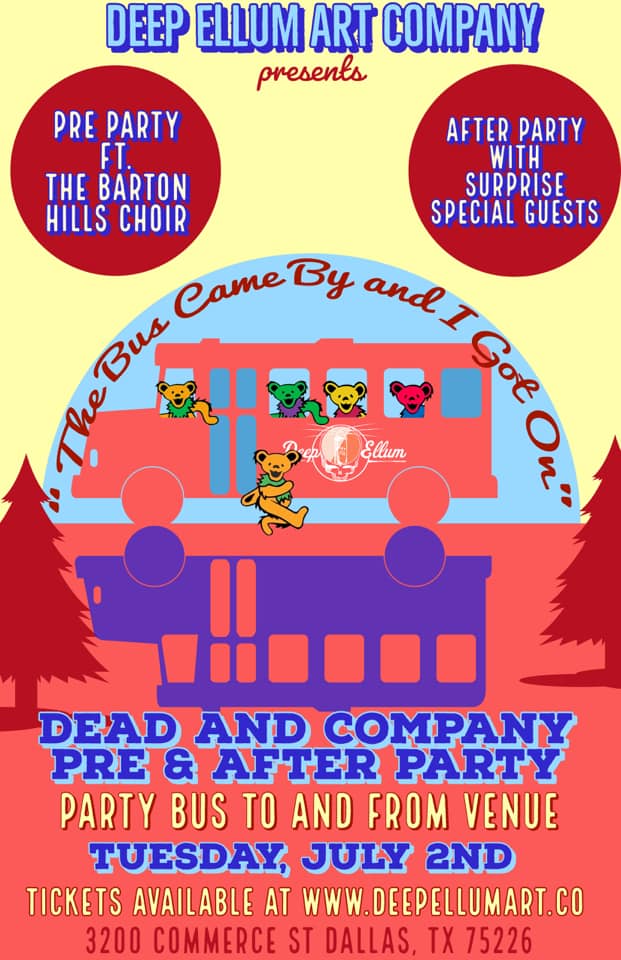 Dead & Company in Dallas ‑ The Art Co. Experience | July 2
at

Deep Ellum Art Company
Deep Ellum Art Company Presents:
[ live music | art gallery | bar | art yard ]
http://DeepEllumArt.Co
Dead & Company in Dallas
★ The Art Co. Experience ★
Tuesday, July 2, 2019
👉 (2:00 PM – 5:00 PM)
The Barton Hills Choir
accompanied by members of
FORGOTTEN SPACE
The Barton Hills Choir is made up of 2nd through 6th graders from Barton Hills Elementary School in Austin, TX and is accompanied by local musicians.
👉 Dead & Co. Party Bus
"The bus came by and I got on,
that's when it all began…"
(departs from Art Co. @ 6:00 PM)
Limited Seats Available!
👉 (10:00 PM – 2:00 AM)
The Unofficial After-Party
w/ Special Guest TBA!
Ticket Packages on Sale:
http://bit.ly/DallasDeadandCo-TheArtCoExperience