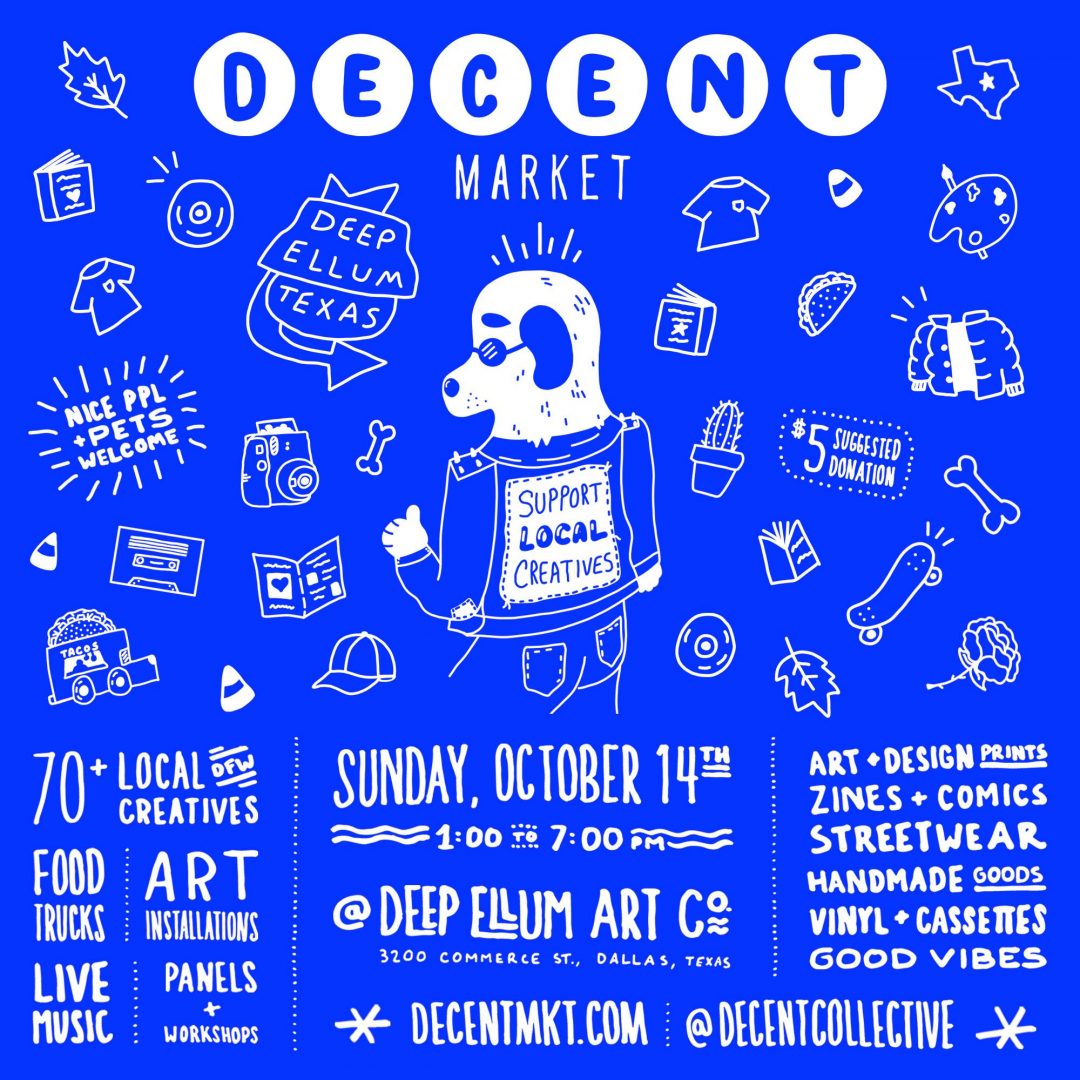 Decent Market: Local Art, Zines, Apparel & Live Music
at

Deep Ellum Art Company
DECENT MARKET is a trading post for uncommon local goods and a gathering place for good people. Come shop art and design prints, zines, comics, pins, patches, vinyl records, streetwear, and handmade goods from over 70 of Dallas' best creatives. Enjoy live music and take the perfect photo against 5 photo backdrops created by local stylists.
What to expect:
– 70+ Vendors (more than ever)
– 4+ Photo Backdrop Installations from amazing local stylists
– DIY-themed Art Installations + Decor
– Food Trucks
– Live Music + DJs
– Deep Ellum Photo Walk in partnership with DTX Street
– Panels hosted at Deep Vellum Books
– Workshop with James Akers
– A portion of our proceeds will go to the non-profit Big Thought
—
* EVENT INFO *
Decent Market
Sunday, October 14 – 1pm to 7pm
at Deep Ellum Art Company – 3200 Commerce St, Dallas, TX
Admission is free, but we ask that you donate $5 or more. (Your funds help us with the high cost of putting on the event, allow us to put on a better show, and help us facilitate more events for the creative community in the future.)
Donations also come with gifts:
$5 – Limited-edition Decent stickers
$10 – Limited-edition zine + stickers
$20 – Decent Market canvas tote bag + zine + stickers
Get our latest updates and info on our instagram: http://instagram.com/decentcollective
—
All ages and pets are welcome, but please keep in mind there may be a few exhibitors with adult themes and explicit content as well as loud music.
* Decent Market is a safer space *
—
* NICE THINGS PEOPLE HAVE SAID ABOUT US *
"I was a vendor at the market in March, and I just adored the vibe, the venue, the decorations, and the whole experience. Decent Collective seems to be building exactly the kind of creative community that I've always wanted to be a part of."
— Katie Risor, Creekkid Art
"The wares were on point. Better still, the crowds were thick."
— Pete Freedman, Central Track
"It's time something like this finally popped up in Dallas!"
— Tor, Stylist / instagram.com/thisistor
https://www.centraltrack.com/decent-market-deep-ellum-art-company-photos-slideshow/
http://www.dallasobserver.com/slideshow/showcasing-art-and-music-in-deep-ellum-10466191 via Roderick Pullum
—
* VOLUNTEERS NEEDED / JOIN OUR TEAM *
We need lots of volunteers to help out before the event with creating decor and at the event with setup, load-in, installing our art installations, supporting our staff, facilitating workshops, and more. We're also always looking for people to join our team at Decent Collective. Please apply here: https://goo.gl/forms/VWMSoP4fLslzz6vi1
* MARKET VENDOR APPLICATION *
Vendor applications are now closed, If you would like to apply for our December 16 market, please fill out our form here: https://goo.gl/forms/oW99qLCmcgPVs1Q42
If you have any questions, please DM us @decentcollective or send us a FB message http://facebook.com/decentcollective
—
* PARTNERSHIP + SPONSORSHIP *
If you align with us in our mission to support our local creative community and would like to contribute as a partner or sponsor, please send us a message at hello@decentcollective.com and we will get you plugged in.
—
Decent Market is an initiative of Decent Collective.
Learn more about us at http://decentcollective.com
Please follow us on Instagram + Facebook:
instagram.com/decentcollective
facebook.com/decentcollective