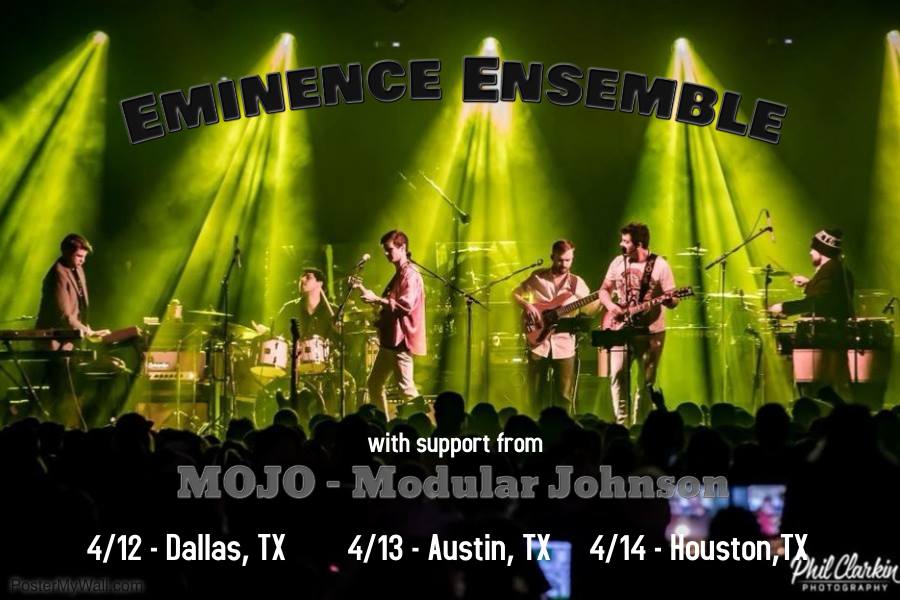 Eminence Ensemble
•
TryMoreMOJO
at

Last Concert Cafe
Eminence Ensemble returns to their home away from home with support from local favorites MOJO – Modular Johnson
2 sets, and God bless TEXAS!
EE LIVE VID HERE: https://youtu.be/WR6UOYso5Tk
>> BANDS <<
Eminence Ensemble (Boulder, CO)
[ Rock / Fusion / jam ]
https://www.eminenceensemble.com/
Eminence Ensemble is an impressive high energy sextet, whose music and live show is something you won't soon forget. Molding together influences from rock, fusion, and soul. Eminence Ensemble creates a modern musical coalescence that is sure to leave your jaw on the floor.
+ MOJO – Modular Johnson (Dallas, TX)
[ jamtronica / funk / hip-hop / rock ]
www.trymoremojo.com
An introspective look at funk and electronic music; MOJO offers funky riffs, spacey soundscapes, inviting vocals, and heavy grooves.
Influences:
Umphrey's McGee, STS9, Lettuce, Spafford, Papadosio, Pigeons Playing Ping Pong, Earphunk, Tauk, Tycho, The Meters, Zoogma