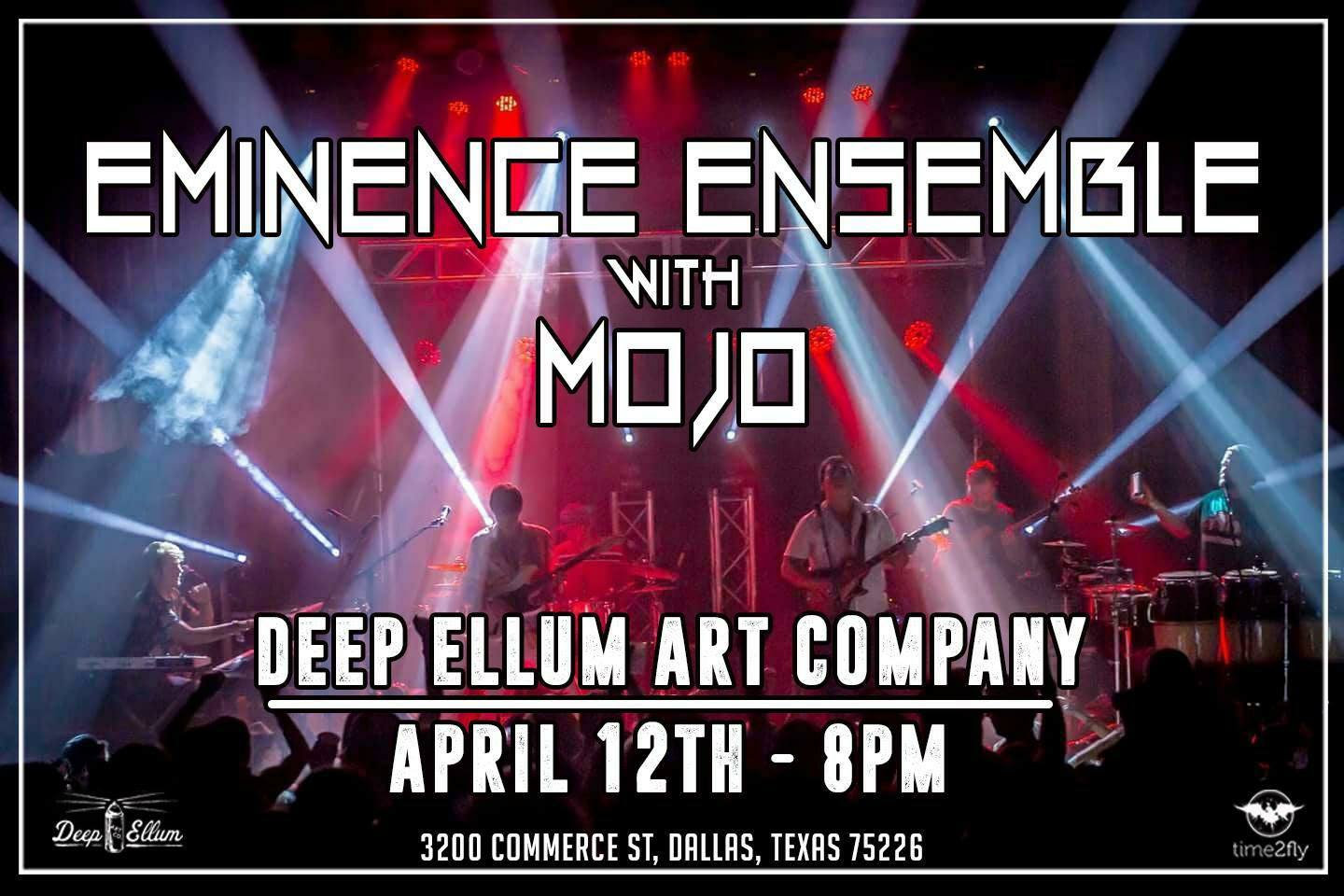 Eminence Ensemble
•
TryMoreMOJO
at

Deep Ellum Art Company
Deep Ellum Art Company
[ live music / art gallery / backyard / bar ]
>>> 1pm: BAR / BACKYARD OPENS
>>> 8pm: BOX OFFICE
>>> 9pm: MUSIC STARTS
Eminence Ensemble returns to their home away from home on April 12, 2018 with support from local favorites MOJO – Modular Johnson
2 sets, and God bless TEXAS!
EE LIVE VID HERE: https://youtu.be/WR6UOYso5Tk
>> BANDS <<
Eminence Ensemble (Boulder, CO)
[ Rock / Fusion / jam ]
https://www.eminenceensemble.com/
Eminence Ensemble is an impressive high energy sextet, whose music and live show is something you won't soon forget. Molding together influences from rock, fusion, and soul. Eminence Ensemble creates a modern musical coalescence that is sure to leave your jaw on the floor.
+ MOJO – Modular Johnson (Dallas, TX)
[ jamtronica / funk / hip-hop / rock ]
www.trymoremojo.com
An introspective look at funk and electronic music; MOJO offers funky riffs, spacey soundscapes, inviting vocals, and heavy grooves.
Influences:
Umphrey's McGee, STS9, Lettuce, Spafford, Papadosio, Pigeons Playing Ping Pong, Earphunk, Tauk, Tycho, The Meters, Zoogma
PARKING:
Street parking available on Commerce (front) & Murray (side). Lot parking is available on Canton (back) across the street in the Equipment and Maintenance Services building after 6pm. We do not recommend parking in the business lot on Murray.