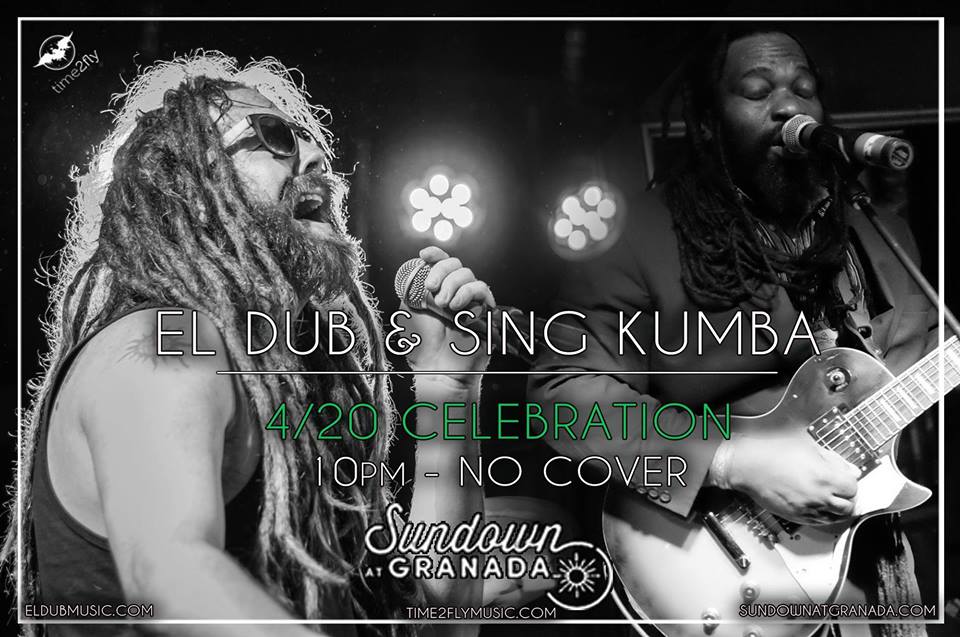 Four Twenty Celebration
El Dub
*NO COVER*
•
Sing Kumba
at

Sundown at Granada
— Sundown at Granada & Time2Fly Music presents —
El Dub Music
www.eldubmusic.com
[ Funk / Reggae / Rock / Blues / Jam ]
Lee "El Dub" Walsh: Lyric Extraordinaire, Musician, Composer, Multi-Instrumentalist, and Vocalist, with a love of music to no end and an even bigger passion to share it!
El Dub is what you call a "looper" or "One man Band". He plays all instruments live including, beat boxing, guitar, bass, keys and harmonizing vocals and loops them into layers that end up sounding like a full band with just one guy.
Goes Well With: Zach Deputy, Keller Williams, Henry + The Invisibles

— & —
Sing Kumba Heights (Dallas, Tx)
One Man – One Voice – One Guitar
Healing through Reggae Music
Sing Kumba is a loop artist who covers Classic Reggae with a sprinkle of originals – Bringing the spirit of Bob Marley and Peter Tosh alive to any room he plays.
— @ —
Sundown at Granada (Lower Greenville)
www.sundownatgranada.com
[ Real Food – Real Music – Real Local ]
~ Happy HoliDaze! ~
Catch your Irie Vibes here!
.:: NO COVER ::.
Late-Night Menu + 1/2 off Bottles of Wine
Rooftop Lounge – Street-Side Patio
Hand-Crafted Specialty Cocktails