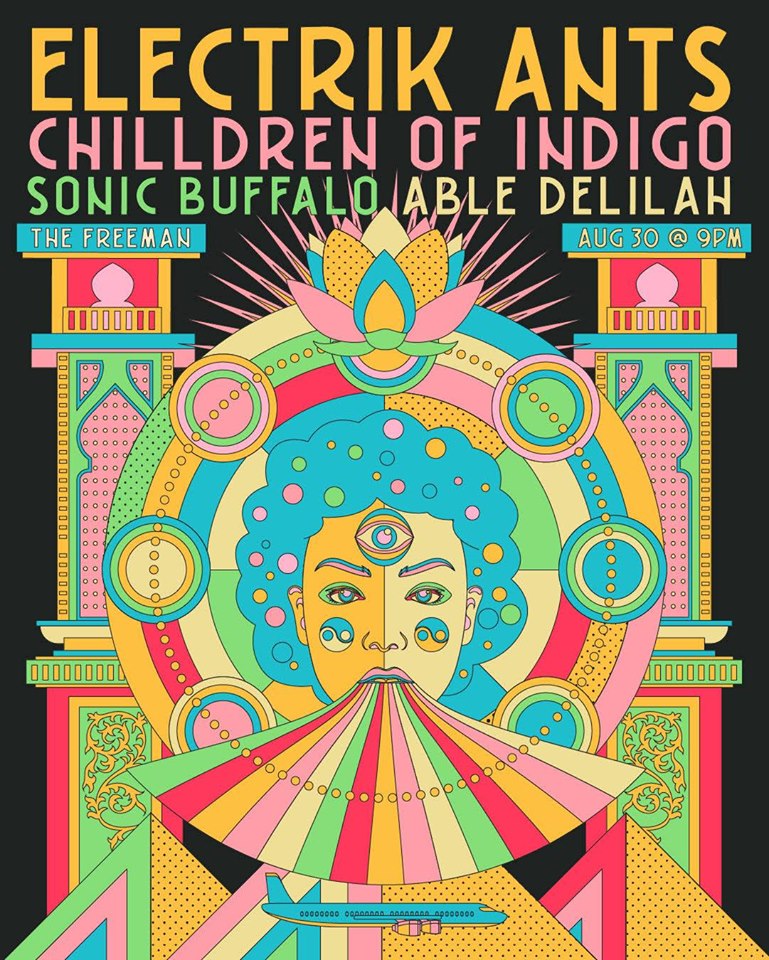 Electrik Ants, Chilldren of Indigo, Able Delilah, & Sonic Buffalo
at

The Free Man
Buy Presale 🎟
➡️➡️➡️ http://bit.ly/El3c5
Electrik Ants:
Imagine if Gorillaz, Red Hot Chili Peppers, and Lettuce all hopped in a rocket ship. The result wouldn't be far from the Ants' vibe. The Dallas-based septet combines sax, DJ, drums, bass, and three members who rotate between rapping, singing, guitar, keys, synth, and percussion. Hold on to your butts.
Chilldren of Indigo:
Funky… soulful… psychedelic… head-banging… hip-hop? With influences that vary from Black Sabbath to Kendrick Lamar, Chilldren of Indigo are a hard band to sum up and even harder to miss. The Dallas natives are currently working on their 4th studio album after finishing a multi-state summer tour.
Able Delilah:
Able Delilah is an Arlington-based soul/funk/hip-hop fusion band consisting of Texas natives Kane Vinson, Samson Robinson, and Drake Fanning. Kane and Samson have been writing together since 2012, having explored multiple projects together before establishing Able Delilah in 2017.
Sonic Buffalo:
If Zeus had sex with Aphrodite and Achilles recorded it, it would sound like shit. Sonic Buffalo is the love child of Scientology and that cult that died in that fire? Waco? That's Sonic Buffalo. Come hard. Stay harder.