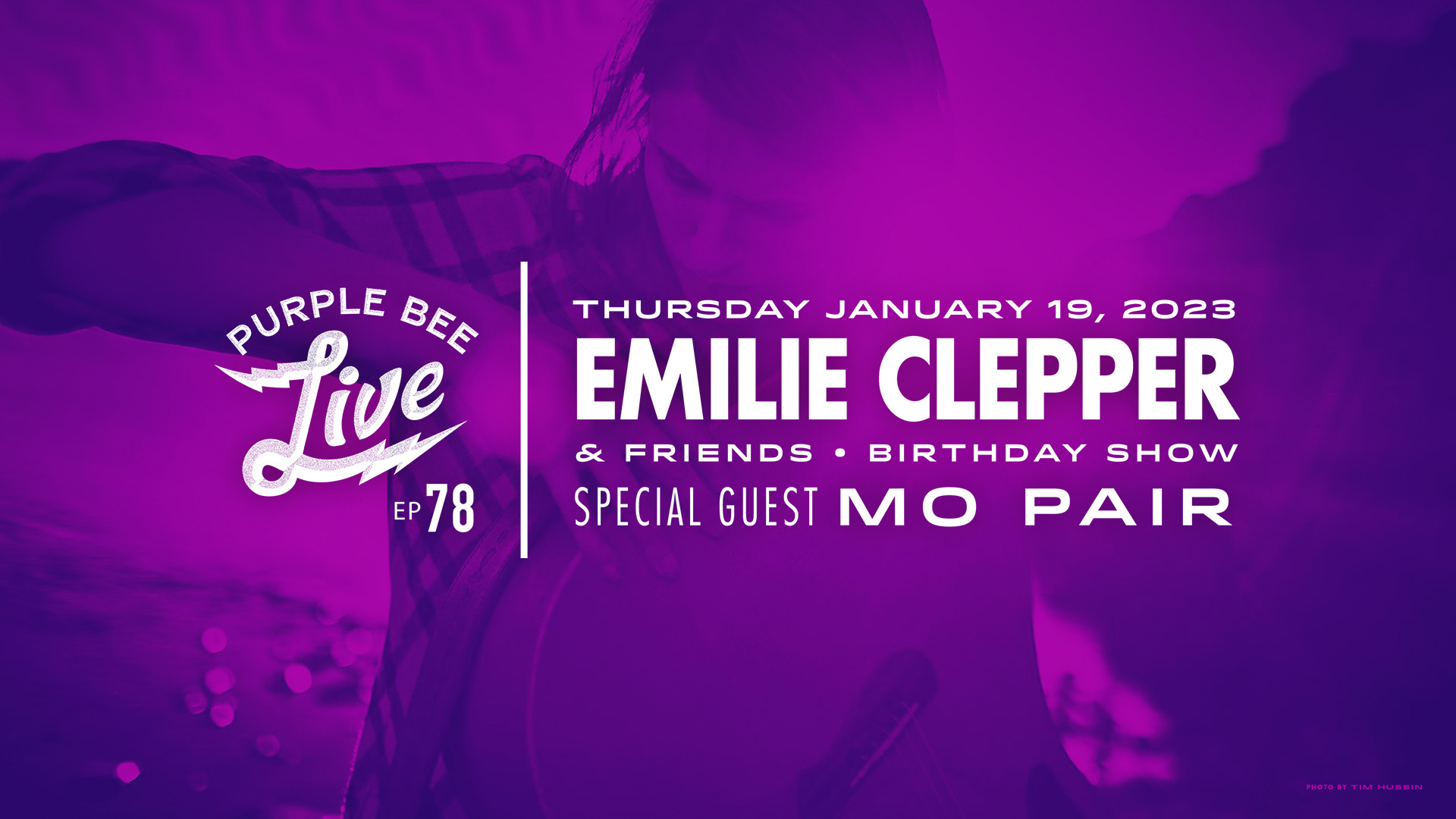 Emilie Clepper & Friends + Mo Pair • Purple Bee Live 78
at

Purple Bee Studios
Thursday

,
January
19
2023
Presenting episode 78 of Purple Bee Live, featuring Emilie Clepper & friends, with special guest Mo Pair. We're celebrating Emilie's birthday with a livestream concert & gathering at our new studio in Volente, TX. Experience the show in-person – A limited amount of tickets are available.
 Donate
Our interactive live streams are powered by your donations, which go to directly support the artists and crew. 
https://purplebee.org/donate
 IN-Person TICKETS
Join us in Person for the live concert at Purple Bee Studios in Volente, TX. Tickets available here:
https://purplebee.org/…/ticket-emilie-clepper-friends…/
 Emilie Clepper
Americana/country/folk artist Emilie Clepper brings one of the genre's finest new voices and an eclectic musical background to present music that is fresh, moving and memorable. Since her young teens, Emilie has travelled back and forth between her native Quebec and her father's Texas and counts folk, bluegrass, gospel and roots country among her most enduring influences.
 Mo Pair
You might remember Mo Pair as the an animated, chapeau-topped lead singer/guitarist for two of Austin's more interesting bands, Grass and Groovin Ground, but his solo work is from a whole 'nuther place. Folk guitar odysseys, Native American chants and songs, recounts of magical journeys and of people and loves lost are ingredients in a Mo Pair stew.
 About Purple Bee
Purple Bee is a new media production company & recording studio. We are concert film makers & curators of magical events – exploring livestreams, the metaverse, & web3 projects. We've worked with Alicia Keys, Coldplay, The Head and the Heart, C3, House of Blues, SiriusXM & more.

https://purplebee.org/
 Where to Watch
 on Youtube:
https://bit.ly/PurpleBeeTVYoutubeS
 on Twitch:
https://www.twitch.tv/purplebeetv
 on Facebook:
https://www.facebook.com/purplebeetv/live
 on PurpleBee's website:
https://purplebee.org/event/emilieclepper_20230119/
 in the Metaverse of Decentraland:
https://play.decentraland.org/?position=-49,81&realm=dg
 Pro Tip:
Sign up for the notification list and browse our archives at:
https://purplebee.org
 Join our Discord community:
https://discord.gg/5jTBW7djsG