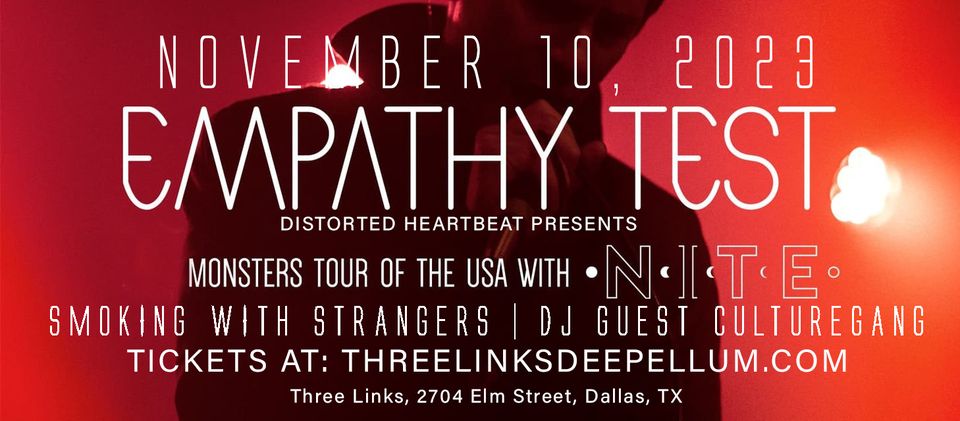 Empathy Test | NITE | Smoking With Strangers | DJ Culturegang at Three Links
at

Three Links
$20 advance/$25 night of show, All ages, Doors at 7, Music at 8. Don't be a jerk!
"Gorgeous, sumptuous future pop which arrives dripping in synthesised sounds, there are nods towards Depeche Mode here alongside 21st century producers such as Purity Ring." – Clash
Saturday, October 15th
Distorted Heartbeat presents
Empathy Test
NITE
Smoking With Strangers
DJ Culturegang
Empathy Test was formed in London (UK) in 2013, by childhood friends Isaac Howlett (vocals/songwriting) and Adam Relf (production/composition). The pair captivated listeners around the world with their debut track, Losing Touch. Since then, Empathy Test has self-produced and released three stunning albums: Losing Touch (Remastered) and Safe From Harm in 2017 and Monsters in 2020.
Empathy Test's "big dramatic sound swoons ecstatically between the nostalgic and immediate" (KCRW), earning them comparisons with classic acts such as Depeche Mode and A Flock of Seagulls, as well as modern synth-pop acts like CHVRCHES, Purity Ring and Hurts.
Despite being offered more than their fair share of record deals, Empathy Test has chosen to make their own path, building a legion of dedicated fans while still managing to earn features from the likes of Vice on HBO, MTV's Catfish, Netflix, Fresh on the Net, BBC Introducing, Clash, LoBF, Earmilk, PopMatters and many more. Celebrity fans include legendary electronic musician Midge Ure and Boy George, who described them as "a musical orgasm" via his official Twitter account.
NITE is a band from Dallas, Texas – From burgeoning rock and rolled into a thrashing metal anthem, surged with the fire of 80s synth "Good Boy" bellows out of your speakers and into your consciousness. It's NITE taking over.
The twin duo of Kyle and Myles Mendes are the masterminds behind NITE – the electronica-
infused dream rock dominating musical and lyrical soundscapes with its swooping industrial undertones and electric guitar overtones. "Good Boy" they say, is an anthem about saying no to addiction, and unhealthy relationships.
"Since the instrumentation set up the song to be more grungy, we wanted the lyrics to be
playful, almost vindictive," NITE explains, "'We're Not Gonna Take It'" by Twisted Sister was a reference for how we wanted the chorus to sound. We wanted to repeat a strong and spiteful message. We paced in circles writing the lyrics, while Myles' black cat knocked everything he could off the table at our feet. He may have inspired the title and chorus, and he is featured in the 'Good Boy' music video."
The visual component is a dark testament to the resounding emblematic "Good Boy" lyrics.
NITE doesn't intend to hide in the shade, but rather embrace the blackness of shadow from the song itself. "We were influenced to delve into the horror drama by playing the video game, 'Dead By Daylight' with our friends. This is a horror/survivor game featuring killers like Michael Myers, Freddie Crougar, and Ghost Face. We researched classic horror films like The Texas Chainsaw Massacre, Halloween, and Saw which inspired us to create our own Killer. We chose our Too Spooky mascot to be the Killer: a black cat with a wicked, red smile. Dressed in all black and weilding a knife, we think he fits the archetype perfectly."
The fusion of the song came together in NITE's own home studio, where their creativity was
able to thrive in their own developed spaces. "Both of us have our own home recording studios where we track our instruments and vocals. The bass riff was the first instrument we tracked for 'Good Boy.' It set the tone for a dark, gritty dance anthem," they say. "After the instrumental was completed we tracked our drummer, Phil, in our rehearsal space. We hope that we captured the intense energy we express on stage in the recording."
NITE has already garnished bigwig accolades, and praise, having shared stages alongside
Small Black, The New Division, DREAMERS, The Griswolds, Clean Bandit, Midge Ure
(Ultravox), and Modern English. Their Sleepless album dropped in 2020 (Cleopatra), followed by the album's remix in 2021. Their dark wave cover of Alice in Chains' "Would?" foreshadows what they call a new darker direction for the band's intended musical journey to come. And as we wait for NITE to come with a dream-packed punch of dark, hard, industrial rock, we're able to dance, groove, and embody this latest single. Like a "Good Boy". – Eric Alper
Smoking With Strangers, based out of Dallas, TX, is an electronic music production & performance duo. The band is comprised of producer & DJ, Jay Murdock @JaySustain (ACSAP), producer & performer, Maxwell Ferguson @FullyMaxxed (BMI) .
They write & perform original material & covers that encompass their style. The collective force of their creativity is unique & strong. The band works well together and produces in record-breaking time. From their loft studio in Deep Ellum, an entertainment neighborhood of Dallas, they write, record & practice constantly.
Smoking With Strangers has music published & distributed around the World. Here is a list of links where you can find the music.
DJ CULTUREGANG
IG @dj_culturegang
Resident DJ at Darkroom – a monthly night dedicated to New Wave, synthpop and retro. DJ Culturegang spins a wide variety of genres spanning from darkwave to synth and more.