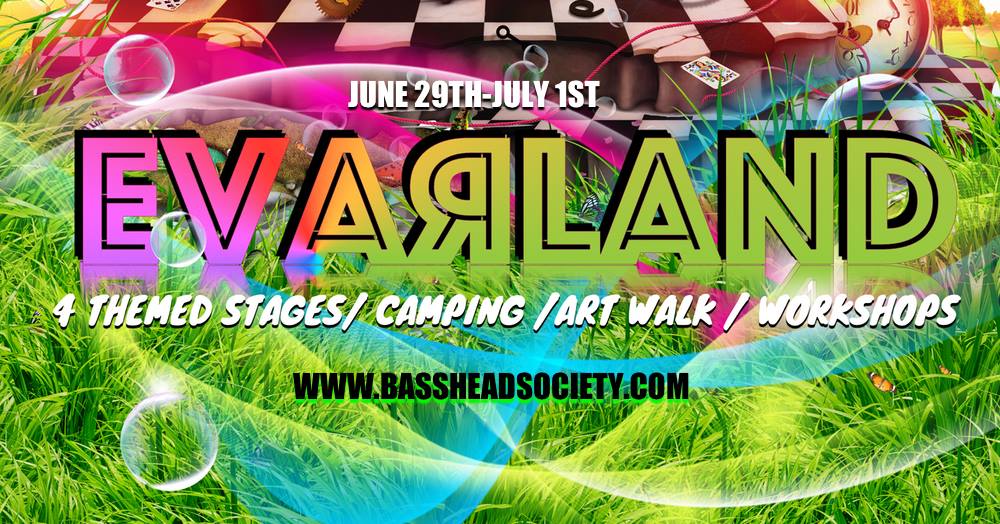 TryMoreMOJO
•
Electrik Ants
at
Basshead Society Presents:
evaRLand 2018
June 29th – July 1st
Prepare to open your third eye as we explore all realms of multiverse!
Back to back sets from our very own MOJO and Electrik Ants Saturday June 30th on the Thunderdome Stage!!
MUTLI-THEMED event! This year we present to you:
"Down the Rabbit Hole" A trip with Alice and her friends!
Hosted by Basshead Society. www.BassheadSociety.com
"House of Betelgeuse" A step into the warped mind of BeetleJuice!
Hosted by 4:4 Productions and Basshead Society!
"Jungle Book" A journey through the Jungle with Mogli and friends!
Hosted by DTX DNB. www.facebook.com/dtxdnb.ent
"LIVE at the Thunderdome" Live bands and acts at The Emporium!
Hosted by Basshead Society. www.BassheadSociety.com
"Dallas Drum Djam" Live freestyle music with the best of friends!
Hosted by Ron Dyer. www.facebook.com/DallasDrumDjam
3 day camping music and arts festival. 3 Themed stages! Each with unique sound a lighting! Over 30 DJs! Tons of locals but we also have DJs coming in from Colorado, Shreveport, Las Vegas, Georgia, Houston, Austin, San Antonio, East Texas, and more!
Live Fire performances and other flow arts by MindWorks!!!
Get ready to Djam out with us as we introduce for the first time Dallas Drum Djam to evaRLand!!!! You heard that right! Grab your instruments and come join the circle as we Drum the weekend away! Led by the ever talented, Ron Dyer! This is a musical journey you will NOT want to miss!
You can see Ron, and his the Dallas Drum Djam, every Wednesday at the Green Elephant! And make sure to "LIKE" their facebook page via the link below!
https://www.facebook.com/DallasDrumDjam/
The Emporium!
Come check out all the hand-crafted artist booths, watch artist live paint, get yourself and your entire body painted, watch live bands and hip-hop, get some snacks or go all out and get a full meal. You can do all this and more at our Emporium! Now featuring, in the Emporium, "LIVE at, The Thunderdome" with live bands, hip-hop and more!
BluMania Energy Drinks!
BluMania Energy Drinks will be giving away FREE BluMania Energy Drinks to the first 50 guests through the door! (One BluMania Energy Drink Per person, no exceptions.) There will also be SWAG giveaways all weekend long! Look for your opportunity to win some free ENERGY brought to you by BluMania Energy Drinks!
"WARNING: HEREIN LIES THE GREATEST ENERGY SOURCE IN THE UNIVERSE!" -The Creators
www.blumaniaenergy.com
www.facebook.com/blumaniaenergy
Artist Alley!
Come take a walk down our Artist Alley and see anything from black-light art to sculptures and everything in between! We are working hard to bring you some of the best artists that Dallas and the surrounding cities has to offer! The artist should have plenty of art on display for sell as well so can even take a piece of it home with home! Support Local Art!
Workshops!
Mindfulness and Music, A Meditation Down the Rabbit Hole with Music Therapist Tonya Blum of Coyote Music Studio
and more TBA!
PRICING:
*Super Early Bird $25 [SOLD OUT]
*Early Bird: $35 (SOLD OUT)
*Pre-Sale: $45 (ONLINE SALES)
Gate Price: $65 (DAY OF EVENT)
Parking: $10 All Weekend
Camping: FREE
Dancing: FREE
Hugs: FREE
Good Vibes: FREE
⌫⌧⌧⌧⌧⌦
MC Lineup:
⌫⌧⌧⌧⌧⌦
MC Astro
"Drum and Bass"
[Dallas, TX]
(V Recordings)
MC Etiquette
"Drum and Bass"
[Dallas, TX]
(Two:Tone, Rockit Lab Studios)
⌫⌧⌧⌧⌧⌦
DJ Lineup:
⌫⌧⌧⌧⌧⌦
Aaron Hensley
"Tech House, Techno, Drum and Bass"
(Bedroom Muzik, BeLove Records)
(Basshead Society / Proper DJs)
[Dallas, Tx]
www.Facebook.com/AaronHensleyMusic
https://soundcloud.com/aaronhensley
www.BassheadSociety.com
www.Instagram.com/Basshead_Society
Aids
"Tech House"
(Tree House Collective)
https://www.mixcloud.com/666aids/
Alex Kidd AKA Carlos Lehder
"MNML Deep Tech"
[South Africa]
www.artistecard.com/AlexKiDD
www.facebook.com/Slipmatkid
www.youtu.be/1-g0rC6Y5qk
www.mixcloud.com/slip-mat/
AU5BR0
"Deep House, Tech House"
(Sapphire Studios, Star Talent)
www.facebook.com/AU5BR0
www.twitter.com/AU5BR0
www.instagram.com/AU5BR0
Snapchat:AU5BR0
Autodegenerate
"Psytrance"
(FYR Crew)
www.facebook.com/autodegenerate
www.soundcloud.com/autodegenerate
www.instagram.com/autodegenerate/
BLANG
"Drum and Bass, Jungle"
[Austin, TX]
(Bell Ringer Records, Sonar DNB, Breakbeat BBQ, Upgrade DNB)
www.soundcloud.com/djblang
www.facebook.com/blangitout
www.instagram.com/blangitout
www.bellringerrecords.bandcamp.com
Brandon R.
"Dark Techno, Tribal House"
[Chicago, IL. / Austin, TX]
(Trilogy Music Gallery, TreeHouseCollective, Positive Vibe Tribe)
www.facebook.com/brandon.rogeness.3
Bryan Charles
"Tech House/Drum and Bass"
[Shreveport, LA]
(4:4, The Synergy Festival)
www.thesynergyfestival.com
www.soundcloud.com/bryan-feldhiser
Claset
"Techno"
(Tree House Collective)
www.Facebook.com/clasetofficial
www.Soundcloud.com/John-Claset
Claud On Clouds
"Drum and Bass"
[San Antonio, Tx]
(2ten Platoon, M.I.A. DNB)
www.facebook.com/ClaudOnClouds420
www.soundcloud.com/user-261078761
www.instagram.com/Officialclaudonclouds
Clean Batch
"Tech House, Techno"
(Flunked Records)
www.facebook.com/Cleanbatchmusic/
www.soundcloud.com/cleanbatchmusic
Coyote
"Drum and Bass"
[Denton, Tx]
(DTXDNB Entertainment)
www.soundcloud.com/COYOTE_TX
CrimZilla
"Trap, Dubstep"
Daddy's Babygirl (Daddy + Babygirl)
Experimental Bass
[Texas]
(area512 and Plzdaddy.com)
www.plzdaddy.com
DAR
"Weird Bass"
(Ignite Art Collective)
https://www.facebook.com/artbydar/
https://soundcloud.com/david-dar-carroll/
DJ Asult
"Dubstep"
(Basshead Society)
www.soundcloud.com/nathan-biby
www.facebook.com/DjAsulT
www.BassheadSociety.com
www.Instagram.com/Basshead_Society
DJ Audix
"Bass House, Brazilian House, House"
(Pure Platinum DJs)
www.Facebook.com/Audix
www.Soundcloud.com/DJ-Audix
DJ B-Lo
"Bass House Remix DJ "
(Pure Platinum Disc Jockey Co.)
www.facebook.com/DJBLO069
www.soundcloud.com/byno
DJ BP
"Bass House"
(Kickstarterz Entertainment)
www.Mixcloud.com/DJBP729
www.facebook.com/DJBP729/
www.facebook.com/bubba729
www.Instagram.com/DJBP729
DJ Brian Pibb
"Drum and Bass, Techno"
www.BrianPibb.com
www.Soundcloud.com/DJBrianPibb
www.Facebook.com/BrianPibb
www.Instagram.com/BrianPibb
www.Mixcloud.com/BKArmstrong78
www.Twitter.com/BrianPIbb
DJ Chilly Nelson
"Chicago, Funky Bass House"
(Killer Muzic)
[Shreveport, LA]
www.soundcloud.com/ChillyNelson
DJ Fryguy
"Breaks, DNB, Trap, BIgroom"
(Ignite Art Collective)
[Dallas, TX]
www.soundcloud.com/djfryguy
www.Mixcloud.com/djfryguy
www.Facebook.com/djfryguymusic
DJ Pacman
"Bass, Breaks"
(30G3, S.U.B., JNCO, Deluxe Athletic Brand (DAB CLothing))
[Nevada, USA]
www.soundcloud.com/djpacmanlive1
www.Facebook.com/BarrySwetnam
www.facebook.comDeluxeAthleticBrand
DJ Ricky B
"Drum and Bass":
(DTXDNB Entertainment, Basshead Society)
www.instagram.com/denton.dnb/
www.mixcloud.com/DentonDnB/
www.facebook.com/dentondnb
DJ RNZO
"Trap, Electro House"
(5 Star DJ's, KNON 89.3)
www.facebook.com/officialrnzo/
www.twitter.com/officialrnzo
www.instagram.com/officialrnzo/
www.soundcloud.com/officialrnzo
DJ THROW3D a.k.a. SPAC3 BOI
"House, Trance, Breaks, Drum and Bass, Dubstep, Trapstep"
(Indi)
www.facebook.com/Throw3d.a.k.a.SpaceBoi/
www.facebook.com/D33JAY.THROW3D/
www.soundcloud.com/throw3d-a-k-a-spac3-boi
DJ Titan
"Drum and Bass"
[Dallas, Tx]
www.soundcloud.com/djtitan
www.twitter.com/djtitanrocks
www.instagram.com/djtitanofficial
www.thelizardlounge.com
DJ Tony Snow
"Texas Hip-Hop, EDM Fusion"
(Lil Flip Clover G Records, UGK Records and Swishahouse Affiliated)
www.djtonysnow.bandcamp.com
www.open.spotify.com/artist/3EU7YWW4NK1TqcvmhmCoaH?si=lQoGxBH1SjuizcPTeYJFLA
www.facebook.com/dablockradio
www.twitter.com/TokinTheComic
DVK
"Tech House and Filthy Underground"
[Dallas, TX]
(Sugar Shack / GRIN Music / Proper DJs)
www.soundcloud.com/main-2nd-dvk
www.facebook.com/main.2nd.dvk
www.dallasobserver.com/music/dc9-at-night-mixtape-with-dvk-7075651
EddyNRG
"Hard House"
[Arizona]
ENDSIGHT!
"Drum and Bass"
[San Antonio, TX]
(Walking Corpse Society DNB, Ill Logic Records)
www.soundcloud.com/endsight-dj-mc/smoke-breaks-minicast-013-endsight
www.facebook.com/endsightdnbartist/
www.facebook.com/w.c.s.dnbcollective/
www.facebook.com/ill.logic.records/
Ethan Toles
"Dubstep"
(NoisyMusic/NoisyDubs/Good Vibes Presents/Illevated Sounds/Bounce Crew Collective/Network/Safari Network/Trapstyle UK/Bounce World)
www.facebook.com/ethantolesmusic
www.Soundcloud.com/Ethan-Toles
FLEX
"Drum and Bass"
(Bass&Coffee Show, La Selva, 2Ten Platoon)
[New York]
www.Facebook.com/bookdjflex
www.Mixcloud.com/djflex585
www.Snapchat.com/djflex585
www.instagram.com/djflex585
www.Facebook.com/bassncoffee
Galaxy Kid
"Hardcore, Trapcore, Gabber, DNB"
(303 Family Texas Chapter, We Are One Digital)
www.SoundCloud.com/djgalaxy81
www.facebook.com/galaxykid2607
Henrij and DMTZ
"House, Disco House"
(The Get Right, U.K.)
www.soundcloud.com/henrij-1/hardcore-1
www.soundcloud.com/henrij-1/01-henrij-ambient
www.mixcloud.com/DMTZ/nye-spacediscos/
www.mixcloud.com/DMTZ/zoe5o5livesauce-albuquerqe-nm/
Ineka Guerra
"Techno"
(Stereo On Strike)
www.mixcloud.com/ineka-guerra
Jabba
"Drum and Bass"
[Shreveport, LA]
(7th Sign Ent/GuessWho?)
www.facebook.com/jabbajt
www.mixcloud.com/jabbä-thomas/ www.youtube.com/jabbajt
www.instagram.com/jabbajt
J!NX
"Future Funk, Bass, Ambient"
(Ignite Art Collective)
www.facebook.com/prjinx/
www.soundcloud.com/prjinx
Joo Kang
"Dubstep, Trap"
[Las Vegas, NV]
(All Access Vegas, FVYDID, Trinity Las Vegas)
www.facebook.com/djjookang
www.Soundcloud.com/joo-kang
www.open.spotify.com/artist/5lws7jHa8jRuSsW27265ki?si=18NsIKnZSze7NaUZUU3GnQ
J-Trip
"Neurofunk, Drum and Bass"
(Overnite Productions, DTXDNB Entertainment)
www.facebook.com/djjtrip
www.soundcloud.com/j-trip
www.mixcloud.com/J-Trip
www.instagram.com/dj_j_trip
Kaos The SpaceCadet
"Drum and Bass, Dubstep"
[Austin, TX]
(Area512, Rebel Alliance of the Underground)
www.soundcloud.com/kaos-thespacecadet
www.mixcloud.com/kaosthespacecadet/
Kaycee Unisca
"House, Breaks"
(ActiveSessions.FM, The Collective DFW)
[Dallas, Tx]
ActiveSessions.FM
www.mixcloud.com/KayceeUnisca
www.soundcloud.com/KayceeUnisca
Kazmix.
"Drum and Bass, Breaks, Electro, House"
(Unit-E Entertainment)
www.facebook.com/pg/Unit.E.Entertainment
King Yogi
"Liquid DNB, DNB"
(2Ten Platoon, A.M.P, Area 512, Bass and Coffee Show, Ambient Camping, Middlemen Digital)
www.facebook.com/kingyogimusic
www.mixcloud.com/PEARimusprime
www.soundcloud.com/liquidyogi
Kit Likwid
"Drum and Bass"
[Houston, TX]
www.Facebook.com/kitlikwid
www.mixcloud.com/kitlikwid
www.Soundcloud.com/djkitlikwid
Lucki Junglette
(Bass Mafia)
"Drum and Bass"
www.soundcloud.com/deeplomatikk-radio-1/live-on-deeplomattik-radio-uk-lucki-junglette
www.Facebook.com/DjLucki
www.soundcloud.com/lucki-junglette
Matt E.P.
"House"
(Mad Lab)
www.facebook.com/DJMattE.P
Matt Kadd3r
"Trap, Dubstep"
[Denver, Colorado]
www.facebook.com/mattkadd3r
www.soundcloud.com/matt-kadd3r
Metaphysic
"Psychedelic Bass"
(Prime)
www.Facebook.com/Metaphysicraver
www.SoundCloud.com/metaphysicraver
Mighty Monkz
"Drum and Bass, Jungle, Hiphop, Reggae"
[San Antonio, Tx]
(2Ten Platoon, M.I.A, TWOTONE. A.M.P, Bassdrive.com)
allmightyproductionz@gmail.com
Miss CJ
"Breaks"
(Basshead Society, Vinyl Vixens)
[Dallas, Tx]
www.DJMissCJ.com
www.BassheadSociety.com
www.mixcloud.com/DJMissCJ
www.Instagram.com/Basshead_Society
Miss Haze
"Drum and Bass"
[San Francisco, CA]
(DNB Girls/Bitch Plz/DNB Proper/Lotus Mathematics/Higher Level)
www.misshazemusic.wixsite.com/misshaze
www.facebook.com/misshazesf
www.soundcloud.com/misshaze
www.dnbgirls.net
Ms. Kue
"Big Room House, Electro House, Bootleg / Mash Ups, Electro Latino, Latin Fusion, Moombahton"
(5 Star DJ's, KNON 89.3 FM)
MrYoshimoto
"House, Progressive House"
(Basshead Society)
www.mixcloud.com/hugo-flores2/
www.soundcloud.com/mistayoshimoto
www.instagram.com/mryoshimoto
@misteryoshimoto
MyManDan
"House"
[Natchitoches, Louisiana]
(Sabine CounterCulture Movement)
www.facebook.com/danieljones
www.twitter.com/demondan13www.soundcloud.com/sabinecounterculture
Neon Smoke
"House"
(Tree House Collective)
www.soundcloud.com/user-487064957
NORMUL
"Electro, House, Dubstep"
[Houston, Tx]
(VP of Never Sleep Collective, Member of Dirty Collective, Member of AREA 512 Entertainment)
www.ntsonormul.com
www.nschq.com
www.facebook.com/ntsonormul
www.facebook.com/neversleepcollective
www.soundcloud.com/normul
www.instagram.com/ntsonormul
www.twitter.com/ntsonormul
Oh My! Gondra
"Bass House, Vinahouse"
[Austin, Tx]
(Austin Dance Syndicate)
www.facebook.com/ohmygondraofficial
www.mixcloud.com/ohmygondra
www.twitter.com/ohmygondra
www.instagram.com/ohmygondra
OMG
"Drum and Bass"
(Dallas Event Audio)
www.facebook.com/dallaseventaudioservice
Ouroboros
"Psychedelic Bass"
(Ignite Art Collective, Audio Alchemy Records)
www.facebook.com/Ouroborosoriginals
www.soundcloud.com/ouroborosoriginals
www.instagram.com/ouroborosoriginals
Overly Medicated
"Drum and Bass"
[San Antonio, TX]
(2ten Platoon, M.I.A, Bass & Coffee, Middlemen Digital )
www.soundcloud.com/overlymedicateddnb
www.facebook.com/overlymedicateddnb
www.twitter.com/overlymedicate
www.instagram.com/overlymedicateddnb
www.mixcloud.com/overlymedicateddnb
www.beatport.com/artist/overly-medicated/615987
www.middlemendigital.com
Paul Cypher
"Drum and Bass, Trance, Psytrance"
(DTX DNB Entertainment)
ww.facebook.com/DJpaulCypher
www.soundcloud.com/paulcypher
www.mixcloud.com/paul-cypher
www.twitter.com/DJPaulCYPHER
www.instagram.com/djpaulcypher
Qu35t
"Drum And Bass, Dubstep"
(Basshead Society)
www.facebook.com/DJQu35t
www.soundcloud.com/dj_qu35t
www.BassheadSociety.com
www.Instagram.com/Basshead_Society
Reckless Ryan
"Tech house, Disco House"
(Flunked Records)
www.facebook.com/DJRecklessRyan/
www.soundcloud.com/dj-reckless-ryan
Riot Noize
"Dubstep"
www.youtube.com/channel/UCmnepGcqX6xeRCYzoxjoegA
RoBoJoe
"Drum and Bass"
(Atrium Obscurum, Flux Family)
www.mixcloud.com/djRoBoJoE
Roy DeeStroy
"Breaks, House"
(Bassquake Inc, Unit-E, Tree House Nut)
Www.facebook.com/roydeestroy
Www.soundcloud com/deestroy187
Samuel L. Waxin
"House"
(Tree House Collective)
www.facebook.com/SamuelLWaxin
Saylus
"Drum and Bass"
(The WhiteNoize Collective)
www.Soundcloud.com/saylus1
www.Facebook.com/saylus1
www.instagram.com/saylushtx
www.twitter.com/saylus
Sickone
"Drum And Bass, Jungle, Hip-Hop"
(Basshead Society)
www.DJSickone.com
www.BassheadSociety.com
www.mixcloud.com/djsickone
www.soundcloud.com/HouseOfJungle
www.youtube.com/HouseOfJungle
www.Instagram.com/Basshead_Society
Sina Matix
"Cinema Electro"
[Houston, Tx]
(EDM TV)
www.cinematicmanipulation.com
www.reverbnation.com/cinematicmanipulation8
www.tumblr.com/blog/cinematic-manipulation
www.instagram.com/cinematic_manipulation
www.twitter.com/sina_matix
www.facebook.com/CinematicManipulation
Sofa Kingdom
"Drum and Bass, Footwork"
[San Antonio, Tx]
(Middlemen Digital Recordings, 2ten Platoon, M.I.A. DNB)
www,Facebook.com/SofaKingdom210
www.Instagram.com/SofaKingdom210
www.Soundcloud.com/SofaKingdom210
www.Twitter.com/SofaKingdom210
Stetra
"Disco, House, Techno"
(LOLO)
[Dallas, TX]
www.spark.adobe.com/page/Umfw8XITyHnQY/
www/instagram.com/stetra
www.facebook.com/STETRAsounds
www.twitter.com/_STETRA_
www.soundcloud.com/stetra_stetra
www.mixcloud.com/STETRA/
Sub Destroyers
"Breaks, Dubstep"
(Sub Destroyers Records, Euphoric Faders)
www.Soundcloud.com/DJtime2020
www.facebook.com/100001284392298
Suspense
"Trap, Dub, Minimal, HipHop. House"
(War On Boredom)
[Dallas, Tx]
www.soundcloud.com/suspensedj
10 Shy
"Electro, Bass"
(Austin, TX)
www.facebook.com/10shy
www.soundcloud.com/10Shy
www.Twitter.com/DMillinthemix
www.Instagram.com/DMillinTheMix
Wild Knight
"Drum and Bass"
(Basshead Society)
www.facebook.com/deejaywildknight
www.BassheadSociety.com
www.Instagram.com/Basshead_Society
Also Featuring:
A/Aron
Squiggly
Wayne Delice
Witch Doctor
⌫⌧⌧⌧⌧⌧⌧⌧⌧⌧⌧⌧⌦
"Live at The Thunderdome"
⌫⌧⌧⌧⌧⌧⌧⌧⌧⌧⌧⌧⌦
💥Live Band lineup💥
Chilldren of Indigo
"Funk, Rock, Soul, Hip Hop"
www.Chilldrenofindigo.com
www.facebook.com/Chilldrenofindigo
Chilldren of Indigo is a Dallas-based band that blends elements of rock, funk, & hip hop sprinkled with blues. Their music is their love, passion, & dream.
Chilldren of Indigo began in 2014 as a home studio project crafted by wordsmith Jo Indigo and the engineering wizardry of Jay Indigo. Following the departure of several rhythm players, the backbeat of Chilldren was established in 2016 with the addition of Tito the Indigo and Ryan Sneed on drums and bass respectively. After the release of their second album, 'Indigo Soul', Nick Murphy finalized the lineup as an alto saxophone and second guitar player. With a wide range of sonic influences from soul to punk, Chilldren emerge most unique in their ability to seamlessly blend genres. Eclectic styles arranged by the thick grooves of Ryan Sneed embraced by the dreamy, bluesy guitar and keys of Jay Indigo can be heard across their recordings. Conscious lyrics and psychedelics noises are the bread and butter of Indigo yet the main staple of this quintet is their union of vintage vibes with modern sounds. This self proclaimed future-hop band is out to bring the rock revolution to your city for years to come.
♫♫♫♫♫♫♫♫♫♫♫♫♫♫♫♫♫♫♫♫
Shaka
"Punky Reggae"
www.shakasucks.com
"Legends come in many forms. For Shaka, it came as a three-round rifle burst of projectile vomit. It's the kind of spectacle that stuns bar patrons and catapults you from a random out-of-town band directly to cult status. That level of infamy that causes a venue to beg you to come back every time you're in town. It may not be a glorious path to success, but damn if they don't have a good time every second of the way." — Matt Wood, Dallas Observer
Shaka is a three-piece Punk/Reggae band from McKinney, TX. Consisting of Jeff Dieffenbach, Matt Dunnam and Straton Riekena. Formed in 2008 the trio has been playing the DFW area non-stop. Building a loyal, rowdy fan base brick by brick.
♫♫♫♫♫♫♫♫♫♫♫♫♫♫♫♫♫♫♫♫
Bum Lucky
"Original Reggae, Rock-N-Roll, Dub"
www.bumlucky.com
www.facebook.com/pg/bumlucky
It takes just a few musicians and their instruments to start a reggae band. But to successfully bring that breezy island sound to a landlocked city such as Dallas, Texas requires something exceptional.
Bum Lucky was born out of the desire to cultivate a distinguished reggae music scene in the Dallas-Fort Worth region. Being located far from the beaches and pot-friendly atmospheres where the genre thrives forced the four-piece to dig deeper in its songwriting and sound — a welcome challenge that thrust the music new heights and enticed bands such as Fortune Youth and Tribal Seeds to play alongside Bum Lucky in their hometown.
The band's latest EP, Show Some Love, is founded in roots-rock reggae and dub, and tinged with elements from southern rock and blues. The result is a collection of songs as gritty as they are seductive — the music embodies a rebellious spirit that serves as both a call to action and remedy on the dancefloor.
This fresh approach has rewarded Bum Lucky opportunities to share the stage with bands such as the Original Wailers, Lee Scratch Perry, Katchafire, Groundation, the Expendables, the Movement, Sensamotion, Mishka, Tribal Seeds and Fortunate Youth, among others. They've been guests at esteemed festivals throughout the Southwest while touring on a rigorous schedule the last several years to spread the gospel of good tunes.
The band plans to release a new single, called "Steven Avery," in summer 2017 and follow up with a righteous North American tour you don't want to miss. Hustle is the name of their game — one they expect to play all year long.
♫♫♫♫♫♫♫♫♫♫♫♫♫♫♫♫♫♫♫♫
The High Mile
"Reggae, Rock"
[Houston, TX]
www.thehighmiletx.com
www.soundcloud.com/thehighmile
www.facebook.com/pg/thehighmile
www.twitter.com/thehighmile
www.instagram.com/thehighmile
Snapchat @thehighmile
With the release of the Red Sun EP, The High Mile brings a new feel to a clashing of genres. Lush with addicting progressions, a soulful indie vocal approach, a… See More
Awards
-Best Local Reggae Band, Houston Support Local Music Awards 2017
-Best Local Drummer (Ryan Damian), Houston Support Local Music Awards 2017
-Best Local Bass Guitarist (Rasta Mendoza), Houston Support Local Music Awards 2016
♫♫♫♫♫♫♫♫♫♫♫♫♫♫♫♫♫♫♫♫
Electrik Ants
"Rock, Hip-Hop, Trip-Hop"
[Dallas, TX]
www.ElectrikAnts.com
www.soundcloud.com/user-186676609
www.youtube.com/watch?v=UbOHDrLaayQ
www.twitter.com/electrikants
www.instagram.com/electrikants
Electrik Ants thrives in the vibe of the music and commits to follow where it leads. It could be a soulful groove topped with rap, a soaring guitar line, a synthesizer solo, or a DJ breakbeat that finds its way into a psychedelic dungeon. A seven-piece band with sax, DJ, drums, bass, and three members that rotate between rapping, singing, guitar, keys, synth, and percussion, The Ants are allowed great freedom in performing and writing; A freedom that is explored and expressed with deep emotional and technical dedication. There simply isn't a live or recorded band as ambitious, capable, or unique as Electrik Ants.
♫♫♫♫♫♫♫♫♫♫♫♫♫♫♫♫♫♫♫♫
Rip The System
"Hard Rock, Hip-Hop, Funk"
[Dallas, Tx]
www.ripthesystemband.com
www.facebook.com/pg/Ripthesystemband
www.twitter.com/ripthesystemband
A Rage Against The Machine Tribute Band!
♫♫♫♫♫♫♫♫♫♫♫♫♫♫♫♫♫♫♫♫
Mom Told Us To Wait Here
"Acoustic Folk-Punk"
[Denton, TX]
www.facebook.com/pg/momtoldustowaithere
♫♫♫♫♫♫♫♫♫♫♫♫♫♫♫♫♫♫♫♫
Filthy Arsenal
"Punk, Folk, Acoustic, Crust"
[Dallas, Tx]
www.filthyarsenal.bandcamp.com
www.facebook.com/pg/FilthyArsenal
www.twitter.com/filthyarsenal
Filthy Arsenal is a 4-piece band that was formed in the DFW area of Tejas late 2015. We play acoustic/punk music with folk and crust influences homies.
♫♫♫♫♫♫♫♫♫♫♫♫♫♫♫♫♫♫♫♫
Podunk Parliament
"Acoustic Punk Folk"
www.facebook.com/pg/PodunkParliament
www.podunkparliament.bandcamp.com/releases
Podunk Parliament is a Acoustic Punk/Folk Punk band in Dallas TX. Protesting and Standing up AGAINST Racism, Fascism, Sexism, Homophobia, and Violence. (=) Up The Punx. Lets start a revolution. [ON LIBER-DIY RECORDS]
♫♫♫♫♫♫♫♫♫♫♫♫♫♫♫♫♫♫♫♫
The Broke$
"Ska, Punk, Reggae"
[Mesquite, Tx]
www.pumpthebrokes.bandcamp.com
www.facebook.com/pg/pumpthebrokes
www.twitter.com/pumpthebrokes
Suburban ska punk for your ear holes
"Tony and Jay were born unto their mother.
They then decided ska was pretty cool.
A band was later formed.
People kinda liked the tunes.
Today, that band is the Broke$.
Tomorrow, we will still be here."
♫♫♫♫♫♫♫♫♫♫♫♫♫♫♫♫♫♫♫♫
American Minority
"Hardcore Street/Skate Punk"
[Dallas, Tx]
www.facebook.com/pg/AmericanMinority
www.twitter.com/americanminority
American minority is a hardcore street punk band.
♫♫♫♫♫♫♫♫♫♫♫♫♫♫♫♫♫♫♫♫
Dallas Uber Alles
"Dead Kennedys Tribute Band, Hardcore Punk"
www.facebook.com/pg/DallasUberAlles
www.twitter.com/dallasuberalles
Created for the love of the music. Dallas Uber Alles bursted onto the scene in 2013, and despite being a tribute, they have earned much respect from their peers and original bands. They have opened for national acts Agent Orange, and D.I They have graced the stages of Three links, House of Blues Dallas, Trees, Wits end, Club Dada, the Aardvark, Lola's saloon, Andy's bar, and more.
Stay tuned as they morph into an all original act who channels that old punk rock spirit!
♫♫♫♫♫♫♫♫♫♫♫♫♫♫♫♫♫♫♫♫
Casual Relapse
"Hardcore Punk"
[Dallas, Tx]
www.casualrelapse.bandcamp.com
www.facebook.com/pg/casualrelapse
Bringing street/anarcho punk at its finest with a little hardcore.
CASUAL RELAPSE is the culmination of years of struggle and fine tuning in the name of true agressive rock n roll with power, purpose, and the visceral stylings of Dan Pedroza,Que Morris,Jake Walton, Chris WIlliams, and Felix Aguilar.
♫♫♫♫♫♫♫♫♫♫♫♫♫♫♫♫♫♫♫♫
Daggerwound
"Hardcore Punk"
[Sherman, Tx]
www.daggerwound.bandcamp.com
www.facebook.com/pg/Daggerwound
www.daggerwound.tumblr.com/
"This band, Daggerwound, sent us their EP and as far as I can tell, it's a bunch of dudes in ski masks." -Jaded Punk
Daggerwound Kills.
♫♫♫♫♫♫♫♫♫♫♫♫♫♫♫♫♫♫♫♫
Expresion Clandestina
"Hardcore Punk"
[Dallas, Tx]
www.facebook.com/pg/expresionclandestina
www.twitter.com/expresionclandestina
♫♫♫♫♫♫♫♫♫♫♫♫♫♫♫♫♫♫♫♫
Worm Suicide & The Devil Club
"Punk Rock, Hardcore, Skumm"
[Austin, Texas]
www.wormsuicide.bandcamp.com
www.facebook.com/pg/wormsuicide
www.twitter.com/wormsuicide
Worm Suicide formed in South Texas 1996. Old punk rockers, performed on tons of comps including Samhain tribute records, Misfit compilations, GG Allin compilations. Lots of shows on the record books and good times with East and West Coast touring acts, from punk, to metal, to Oi, to hardcore, we played with them all…
The Devil club was you, your girlfriends, the ones who fed us booze, the people who let us crash on their floors, all the ones who passed out flyers, passed out in front of us, let us video you while you vomited, paid us some gas money, traded gigs with us, shared our CDs, let us take naked pictures of you for our CDs, paid to get into our concerts, pissed blood in the grass with us, kept us from dying in our own fluids, brought over beer bongs, picked scott up when he fell on his face and most importantly kept screaming and continued to support the Worm Boys through those years that it mattered.
♫♫♫♫♫♫♫♫♫♫♫♫♫♫♫♫♫♫♫♫
Puddin Taine
"Party Funk"
(Pulse Music)
www.puddintaine.bandcamp.com
www.facebook.com/pg/datpuddintaine
www.twitter.com/datpuddintaine
Puddin Taine started jamming it's way into the hearts of many from the rooftop of Cool Beans – Bar and Grill in Denton, Texas. It was from those late night sessions that we forged an eclectic FuNkY/dance-able/rock-ish sound from the influences of Les Claypool, James Brown, The Doors, and Justin Timberlake. I know, weird right? Anywho, after developing our chops and chemistry as the backing band for Open Stage, a former variety show in Richardson, Texas, we came to the not-so-sudden realization that we don't suck. Thus, Puddin Taine was born!
Since our official conception, we've been making the rounds in Denton, Texas playing at the likes of: LSA Burger Co., Abbey Underground, Andy's Bar, Dan's Silverleaf, Audacity Brewhouse, Mable Peabody's, and Harvest House. In Dallas, Texas, we've been slaying at the likes of: The Curtain Club, Deep Ellum Arts and Jazz Fest, The Boiler Room, The Underpass, and Sundown at Granada. With Bret "Bass Taine" Crow on bass guitar and vocals, Matt "Robo Taine" Cochran on keys and sax, Ethan "Enter Taine" Bouchard on electric guitar and vocals, Brandon "Wild Taine" Dowd on vocals and trumpet, and TPherball "Cap Taine" McGuillicutty on drums, we form a formidable band of gents whose only goal is to put a smile on your face and inspire you to dance! And party! And get more famous and richer than Beyoncé…
Puddin Taine – We got goal(s)!
♫♫♫♫♫♫♫♫♫♫♫♫♫♫♫♫♫♫♫♫
The Black Cassettes
"Hard Rock, Blues Punk"
[Dallas, Tx]
www.theblackcassettes.bandcamp.com
www.facebook.com/theblackcassettes
www.soundcloud.com/theblackcassettes
www.theblackcassettes.tumblr.com
www/twitter.com/blackcassettes
www.youtube.com/channel/UCiG638e7Pp6wsL5SjJsQA4Q
Rock trio from Dallas, TX. Debut EP coming 2018.
♫♫♫♫♫♫♫♫♫♫♫♫♫♫♫♫♫♫♫♫
Duh Aluminaughty
www.facebook.com/pg/BlancheNapoleon94
♫♫♫♫♫♫♫♫♫♫♫♫♫♫♫♫♫♫♫♫
Los Bad Hombres
💥Live Hip-Hop Performances by💥
Bill Bank$
"Hip Hop/ Pop"
(Bakkwood Blaze, Lotto Gang, LTE4G Ent.)
www.Instagram.com/Lottogangtv
www.Facebook.com/Lotto Playbook
www.Glottobanks@icloud.com
Chilled Music
(Chill Soul Records)
[Fort Worth]
www.goo.gl/Rey63j
www.goo.gl/3VwjjG
Clark
"Live Hip-Hop Art"
[Dallas, TX]
(Walking Art Tour)
www.soundcloud.com/ckiamnot
.WAV (DOT WAV)
"Hip-Hop"
[Denton, TX]
www.facebook.com/OfficialDotWav/
Dj TaylorMade
"R&B, Hip-Hop"
(Peepsnation, Yssenation)
[Ft worth Tx]
www.instagram.com/_djtaylormade_
www.twitter.com/_djtaylormade_
I Am Jason
"Live Hip-Hop Art"
[Dallas, TX]
(Walking Art Tour)
www.soundcloud.com/iamjason64
Jedikiah
"R&B, Pop"
(2euce)
[Fort Worth, TX]
www.soundcloud.com/jedikiah
www.twitter.com/jedikiahmusic
Lord Bile
"Hip Hop"
[Denton, TX]
(AU Records, Blank Face Mob)
www.soundcloud.com/l0rdb1le
www.twitter.com/Clever_AU
BIO: Lord Bile is a Denton Tx rapper/producer with a versatile sound ranging from loud and in your face to subdued emo rap tracks.
Maintaine
"Hip-Hop"
(SoSouthernized)
[Dallas. TX]
www.SoSouthernized.com
MVP NY$$E
"Rap, Hip-Hop"
(Most Valuable Productions)
[Ft. Worth, Tx]
www.soundcloud.com/mvpnysse
www.youtube.com/itznyssebitch?uid=AafplTs3ccaTxLgg7ZD9Nw
Tujarrz
"Live Hip-Hop Art"
[Dallas, TX]
(Walking Art Tour)
www.soundcloud.com/jarzz
Walking Art Tour
"Live Hip-Hop Art"
[Dallas, TX]
www.soundcloud.com/walkingarttourrecords
www.facebook.com/WALKINGARTTOUR/
⌫⌧⌧⌧⌧⌧⌧⌧⌧⌧⌦
Live Performances by:
⌫⌧⌧⌧⌧⌧⌧⌧⌧⌧⌦
MindWorks
www.facebook.com/pg/mindworksarts
http://mindworksarts.wixsite.com/mindworksarts
@mindworksarts
Event design services offering the latest in technologically-enhanced performance art. Specializing in fire performance, smart-LED performance, and drones.
At MindWorks, we believe in the fusion of state-of-the-art technology with innovative performance arts to bring pure imagination to life. Based in Dallas, TX, we have an outstanding group of performers, artists, and innovators with years of experience that take pride in their ability to create unique and awe-inspiring experiences for every event. Come see what we're all about, and plan your experience today!
👁‍🗨👁‍🗨👁‍🗨
Ignite Art Collective
www.igniteartcollective.com
www.facebook.com/igniteartcollective
www.instagram.com/igniteartcom
Ignite Art Collective is a Dallas-based group of creatives, whose purpose is to come together and lift each other up in the pursuit of creative fulfillment and success. We welcome all creatives to join us. There is no limit to what we can accomplish in our united and unique collective.
We make this happen by throwing events, festivals, and supporting other local crew events around DFW. Our main event of each month is the Flowmoon gathering. Artists from all different backgrounds and styles come to perform, collaborate, and network. Fire performers, graffiti artists, glass blowing, live artists, live music (DJ's/bands) and all types of art vendors come showcase their talents. Our goal is to give artists more exposure, work, and a community with like minded individuals to help inspire and support each other.
👁‍🗨👁‍🗨👁‍🗨
Cinematic Manipulation
www.cinematicmanipulation.com
Visual Loops and Visual Mixes for musicians and DJs.
⌫⌧⌧⌧⌧⌦
"Artist Alley"
⌫⌧⌧⌧⌧⌦
Hosted by James Stein.
Stein Design
Artist. Designer. Animator. Developer.
www.facebook.com/SteinDesignArt
www.steindesignmultimedia.com
www.flickr.com/photos/91127951@N04/albums
A neon-blend of my shared love for metal/gaming/otaku cultures through my own bold/grunge styles, which vary just as much as my own eclectic tastes.
👁‍🗨👁‍🗨👁‍🗨
Blood Moon Tattoo Gallery
101 N. Main St Suite 201
Mansfield, Texas
www.BloodMoonTattoo.com
www.twitter.com/bloodmoontattoogallery
Proudly artist owned & operated upscale tattoo experience. High quality work. Great artists & great atmosphere.
Call to setup an appointment TODAY! (682) 400-8400
👁‍🗨👁‍🗨👁‍🗨
Stello
(Basshead Society, Big Comics)
www.instagram.com/khalid.steelo
www.behance.net/khalidsteelob531
www.facebook.com/BiGSComic
www.bigscomic.com
www.BassheadSociety.com
👁‍🗨👁‍🗨👁‍🗨
Tribal Life Art
www.facebook.com/TribalifeArt
www.etsy.com/shop/TribalifeArt
👁‍🗨👁‍🗨👁‍🗨
Brewing Arts
👁‍🗨👁‍🗨👁‍🗨
Ink Inc
👁‍🗨👁‍🗨👁‍🗨
Pikachu Yaz
👁‍🗨👁‍🗨👁‍🗨
Star-Tet Design
👁‍🗨👁‍🗨👁‍🗨
Tetra Tierra
👁‍🗨👁‍🗨👁‍🗨
Nearly Feral
👁‍🗨👁‍🗨👁‍🗨
Ty Breaker
👁‍🗨👁‍🗨👁‍🗨
Belenda Jones
👁‍🗨👁‍🗨👁‍🗨
Gorgon Dreams
👁‍🗨👁‍🗨👁‍🗨
Saint
👁‍🗨👁‍🗨👁‍🗨
Justin O-Keith Higgs
👁‍🗨👁‍🗨👁‍🗨
Kasey Jones
👁‍🗨👁‍🗨👁‍🗨
Afroza Abstract
⌫⌧⌧⌧⌧⌧⌧⌧⌧⌧⌦
"Emporium"
(Vendors/Food Court)
⌫⌧⌧⌧⌧⌧⌧⌧⌧⌧⌦
Basshead Society Concessions
www.BassheadSociety.com
$5 Breakfast (7am) $5 Lunch (12pm) $5 Dinner (5pm)
Event T-shirts, Glow Gear, snacks, coffee, pastries, BluMania Energy Drinks, and all your Basshead Society Swag! FREE Giveaways, brochures, and also the Help Desk.
Munchies Food Truck
www.facebook.com/munchiesfooddfw
Hot and Fresh munchies food! With a unique menu of some old favorites with a new twist! Sodas and snacks also available!
Three Moons Designs
www.facebook.com/threemoonsdesigns
3moonsdesigns.etsy.com
Three Moons Designs specializes in unique custom-made cyberlox, headdresses, flower crowns, and other fun and funky accessories for your colorful soul. Our shop also features sound activated LED masks, LED toys and accessories, hat pins, steampunk goggles, festival wear, and more.
The Mystic's Novelty
www.facebook.com/themysticsnovelty
Hand made Tie-Dye textiles and Orgonite! They also have Flow props from Rollinsticks and Toroflux from FlowToys. Harem Pants and incense to cleanse the soul!
Massage Therapy and Chair Massages with Susy
Susy spreads healing through a trusting and comforting touch. Her healing hands will help you relieve the stress from the long work weeks and help you better relax to enjoy the festival! Make sure to stop by her booth and get recharged with Suzy!
Tie Dye Yogis
[Dyed Wearable Textiles, Frame-able and Utilizable Art]
Jeremy Wanamaker has 30 years of experimentation and immersion in tie dye. His resistance to the norm enables him to create Tie Dye Textiles that scoffs at the common view of the 60s hippie tie dye, which results in Art you can wear and is suitable for any environment!
www.facebook.com/tiedyeyogis
www.instagram.com/tiedyeyogis
⌫⌧⌧⌧⌧⌧⌧⌧⌧⌧⌧⌦
Workshops:
⌫⌧⌧⌧⌧⌧⌧⌧⌧⌧⌧⌦
Chakra Activation Workshop with Summer Love
Learn the basics of how to use the ancient technique of Chakras to address any issue in your life and create a healthy energetic body. Using color, sound and intention one can self activate at anytime. There will be time for questions throughout the workshop and access to more info.
Conscious Conversation : What are you really saying?
Archetypes of the Tarot : Insight into Humanity
*Bonus* Mantra Makers : The Chants that Change the World
Carina Carinosa Foundation
www.carinacarinosastore.guru
WHO IS CARINA CARÑOSA
Carina is a 38-year-old enlightened telepathic empath, starseed, indigo, metaphysical and paranormal psychologist, perpetual student, teacher, author, singer, shaman and ordained minister.
Her goal is to help you end suffering and achieve enlightenment.
She combines the healing arts of spirit science, reiki, chakra balancing, surrender ceremonies, bodywork, lectures, guided surrender meditations, prayer, declarations & affirmations, exercise & nutrition, music, singing, dance, crystal therapy, plus various natural and ancient supplements & ceremonies.
Carina will help you connect to your highest ascended self and receive DNA activations as facilitated by any number of benevolent beings serving the greatest and highest good of all.
You'll see that her work dissolves ego's strong-hold and raises your vibrations allowing you to be happier, healthier, and make better decisions in alignment with your soul´s true purpose.
The experience manifests usually as a distance reiki and chakra balancing, working with Source and a team of volunteer guides serving the highest truth-love-light-joy to produce bio-energetic reprogramming, forgiveness, and erase karma throughout the timeline, downloading programs for abundance and other blessings. Any number of healing modalities may be intuited as each person is very unique.
⌫⌧⌧⌧⌧⌧⌧⌧⌧⌧⌧⌦
Film and Press Crews:
⌫⌧⌧⌧⌧⌧⌧⌧⌧⌧⌧⌦
DRONE VIDEOS DALLAS
These are the Drones you're looking for!!!
www.facebook.com/dronevideosdallas
Drone Videos Dallas is a professional Drone photo and video team that will be hovering above us during the event! They'll be getting the best of our aerial shots and can capture wide shots of the entire event! Keep your eyes to the sky and give the drones a wave or a shuffle if you see them flying above!
Much Respect to #DroneVideoDallas
Make sure to stop by their page and give them a LIKE!
TRENT FILMS
Trent Films will be site capturing all our best moments!
www.Trentfilms.com
This will be their second experience with them so make sure to give them a wave and smile as we invite them to capture our Music Festival in style!
____________________________
_______________________________
RULES:
(by attending our event you are agreeing to our rules)
LEAVE NO TRACE! Pick up after yourselves and contain your trash. Make it seem as if we weren't even there so we can respect the land and party without leaving a trace.
PARKING AND VEHICLES. We are not responsible for any theft, break-ins, accidents, or any damage done to your vehicles. Please lock your doors and hide your stuff.
You can NOT leave if you are intoxicated. You MUST have a designated driver or feel free to camp with us but driving drunk IS NOT an option! This rule will be strictly enforced!
NO Motorized vehicles on the trails (IE motor bikes, atvs, cars etc)
NO GLASS bottles and/or containers.
NO driving out of control, "peeling" out, or driving fast on the property.
NO driving on the camping areas. You must park in the designated area.
NO ins and outs.
NO drugs allowed.
No one under the age of 21 or without a valid ID is permitted to bring in or consume alcohol.
NO littering.
NO fighting.
NO pets.(Sevice Animals with proper ID's and shot records will of course be permitted. Please have all your paperwork in order to make it easy and fast for everyone, thank you!)
SELF RELIANCE. Take care of yourself and your friends! Stay hydrated and enjoy the music! You are responsible for your well-being so please party responsibly!
ANYONE CAUGHT VIOLATING ANY OF THE RULES WILL BE ESCORTED OFF THE PROPERTY AND WILL NO LONGER BE ALLOWED TO ATTEND ANY BASSHEAD SOCIETY EVENTS IN THE FUTURE. PLEASE RESPECT OUR RULES.
____________________________
_______________________________