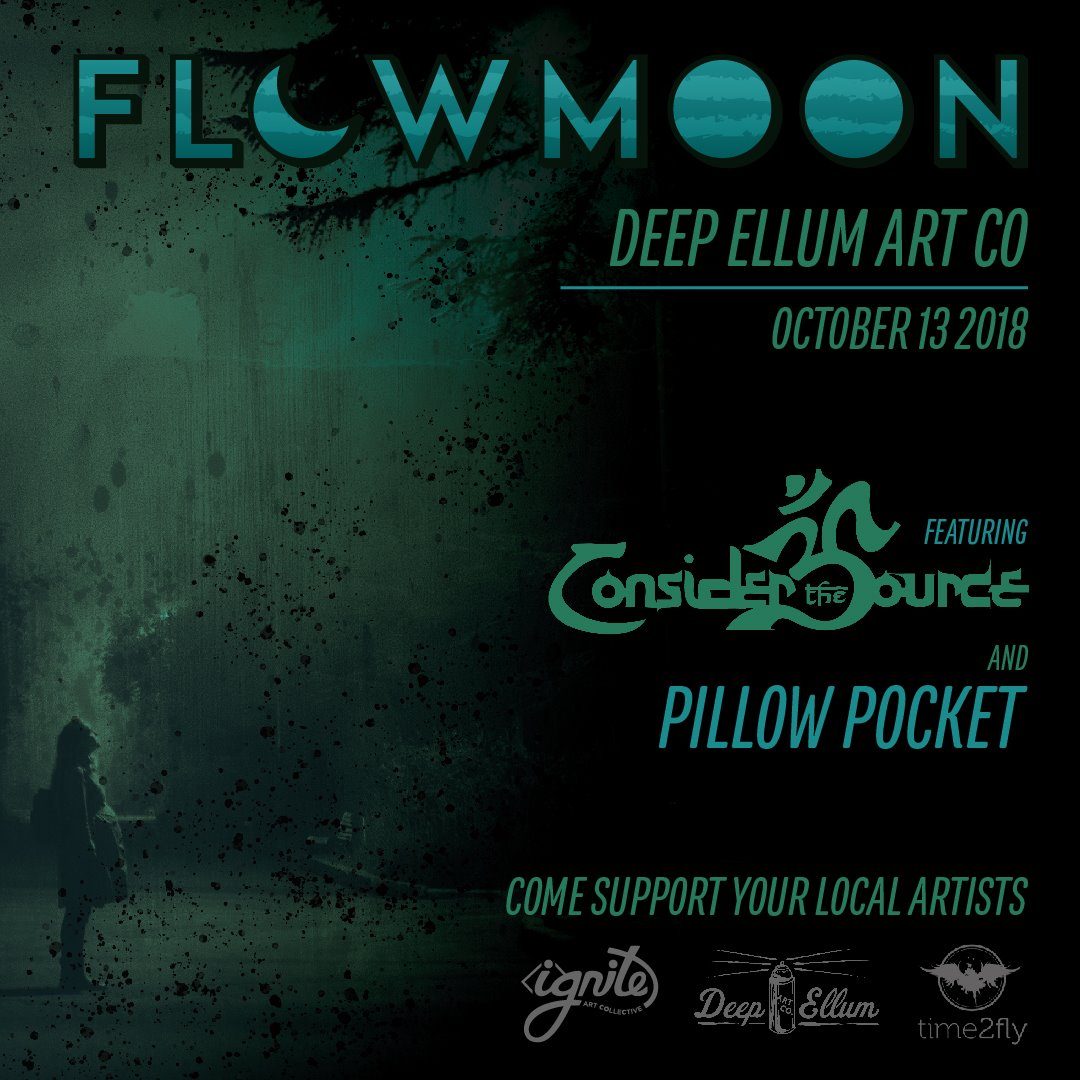 Flowmoon w/ Consider the Source & Pillow Pocket
at

Deep Ellum Art Company
Saturday

,
October
13
2018
Ignite Art Collective | Time2Fly Music & Deep Ellum Art CompanyPresent: FLOWMOON with Consider the Source
and local Support from our friends Pillow Pocket!!
Performance Artists | Live Music | DJs | Vendors
| Art | Glass Blowing | Open Fire Circle | & More –
www.igniteartcollective.com
Saturday, October 13th
(8 pm – 2 am)
@ Deep Ellum Art Company
[ music venue | art gallery | backyard | bar ]
http://DeepEllumArt.Co
TICKETS ON SALE FRIDAY 8/10 !!
http://bit.ly/October_Flowmoon
.:: MUSIC ::.
– Consider the Source (NYC)
www.CONSIDERTHESOURCEMUSIC.com
NYC trio Consider the Source defy easy description. If intergalactic beings of pure energy, after initiation into an order of whirling dervishes, built some kind of pan-dimensional booty-shaking engine, powered by psychedelics and abstract math, it'd probably just sound like a CTS tribute band. Drawing from progressive rock, fusion and jazz, with alien sounds soaked in Indian and Middle Eastern styles, CTS blends disparate parts into a striking, utterly original whole. Dubbed "Sci-Fi Middle Eastern Fusion", the band's music strikes a rare balance between cerebral and emotional, intellectual and primal. A relentless touring schedule has won the band a fervent following from California to Israel, with fans ranging from jam-band hippies and jazz cats to corpse-painted headbangers and prog geeks.
– Pillow Pocket (Dallas, TX)
Pillow Pocket packs the funk punch that you crave. Dallas's newest electro-funk band on the scene, providing high energy grooves that are cooler than the other side of the pillow. They're not just another "jam band" but a band that can jam! The party is just getting started…