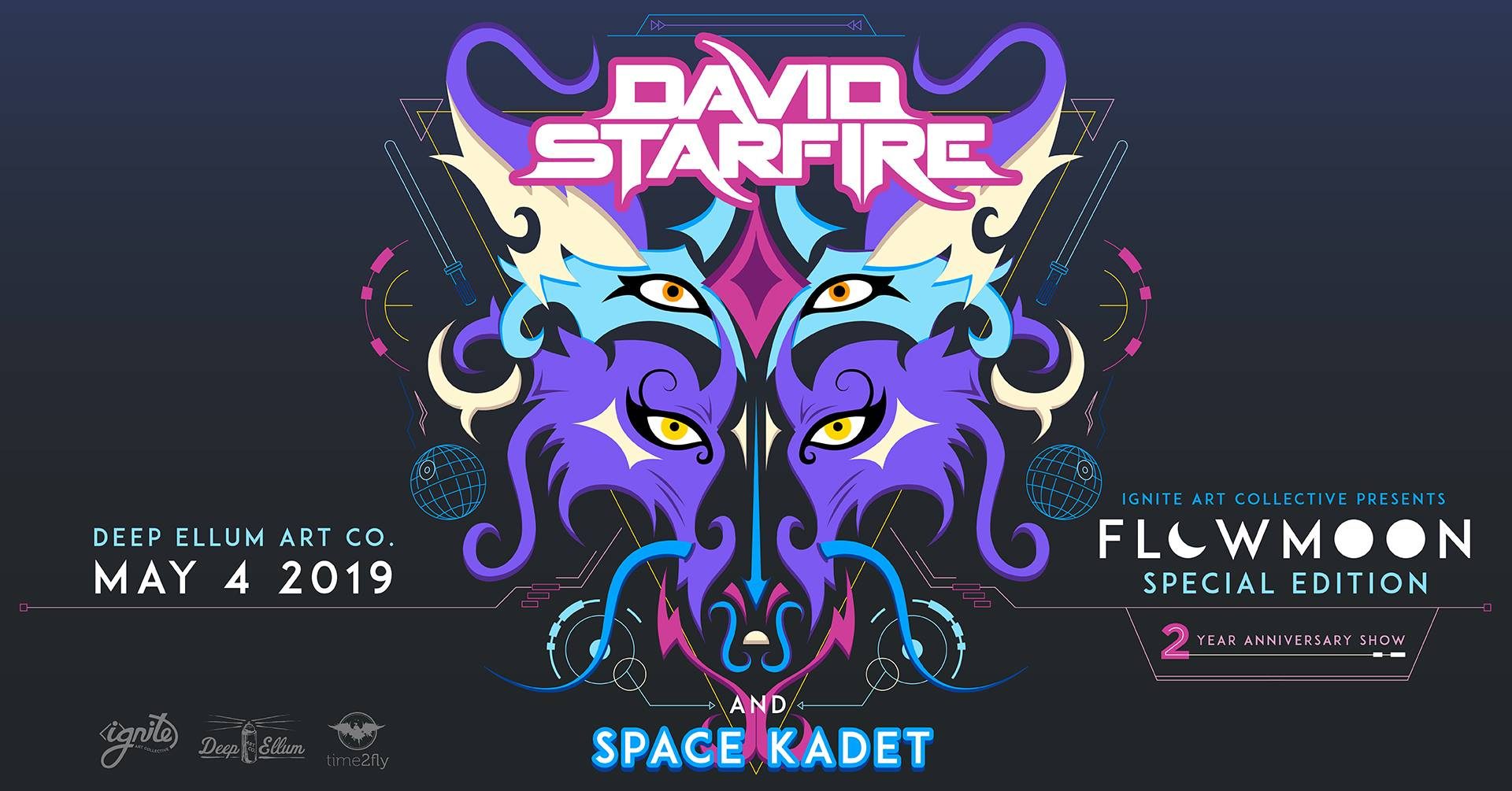 Flowmoon w/ David Starfire and Space Kadet | May 4th
at

Deep Ellum Art Company
Ignite Art Collective Presents: Flowmoon™
Performance Artists ✦ Live Music ✦ DJs
Open Fire Circle ✦ Vendors ✦ Art
Glass Blowers ✦ Graffiti ✦ & more!
Saturday, May 4, 2019
Deep Ellum Art Company
[ live music | art gallery | bar | patio ]
http://DeepEllumArt.Co
||| MUSIC|||
>>> David Starfire
David Starfire is a world-renowned producer/multi-instrumentalist/DJ that is known for his signature "global-glitch-bass" sound. His niche is mixing world instruments and fusing them with modern beats. For his DJ sets, he often performs with percussion and various world instruments such as the phin (Thai lute) or the tumbi from India. His sound has brought him to perform at some of the most amazing places on earth, including the Pyramids of Giza, The Coliseum at Caesars Palace and Coachella.
Full bio here: www.davidstarfire.com
Soundcloud
https://soundcloud.com/davidstarfire
>>> Space Kadet
Space Kadet explores many genres on the electronic instrumental spectrum with a deep emphasis on creating a spacey funky atmosphere and sound, always leaving the listener in a trance. The band taps into a variety of genres ranging from high energy driven electro-funk to hip hop infused drum and bass into trap, deep dub, house, break beats and more. Recently, the band has shared the stage with praised acts such as The Floozies, Manic Focus, Ekali, Russ Liquid Test, Zoogma, Sunsquabi, Pigeons Playing Ping Pong, The Werks, Govinda, Higher Learning as well as playing acclaimed festivals such as Purple Hatters Ball, Imagine Festival, Sweetwater 420 festival and Zen Awakening. Space Kadet came together to form an always changing, never ending, groovy space odyssey.
Soundcloud
https://soundcloud.com/thekadet/
||| FEATURED FIRE |||
Bryan Sekine: Bryan Sekine has been an active performer in the flow arts community for over 4 years. He has gone on to instruct and perform at various festivals, concerts, private events, and local shows.
||| FEATURED ARTIST |||