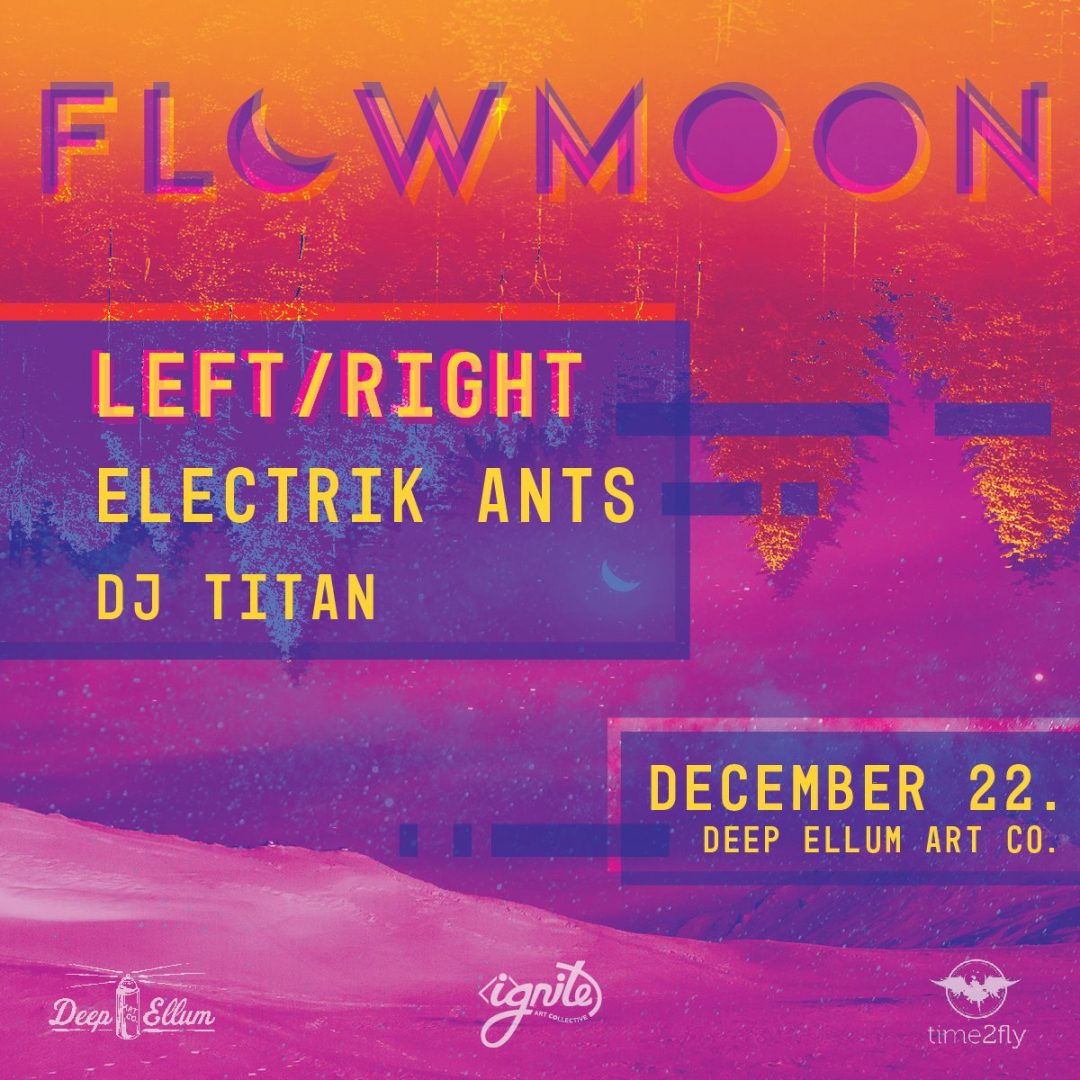 Flowmoon with Left/Right, Electrik Ants, and DJ Titan
at

Deep Ellum Art Company
Saturday

,
December
22
2018
Ignite Art Collective | Time2Fly Music | Deep Ellum Art Companypresent: FLOWMOON with Left/Right, Electrik Ants, and DJ Titan
Performance Artists | Live Music | DJs | Vendors | Art | Glass Blowing | Live Graffiti | Open Fire Circle & much more!
This holiday season, we're indulging more than usual in the amazing local talent Dallas has to offer. Check out our headliners below, and stay tuned for more updates!
Tickets on Sale Now:
http://bit.ly/December-Flowmoon
||| MUSIC |||
>>> Left/Right
Left/Right works from the shadows as a DJ, producer, promoter, and professor. His music has been featured in DJ Mag, Mixmag, UKF, Dancing Astronaut, and Insomniac and garnered support from Oliver Heldens, Zeds Dead, Wuki, My Nu Leng, Mr Carmack, BBC Radio 1, Rinse FM and more. L/R works as an artist and A&R for Stanton Warrior's label PUNKS, his own imprint/brand, BRØKEN, and has released on Dirtybird, Audiophile XXL, and Insomniac's In Rotation.
With degrees in both music composition and audio engineering, Chris loves to create. His tunes and DJ selections feature a diverse sound that drive his energetic performances and introspective mixes. L/R is regularly booked coast to coast and internationally to move dance floors – including sets at Fabric (London), Burning Man, SXSW, WMC, MiddleLands, Glastonbury, and his resident BRØKEN events.
soundcloud.com/leftrightmusic
twitter.com/leftrightmusic
instagram.com/leftrightmusic
youtube.com/leftrightmusic
>>> Electrik Ants
Electrik Ants live in the vibe of the music – a genuine blend of hip hop, funk, psychedelic, and groove, unique and exciting. They are a seven-piece band with sax, DJ, drums, bass, and three members that rotate between rapping, singing, guitar, keys, synth, and percussion, The Ants are have great freedom in performing and writing; A freedom explored and expressed with emotional and technical dedication. There isn't a live or recorded band as ambitious, capable, or unique as Electrik Ants.
Their debut album, Rhetorik One out now! bit.ly/RhetorikOne
https://www.electrikants.com
https://www.youtube.com/channel/UCK_DeZ4qpJ7-norwkGDOPVA?view_as=subscriber
https://twitter.com/electrikants
https://soundcloud.com/user-186676609
>>> DJ Titan
The Texas raised DJ Titan has been a Dallas Drum and Bass ambassador for almost two decades. He started DJ'ing house parties in 1999 and has been known as the Drum and Bass Resident at the world famous Lizard Lounge Night Club since 2003. His consistent club background has taken him from Brooklyn to Cancun, Denver, LA, Mexico City, St. Louis, and much more. He represents his hometown with a solid reputation and continues to rock venues all over.
http://djtitanofficial.com
https://twitter.com/djtitanrocks
https://soundcloud.com/djtitan
https://www.youtube.com/watch?time_continue=8&v=M0eaoJujCRI