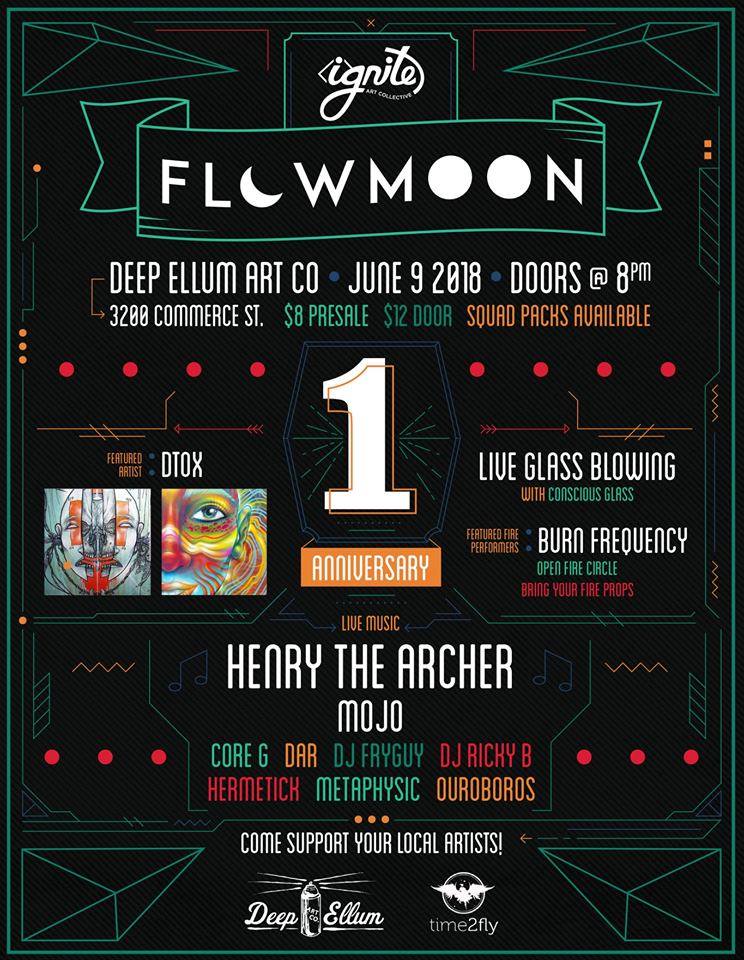 Flowmoon feat. Henry The Archer & MOJO
at

Deep Ellum Art Company
That's right ladies and gents; Flowmoon will officially hit the one year mark in June! From Brian Brujo 's brain to David 'Dar' Carroll 's backyard, to Deep Ellum Art Company. Flowmoon has grown so much in such a short time. Come celebrate hard work and our beautiful budding community!
Tickets available at the link below:
https://prekindle.com/event/99816-flowmoons-one-year-anniversary-june-9-dallas
:::MUSIC:::
Headlining the evening will be Henry the Archer:
Alt-rock + post-punk + electric-folk + indie-dance-funk = Henry the Archer. With a moody sound hinting at post-punk rock offset with fresh groove-pop melodies, the music is a familiarity of sound, laden with system shocks in the form of sharp, pointed lyrical style. It's music that hasn't gone unnoticed: Fort Worth Weekly 2017 Top 10 Local Albums and Song of the Year, Dallas Observer 20 Best Local Albums and 2017 Best Male Vocalist and KXT 2017 Listener Favorite.
An introspective look at funk and electronic music; MOJO offers funky riffs, spacey soundscapes, inviting vocals, and heavy grooves.
"MOJO an upcoming funk/electronic band are exactly what you need after a long week. Not only do they bring the grooves needed to wash away the stress of the week, the visuals provided are simply astounding. MOJO is like watching your own personal Pink Floyd, meets Rage Against the Machine, meets STS9, yes I went there. Do not miss these guys…" – DentonRadio.com
:::DJs:::
CORE G
DAR
DJ FRYGUY
DJ RICKY B
HERMETICK
METAPHYSIC
OUROBOROS
:::FEATURED ARTIST:::
DTOX:
Jerod "DTOX" Davies is a multi-faceted artist that enjoys bringing ideas and dreams to life.
A commission artist and muralist by trade his style is vivid and ornate. Heavily influenced by texture and light, his work evokes a spectrum of feelings and reaction.
Recently the winner of the Pabst "Design The Can" national artcan contest, his artwork is currently on 6 million 16oz. Tallboys nationwide.
DTOX repping BLUNT.FORCE.CREW also holds the title for largest spraypaint mural in Dallas county! /22x280ft./
A Nationally ranked bodypainter as well as a bodypaint instructor at CMC makeup school, Jerod enjoys contributing to this ancient art form and presenting it to a whole new audience and generation eager to learn themselves.
He is also known for his local community work in North Texas as well as collaborating with Jean Paul Gaultier on his retrospective in 2011 at the DMA.
See more of his work at www.thejerod.com
and follow his adventures at www.instagram.com/dtoxart
:::FEATURED FIRE PERFORMERS:::
Burn Frequency:
An Austin-based Fire Art and World Fusion music Entertainment Collective.
:::LIVE GLASS BLOWING:::
by Conscious Glass
~ COME SUPPORT YOUR LOCAL ARTISTS ~