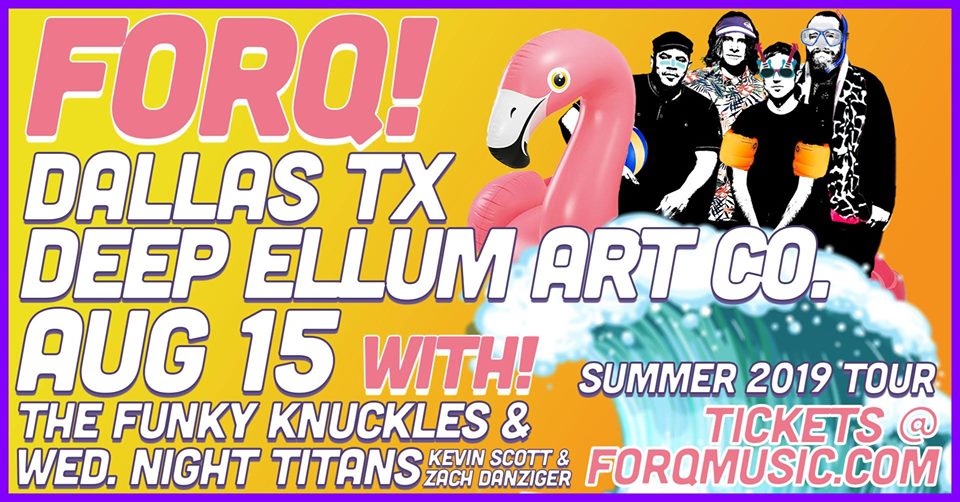 Forq, The Funky Knuckles & Wed Night Titans (Zach Danziger)
at

Deep Ellum Art Company
Deep Ellum Art Company Presents:
Forq (fôrk) – New York, NY
[ jazz fusion]
&
The Funky Knuckles – Dallas, TX
[ jazz | nu-jazz | funk]
&
Wednesday Night Titans ( Kevin Scott & Zach Danziger)
[ jazz fusion ]
Tickets available NOW!
>>> bit.ly/FORQ_DTX
About Forq: https://forqmusic.com
Forq is an instrumental quartet with a dynamic sound and a penchant for sonic exploration. The group is composed of world-class improvisers, but it is their unusually memorable, genre-blending songs that leave the most lasting impression. Seven of these songs make up their third album Thrēq (pronounced "threek"), which was released in late 2017. Originally founded by keyboardist Henry Hey (David Bowie, Empire of the Sun, Jeff "Tain" Watts) and bassist Michael League (Grammy-winning leader of Snarky Puppy), Forq is now joined by guitarist Chris McQueen (Snarky Puppy, Bokanté), drummer Jason "JT" Thomas (Roy Hargrove's RH Factor, Marcus Miller, D'Angelo) and bassist Kevin Scott (Wayne Krantz, Jimmy Herring, Col. Bruce Hampton). They have toured across the US, Europe, China, Australia and performed at international festivals including the North Sea Jazz festival, Jazz A' Vienne, Udine Jazz Festival, Upstream Festival, Wangaratta Jazz & Blues festival in Australia, and the GroundUP Festival in Miami Beach.
About The Funky Knuckles: https://www.thefunkyknuckles.com/
The Funky Knuckles is a world class jazz orchestra made up of genetically enhanced cybernetic supermen. Their mind blowing rhythms and harmonic complexity will shatter your fragile psyche and leave you drowning in a pool of fresh llama milk. The band members are as brilliant as they are handsome and have been seen as sidemen with Janet Jackson, Stanley Clarke, Larry Carlton, and many others. Recent albums have reached #1 on the iTunes Jazz charts, and they will be releasing their 4th album entitled Delicious in June 2019. The Oracle has foretold that Delicious will revolutionize music for generations to come. This unstoppable crime fighting squadron will make you dance like a kraken on meth before you burst into tears of joy which can be combined with powder from a ground up cobra skull to synthesize the elixir you need to pass through solid objects.
About Wednesday Night Titans: https://www.wednesdaynighttitans.com/
Wednesday Night Titans is the brianchild of genius polymaths (bassist) Kevin Scott and (drummer) Zach Danziger. This is an all-star-wrestling themed onslaught of virtuosic musical madness and crafty yet insane video. This is must-see art and groove.