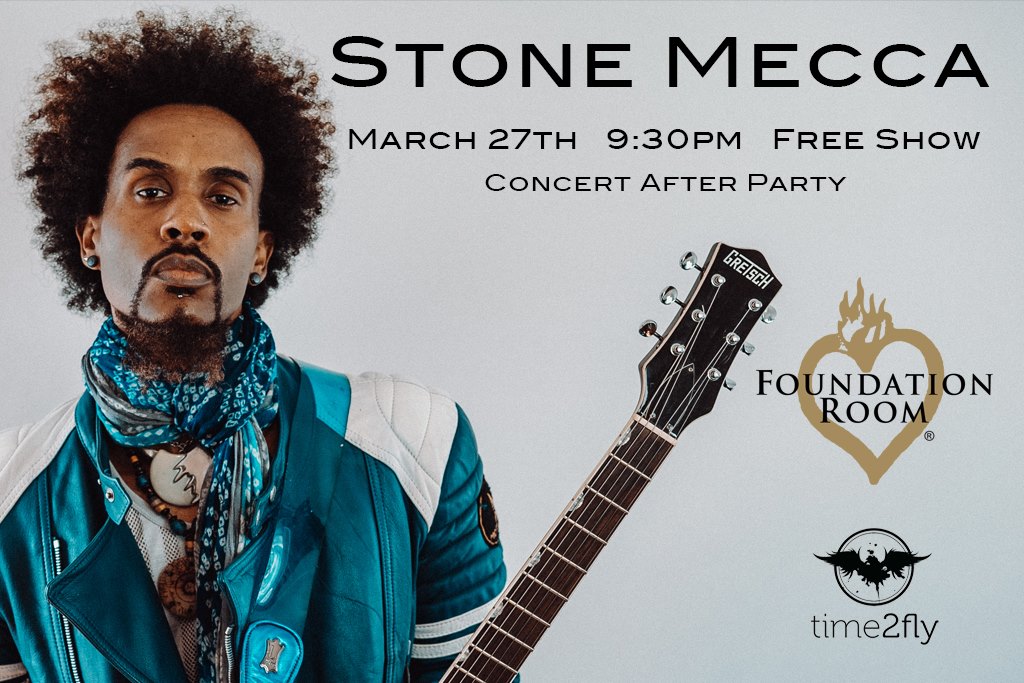 Foundation Room Concert After Party w/ Stone Mecca
at

Foundation Room HoB Dallas
at
Foundation Room HoB Dallas
FREE SHOW!!
Time2fly Music presents Stone Mecca live after party concert at the Foundation Room Dallas.
About Stone Mecca
https://facebook.com/stonemeccamusic
https://stonemeccamusic.com
L.A. born, Dallas-based funk rock artist Stone Mecca will be performing live at the Soundpony Bar, Tulsa OK.
As a psychedelic blues-rock artist and guitarist, Stone Mecca combines his love of hard-hitting hip-hop beats and funk-driven bass lines with grinding guitar riffs and soulful melodies.
Stone is best known as RZA's (Wu-Tang Clan) guitarist and live band leader and has also worked with Kanye West, Ice Cube, Snoop Dogg, Westside Connection, George Clinton, and Earth, Wind & Fire. His music has been featured in Billboard, American Songwriter, Pure Grain Audio, and Rock and Blues Muse and he has contributed to the soundtracks for Django Unchained, The Man with the Iron Fist, Friday, Blade Trinity, Soul Plane, and more.
"Stone Mecca is, without a doubt, one of the most original musicians you will encounter this year…Mecca's new album Alienman is a singularity, a set that blends blues, rock, funk, and hip-hop ideas in ways unheard of until now and turns all that old-school goodness into intensely modern music" – Rock and Blues Muse
Time2fly
https://www.facebook.com/t2fmusic/
Time2fly is a booking and promotions agency based in both Texas and Charlotte, NC offering production solutions for musicians, bands and venues all across the country. Being a homegrown family organization, our mission is to spread good times to the wonderful people of this earth and to introduce new music to anyone listening.