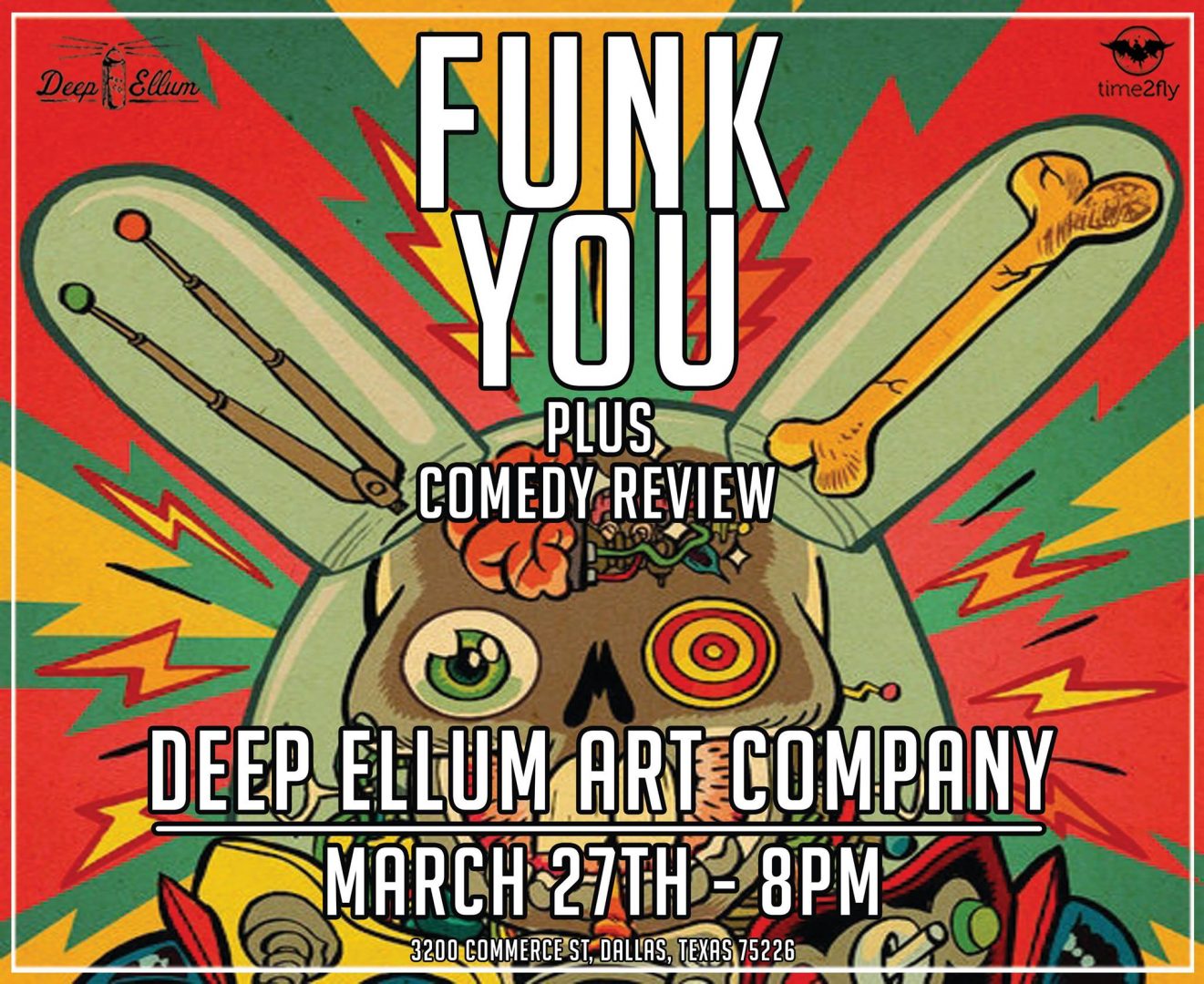 Funk You
with Comedy Review!
at

Deep Ellum Art Company
Deep Ellum Art Company Presents:
[ live music / art gallery / backyard / bar ]
>>> 4pm: BAR OPENS
>>> 7pm: BOX OFFICE
>>> 8pm: COMEDY REVIEW
>>> 10pm: MUSIC STARTS
Comedians:
Angelia Walker
Johnny Edwards
Adrian "Success" Gulley
Josh Huddleston
George Fowler
Live Music provided by:
Funk You (Augusta, GA)
[ progressive funk / rock ]
www.funkyoumusic.com
Hailing from the east side GA town of Augusta, FUNK YOU is an outgoing burst of energy that is continually climbing their way to the top of the music scene. This "funk" oriented outfit projects multiple musical styles focusing mainly on dance driven grooves with powerful clean vocals. Incorporating intriguing musical composition, tasteful lyrics, and crowd captivating live performances, FUNK YOU is surely to make an imprint on your musical taste.
FUNK YOU provides the audience with a furious fusion of influences ranging from Umphrey's Mcgee, Lettuce, James brown, and Stevie Wonder. By colliding funk, jam, rock, fusion, and prog into one uniform sound, these guys will keep your jaw dropped and your feet moving without stopping. Their songs combine lush ambiance, catchy vocals, and intense shredding simultaneously into a unique well defined sound.
Tickets on Sale Now!
http://bit.ly/FunkYouDTX
$8 ADV / $10 DOS
Limited amount of $5 Early Bird tickets available!
PARKING:
Street parking available on Commerce (front) & Murray (side). Lot parking is available on Canton (back) across the street in the Equipment and Maintenance Services building after 6pm. We do not recommend parking in the business lot on Murray.
DRINK SPECIAL:
Pint Night: Purchase a souvenir Art Co pint glass for $10 (with beer of choice) + $5 refills all night.