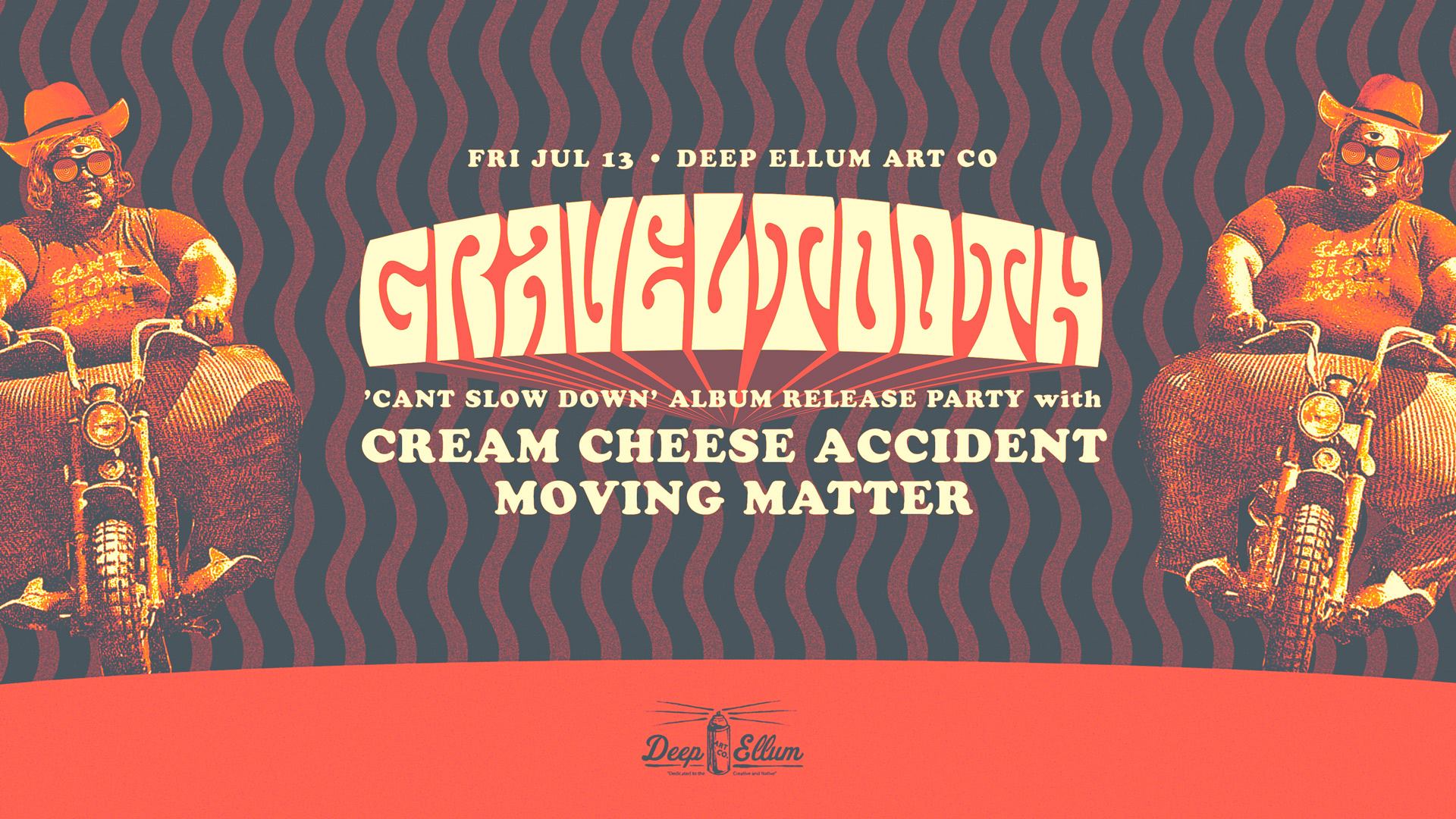 Graveltooth, Moving Matter, Cream Cheese Accident
at

Deep Ellum Art Company
Deep Ellum Art Company Presents:
Graveltooth Album Release Party
with Moving Matter & Cream Cheese Accident
[ live music / art gallery / backyard / bar ]
>>> 4pm: BAR OPENS
>>> 7pm: BOX OFFICE
>>> 8pm: MUSIC STARTS
Moving Matter (12am Inside)
[ rock / psychedelic / boob jazz ]
Moving Matter, is an enigmatic Austin, TX-based rock and jam outfit. Bassist Chris Holland (deep pocket grooves) and guitarist Josh Pearson (soaring leads) share most of the song-writing duties, while drummer Dan Mcgreevy captains the ship with his rock-steady beats. Dustin Bozarth on keys has rounded out the sound with lush synth textures and screaming hammond organ.
Graveltooth – Album Release Party (10:15pm Inside)
[ rock / psych / funk ]
With their debut full-length album Can't Slow Down, Graveltooth managed to capture lightning in a bottle as they balanced their talent as songwriters alongside the instrumental prowess and rock and roll attitude that has made them such an explosive live act. Chris "Frenchie" Smith, the Austin-based producer known for his work with acts like Built to Spill, The Toadies, Meat Puppets and a slew of local favorites, was the perfect pick to help Graveltooth harness their energy in the studio.
Cream Cheese Accident (Outside under the Pavilion 8pm)
[ rock / jam / bluegrass ]
(String Cheese Incident Tribute Band)
"A super-group of talented individuals from the central Texas area, Cream Cheese Accident had the crowd dancing almost as if String Cheese were actually there, while at the same time adding their own flare to the songs. "
>>>Tickets On Sale Now!
>>>$10 ADV // $15 DOS
>>>http://bit.ly/movingmattergraveltooothcreamch
DRINK SPECIALS:
$5 Wells till Box Office starts up (7pm)
PARKING:
Street parking available on Commerce (front) & Murray (side). Lot parking is available on Canton (back) across the street in the Equipment and Maintenance Services building after 6pm. We do not recommend parking in the business lot on Murray.
All Ages