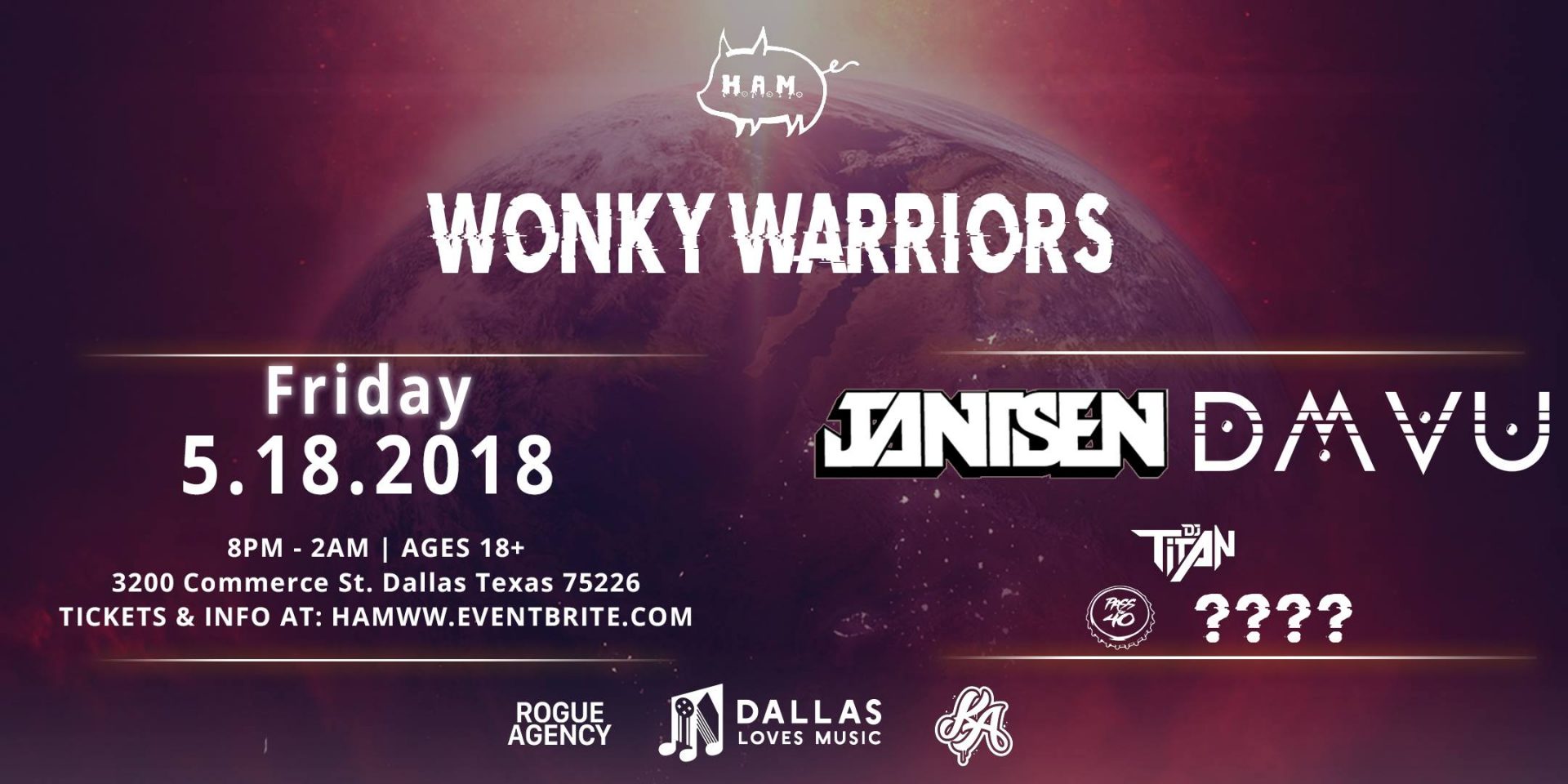 HAM Promotions Presents Wonky Warriors: Jantsen + DMVU
at

Deep Ellum Art Company
Come RAGE with H.A.M. Promotions (Dallas' Bass Enthusiasts) at the Deep Ellum Art Co. for Jantsen and DMVU along with incredible local openers (DJ Titan and Pass The 40)!
Jantsen is no stranger when it comes to electronic music. This Boulder, Colorado native has been fully immersed into the dance music scene for over 12 years with his passion later blossoming into DJing and producing. Over the years Jantsen has established a strong presence in the scene through his eclectic sound , being influenced by many genres such as jazz, blues, funk, rock, hip hop, and many other kinds of world music he brings a style that is creative, unique, and is continuously evolving. Jantsen's enthusiastic personality shows through his DJ sets through his fun , energetic, and contagious stage presence.
This bass driven all star has collaborated with acts such as Zion I and Dirt Monkey, and has gained international support from some of the scenes top dj's. With a slew of releases that are set in order, big things are sure to come in 2015, including new side project LOCOJA with longtime collaborator Bassnectar, and curating burgeoning label, Kairos Audio, alongside partner Dirt Monkey.
Jantsen
Facebook: https://www.facebook.com/jantsenbeats/
Twitter: https://twitter.com/jantsenmusic
Soundcloud: https://soundcloud.com/jantsenmusic
DMVU – Methodically flooding the airwaves with sonically justified precision, the man behind the moniker DMVU stands at the decks of an unstoppable persona defined by unmistakable ingenuity. Calling Denver, Colorado home, his innovation laden sounds claim a constant state of bewilderment, leaving no question to his intrinsic skill as he deepens his groove as a major player in an international circuit. With tracks circulating across seas and finding their way into the playlists of names like Noisia and Boombox Cartel, he continues to receive praise from some of the top names in bass music. Recently releasing a full Hip Hop EP with Ill Chill, the producer's reaches seem to have no limits, nurturing a rapidly growing fan base with tastes just as large as his productions. Seeing collaborations with the likes of Emancipator and playing well matched alongside leading figures Hudson Mohawke and Truth, his involvement with respected labels Encrypted Audio and Deep Dark and Dangerous fuel an uncontainable flame. Proliferating an impressive lineage of releases, his most recent addition, the 'BLOCCD' EP on Deep Dark and Dangerous stands as a true testament to a diversely adept artist's deserved place as a gate-pushing contender within today's
expansive music scene. Prepared or not, the best from DMVU is coming for us when we least expect it.
DMVU
Facebook: https://www.facebook.com/DMVUofficial/
Twitter: https://twitter.com/hashtag/dmvu
Soundcloud: https://soundcloud.com/dmvu
Tickets —-> bitly.com/Hamww