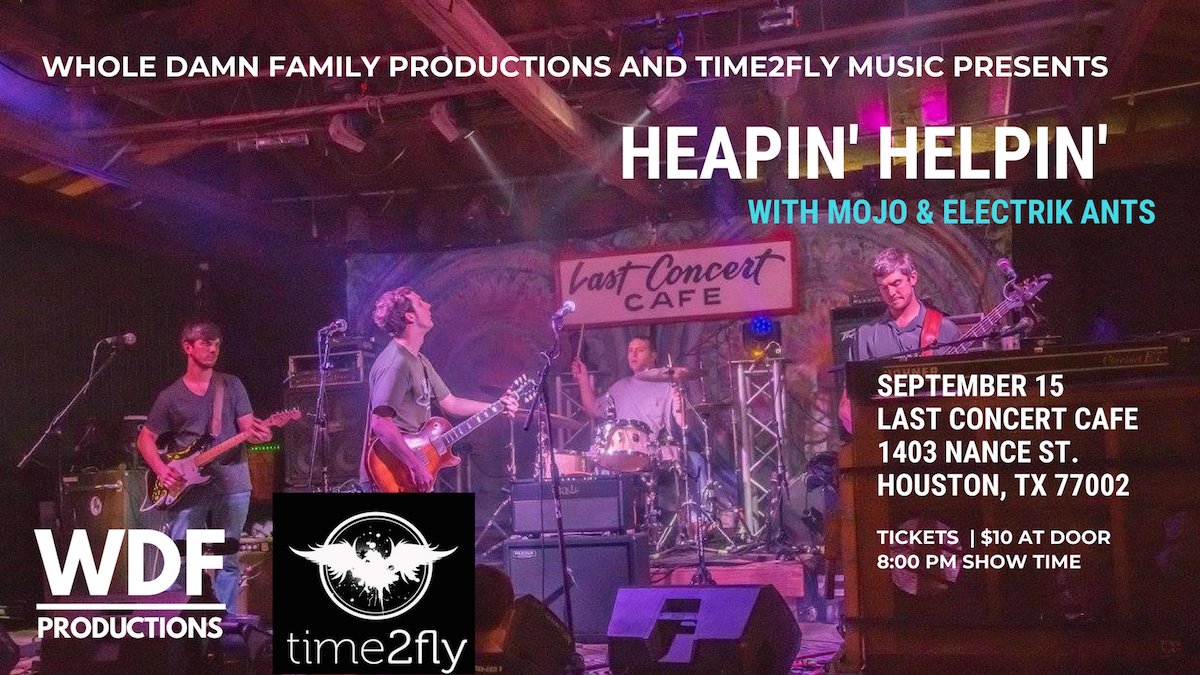 Heapin' Helpin, MOJO & Electrik Ants
at

Last Concert Cafe
Saturday

,
September
15
2018
Whole Damn Family Productions & Time2Fly Music presents:
Saturday Sept. 15th
(8:00 pm – 2:00 am)
Heapin' Helpin' combines blues, soul, funk, and folk influences to create a uniquely Texas-sized portion of rock. Their debut album, "Extra Gravy", captures the raw, energetic, rock sound the band has crafted.
feat. MOJO -trymoremojo
[ jamtronica | funk | psychedelic ]
http://trymoreMOJO.com
Seeking the highest of interstellar peaks, we're just a few funky fellas trynna make you dance.
An introspective look at funk and electronic music; MOJO offers funky riffs, spacey soundscapes, inviting vocals, and heavy grooves.
& Electrik Ants
[ hip-hop | psychedelic | rock ]
http://electrikants.com
Electrik Ants live in the vibe of the music – a genuine blend of hip hop, funk, psychedelic, and groove, unique and exciting. They are a seven-piece band with sax, DJ, drums, bass, and three members that rotate between rapping, singing, guitar, keys, synth, and percussion.
At Last Concert Cafe
1403 Nance St, Houston, Texas 77002