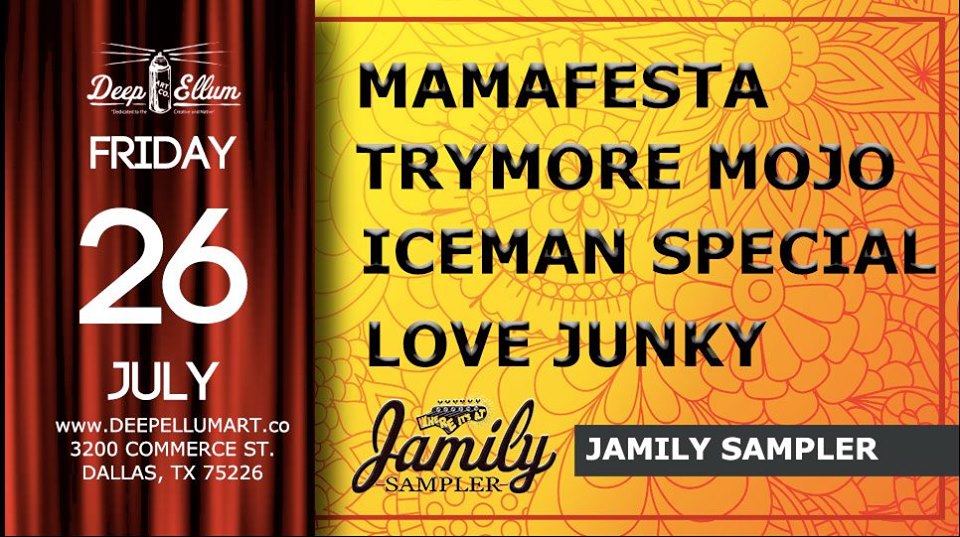 Jamily Sampler feat. TryMore MOJO, Mamafesta, Iceman Special
at

Deep Ellum Art Company
Deep Ellum Art Company Presents:
[ live music | art gallery | bar | art yard ]
http://DeepEllumArt.Co
Dallas Jamily Sampler (July)
feat. TryMore Mojo, Mamafesta,
The Iceman Special, Love Junky
Tickets on Sale Now!
http://bit.ly/July-Jamily-Sampler
—
TryMore MOJO(Dallas, TX)
[ deep groove | space funk | dance rock ]
www.TryMoreMojo.com
Seeking the highest of interstellar peaks, TryMoreMOJO guides the listener on their mission through space with their blend of funky riffs, modular soundscapes, energetic vocals, and heavy grooves; inviting fans to contribute their energy in a give-and-take partnership between performer and listener.
—
The Iceman Special (New Orleans, LA)
[ swamp funk | disco | deep groove ]
www. TheIceManSpecial.com
These Big Easy Bombardiers pack an ample amount of audio artillery in their set and you better believe that the Funka-Delic swamp will rain down heavy when they plug in. The Iceman Special is 4 piece outfit transplanted from the swamps of Louisiana to the big city of New Orleans. They combine a sound of dirty funk and delicate groove with elements of disco and rock and roll to create danceable jams with plenty of edge and substance. Screeching yet smooth guitars, wandering yet punchy bass lines, electronic synth samples, driving drum beats and powerful vocals form one a kind soundscapes.
—
Mamafesta (Austin, TX)
[ groove | jam | rock ]
www.soundcloud.com/mamafestamusic
Mamafesta is an original groove-rock outfit that was born in the fall of 2011 with a broad pallet of sounds and a conscious awareness for the rhythms of life. Over the years Mamafesta has channeled their original sound and reach out to their audiences through their musicianship and vocal messages in and around the Austin, TX music scene.
—
Love Junky (Dallas, TX)
[ folk | rock | jam ]
http://bit.ly/Listen2LoveJunky