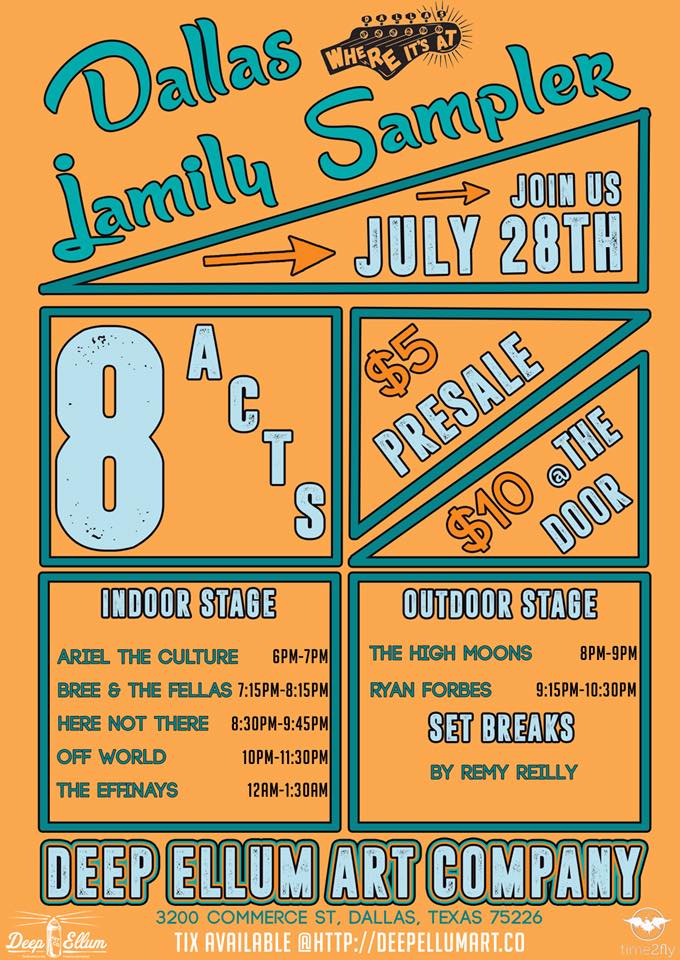 The Effinays play the Dallas Jamily Sampler
with Ariel & The Culture, Bree & The Fellas, Here Not There, Off World & more!
at

Deep Ellum Art Company
We always have a great time playing here! DEAC is the whole package! Come have fun with us and listen to some live music, see some art and other types of acts! We hit the downbeat at 12:00 a.m. then you got an hour and a half to get funky with us!
Deep Ellum Art Company Presents:
[ live music | art gallery | backyard | bar ]
http://DeepEllumArt.Co
THE DALLAS JAMiLY SAMPLER
[ 8 Acts | 2 Stages ]
Saturday, July 28
Tickets on Sale Now!
$5 ADV / $10 DOS
http://bit.ly/JamilySampler
— INDOOR STAGE —
>> 6:00 pm: Ariel & The Culture
Denton, TX [ r&b | soul | hip-hop ]
>> 7:15 pm: Bree & The Fellas
Dallas, TX [ jazz | r&b | fusion ]
www.breeandthefellas.com
>> 8:30 pm: Here Not There
Dallas, TX [ improv | funk | blues ]
>> 10:00 pm: Off World
Denton, TX [ rock | soul | funk ]
www.offworldband.com
>> 12:00 am: The Effinays
Dallas, TX [ reggae | latin rhythm | rock ]
www.theeffinays.com
— OUTDOOR STAGE —
>> 8:00 pm: The High Moons
Dallas, TX [ bohemian | singer-songwriter ]
>> 9:15 pm: Ryan Forbes
Dallas, TX [ singer-songwriter | acoustic ]
— SET BREAKS —
Remy Reilly Music (Dallas, TX)
[ keyboards | singer-songwriter ]