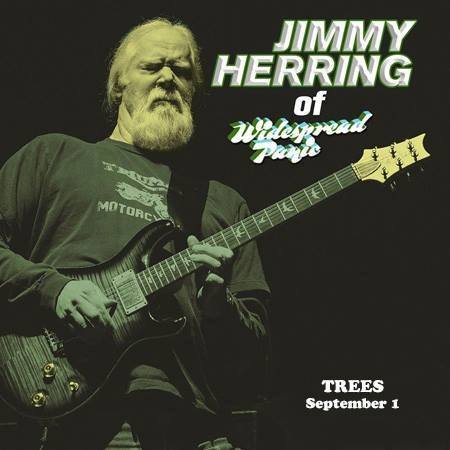 Widespread Panic's
Jimmy Herring and The Invisible Whip
w/ Friday's Foolery
at

Trees
Friday

,
September
01
2017
Jimmy Herring plus Friday's Foolery
Jimmy Herring (of Widespread Panic)
https://www.facebook.com/JimmyHerring/
https://www.youtube.com/watch?v=Fau1dnLWTLA
American guitarist Jimmy Herring is a musician's musician. The North Carolina native has been playing guitar for close to 40 years and exhibits signs that he's just getting started. A staple in the Jazz Fusion and Jam Band scene, Herring studied guitar at Berklee College of Music and the Guitar Institute of Technology. His playing style melds the influences of Jimi Hendrix's raw emotion, the twang of Steve Morse, and the flowing phrases of jazz legends Charlie Parker and John Coltrane.
Herring was the founding member of seminal band Col Bruce Hampton and The Aquarium Rescue Unit along with Jeff Sipe, Oteil Burbridge, Matt Mundy and Bruce Hampton himself. In 1997 he joined Butch Trucks, Derek Trucks, John Popper, Kofi Burbridge, Oteil Burbridge, Marc Quinones to form Frogwings after which he joined Jazz is Dead with Billy Cobham, Alphonso Johnson, T Lavitz. Jimmy was asked to join the legendary Phil Lesh as a part of his band which continued for good part of the decade. During his tenure there, he was asked to join the The Other Ones, the project that comprised of Grateful Dead members. During this time Jimmy also founded Project Z, an experimental instrumental trio with close friends Jeff Sipe and Ricky Keller. The band released two records under their name, the self-titled album in 2000 and Lincoln Memorial (Abstract Logix) in 2006
After the death of much loved and revered guitarist Mike Houser, Widespread Panic asked Jimmy to become a full time member. Jimmy continues to perform as the full time lead guitarist of the band to date.
Herring is featured on more than twenty records, and incredible has only released two solo records. In 2008, the humble guitarist broke away from working as a sideman with the release of his first solo endeavor Lifeboat (Abstract Logix). The highly melodic album boasts a personal side of Jimmy, unseen in his previous projects. With Lifeboat, Herring explored several styles of the Jazz and Fusion genre. Whether it was on his soulful, diminished blues, "Scapegoat Blues", his passionate ballad "New Moon", that reveals his Dregs influence, or his arrangement of the Disney classic the "Jungle Book Overture", Herring was sure to share the sonic stage with his fellow musicians. The album showcased Jimmy's writing and playing skills beyond his domain and became a favorite of his ardent fans as well as new fans like John McLaughlin, Chick Corea among others.
Jimmy second solo release Subject to Change Without Notice (Abstract Logix 2012), is a record that pushes Herring's music to another level. Produced the legendary John Keane, Herring again surrounds himself with close friends to make a strong, uninhibited record featuring mostly all originals as well as rousing covers of Mahavishnu Orchestra's Hope, George Harrison's Within You, Without You and Jimmy McGriff's Miss Poopie. It is obvious that Herring creates music simply out of love and respect for music. Herring demonstrates, without doubt, that his music and playing ability are continually growing, and that his music will thrill fans and fellow musicians alike.