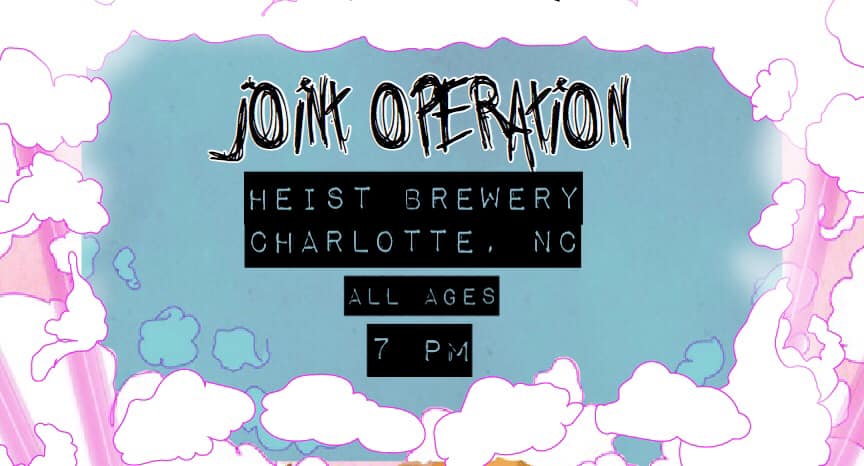 Joint Operation at Heist Brewery (Charlotte, NC)
at

Heist Brewery
Joint Operation returns to Charlotte, NC! This time at Heist Brewery!
Free show!
All ages
7 PM.
Joint Operation is a powerful funky-rock band from Baltimore, MD. This explosive four-piece has made quite a presence up and down the East Coast and through out the Midwest. JO has been billed with some of the biggest names in the genre. Whether it be reggae, punk rock or funk, this group rocks the house and shows fans how to party. Influences include Beck, Nirvana, Sublime, and many more! Joint Operation values the idea of connecting with others through their music. The band hopes to create music and play live shows to help others forget the struggles of life, and just enjoy living in the moment.
Fresh off a SOLD OUT album release show, JO is feeling better than ever! This band NEVER stops touring! JO done countless full length East Coast Mid-Atlantic tours, Midwest tours, and a tour with Bumpin Uglies as direct support every night! JO has done support slots for Less than Jake, George Clinton and Parliment Funkidelic, Reel Big Fish, The , Ballyhoo!, Passafire, Bumpin Uglies, RDGLDGRN, Pasadena, Of Good Nature, The Expendables, Kash'd Out, Joey Harkum, The Movement, and more. They are currently breaking on the festival scene with slots at Surrounded by the Sound, Freakstomp, Frozen Harbor Music Festival, Freakstomp, Bless The Woods, Beast Coast Reggae Festival and Weekend at Wolfies.