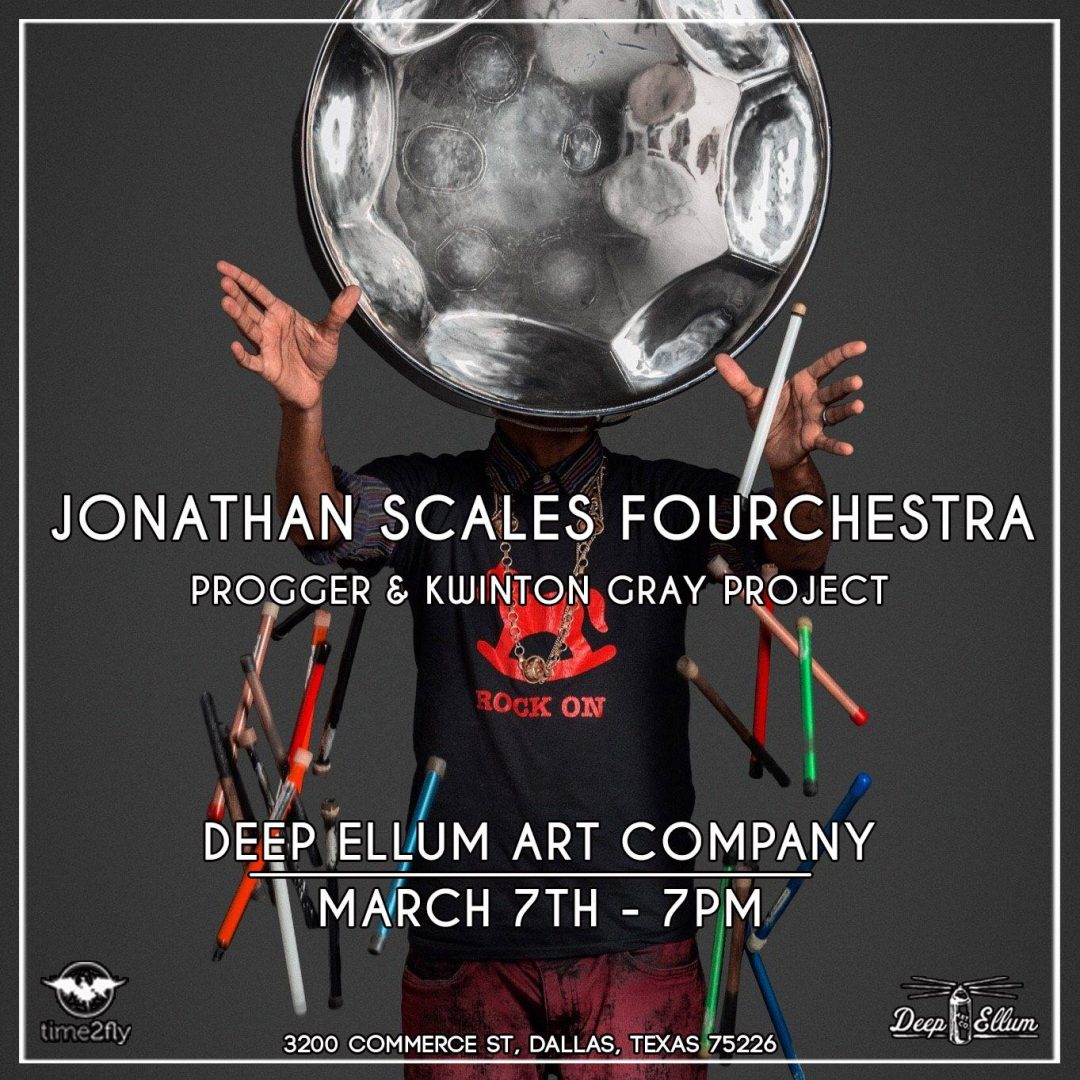 Jonathan Scales Fourchestra w/ Progger & Kwinton Gray Project
at

Deep Ellum Art Company
Deep Ellum Art Company Presents:
[ live music / art gallery & yard / bar ]
>>> 4:00pm: BAR OPENS
>>> 7:30pm: BOX OFFICE
>>> 8:30pm: MUSIC STARTS
Jonathan Scales Fourchestra
[ jazz / rock / fusion ]
www.jonscales.com
Multi-instrumentalist and composer Jonathan Scales is likely the most innovative steel drummer on the planet. His stunning, virtuosic technique is obvious and apparent to any who have seen him perform, but it is his mesmerizing compositions and tasteful, avant-garde improvisation that set him apart from the pack.
Progger
[ funk / soul / tronica ]
www.proggermusic.com/bio
Progger is an unusual collection of gifted musicians who were brought together by the simple desire to create new powerful, beautiful, engaging, modern music. Originating in Austin, Texas in 2011, Progger is led by saxophonist, keyboardist, and composer Brian Donohoe and incorporates some of the most in-demand young touring and session musicians from the Texas and New York City music scenes.
With compelling compositions and energetic live performances, Progger has steadily developed a devoted following through national tours, studio releases, and viral videos.
Kwinton Gray Project
Artists We Also Like: Stevie Wonder, George Duke, Ray Charles, Chic Corea, Herbie Hancock, Fats Waller, Art Tatum, Oscar Peterson, Robert Glasper, Foley, Prince, Michael Jackson, Quincy Jones.
Tickets on Sale Now!
$ 8 ADV // $10 DOS
http://bit.ly/JScalesFourchestra
PARKING:
Street parking available on Commerce (front) & Murray (side). Lot parking is available on Canton (back) across the street in the Equipment and Maintenance Services building after 6pm. We do not recommend parking in the business lot on Murray.
DRINK SPECIALS:
1/2 off "Crafts on Draft" Cocktails