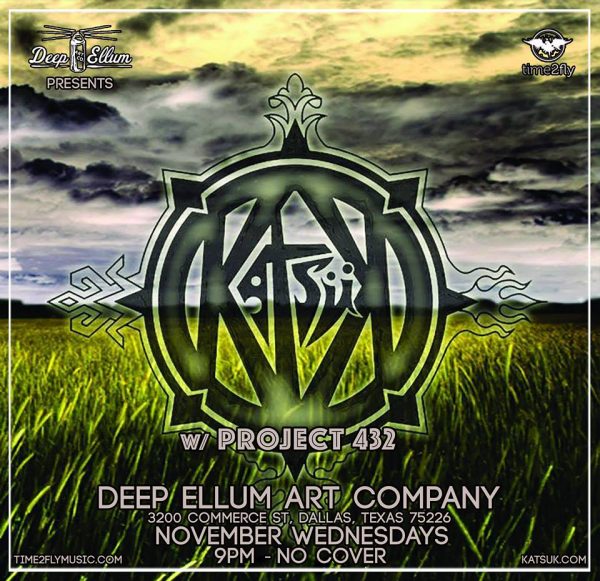 KatsuK
w/ Project 432
at

Deep Ellum Art Company
Wednesday

,
November
08
2017
Deep Ellum Art Company Presents:
[ live music / art gallery / food truck yard ]
KatsüK (Fort Worth, TX)
[ conscious world folk ]
www.katsuk.com
Like a breeze of fresh air resonating forth from the heart of Texas, KatsüK [n. catsook] is a powerfully magnetic group at the forefront of a fervent world transformation in conscious music. Cognizant in its lyrical message and veracious in its tone, KatsüK, seamlessly fuses world sounds with classical instrumentation, tribal percussion, infectious pop/folk melodies and a soaring and deeply odic quality of frontman and founder, Daniel Katsük's voice.
Project 432 (Denver, CO)
[ Reggae / Funk / Hip hop ]
This Denver based band is creating a buzz and hitting the ground running already booking shows from Austin to L.A., bringing a brand new sound carrying an explosively dynamic range of grooves & vibrations.
Mixing a variation of styles, they draw you in with their steady soothing heartbeat created by their hip hop/funk sound and the rock drive behind their drummer/bass combination. They ground you with some fresh fatty dub as well as some funky grooves that'll get your entire body moving. The guitar and vocals will take you over with resounding elements in blues, hip hop, rock and soul music, screaming in moments, crying in others, and somehow carrying that happy, slinky, snapback skanky reggae flavor we love so much. With the keys bringing out beautiful bright tones, and in moments the spacy sounds that take us to celestial places as well as more subtle sub base and dub vibrations, the beauty of this cosmic creation is something unlike anything being done, and the fascinating part is the meaning of the very name.