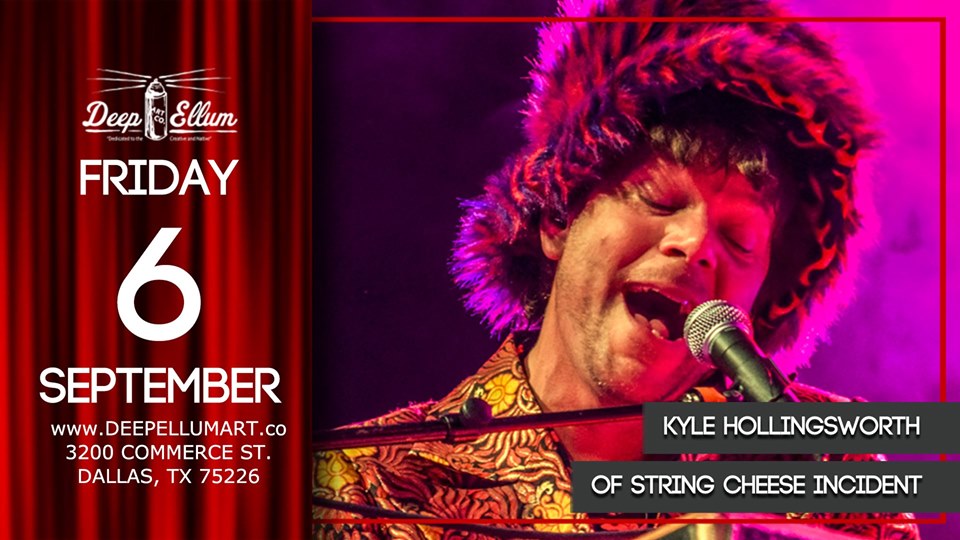 Kyle Hollingsworth (of String Cheese Incident) ‑ Dallas, TX
at

Deep Ellum Art Company
Friday

,
September
06
2019
Deep Ellum Art Company Presents:
Kyle Hollingsworth
(Keyboardist of The String Cheese Incident)
[rock | jam | bluegrass]
Tickets on Sale Saturday, July 13th @ 10am
>>> bit.ly/KyleHollingsworthofSCI_DTX
ROOTS RUN DEEP!
About Kyle:
30 years ago, Kyle Hollingsworth set out on a career in music. Since then, with a wealth of desire and an abundance of ability, Hollingsworth has established himself as a formidable and versatile music talent, with the ability to contribute, collaborate, compose, and communicate on a number of levels and within a vast spectrum of musical environments. Today, as a member of acclaimed jam masters The String Cheese Incident, Hollingsworth is revered by both peers and fans for his ability to write and perform in a mosaic of styles, from rock to classical, ragtime to bebop. Playing in SCI has allowed him unrestricted access to the world of music, and has bestowed on him the kind of fearlessness a composer needs to flirt with such disparate genres.
Those who've seen SCI know that they can jerk from funk to bluegrass on a chord change. "In the jam world, where there are no set ways of doing things, we're not afraid to move in and out of genres," he says, "and because of that I've learned to be creative, not only onstage but in the studio. I can get on board with something pretty quickly. You have to."
While his versatility and quick-study nature have become his signature skills with SCI, they have also proved tremendously helpful on stage during collaborations with a bunch of major acts, including Paul Simon, Bruce Hornsby, Bob Weir, Little Feat, and banjo master Bela Fleck. One summer he toured with Phil Lesh in a band that also included Steve Kimock, John Molo, and Warren Haynes. In the summer of 2008 he spent the summer touring with the "mickey hart band".This group featured Mickey Hart,George Porter,steve kimock and many others .In another amazing highlight, Kyle also toured with Mike Clark in a band that starred nearly all the original Head Hunters.
These gigs prove that Hollingsworth is as unafraid to step out of the limelight as he is to step into it. "When I play with these performers it's about showcasing them, to support the main role in the best possible way. Seasoned musicians can be tasty and laid back, too!" Kyle's first solo album release in 2004 reflected his jazz tastes. Titled Never Odd or Even, Joshua Redman and Robert Randolph guested, among others. Never or Odd or Even was the recording Hollingsworth had always wanted to make since he was a kid. In addition to his jazz influences, the album's music demonstrates Kyle's ability to seamlessly fuse genres.
His new Summer 09 release, titled "The There's Now," finds the musician coming in to his own. With solid song material and a slamming new band, Kyle is making his mark in the new, always-evolving music scene. "Then There's Now" delivers a blend of vocal and instrumental tunes and seamlessly displays his growth as a musician and as a songwriter. Also look for Kyle on tour with his trio DNA Land this spring throughout the Midwest. DNA Land offers loop based funk and hip hop beats and features Damien Hines (drums) and Dan Schwindt (bass/guitar).
www.KyleHollingsworth.com
www.facebook.com/KyleHollingsworthMusic
www.twitter.com/kyleonkeys
www.youtube.com/HollingsworthFilms
www.soundcloud.com/kyle-hollingsworth
www.instagram.com/kyle_on_keys