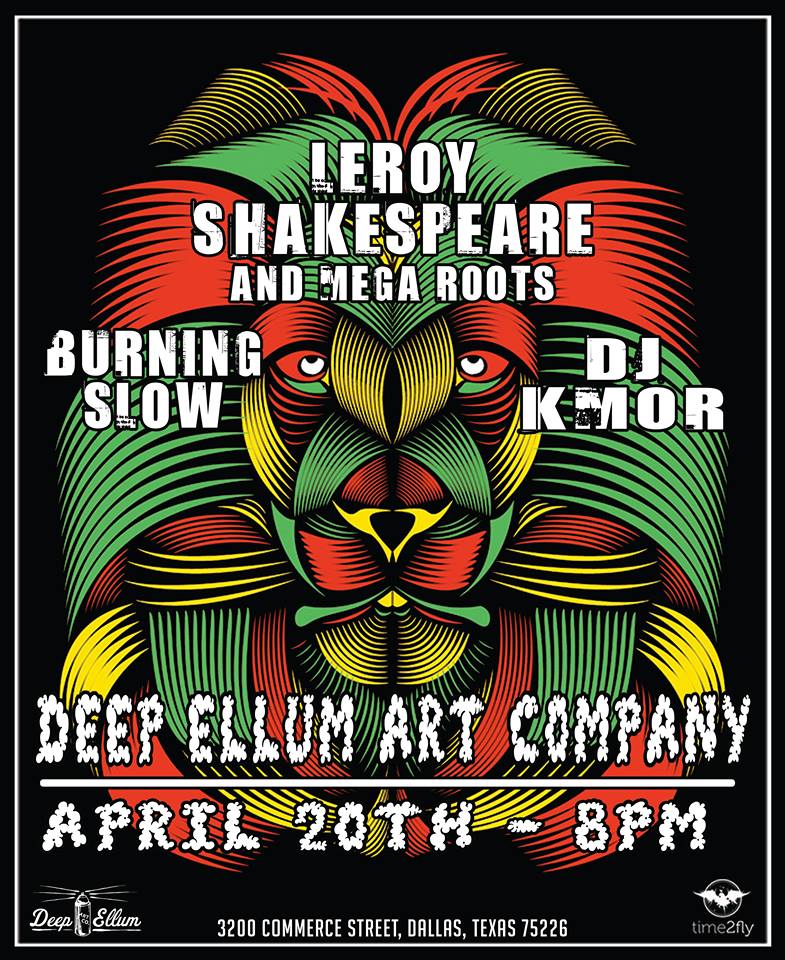 Leroy Shakespeare & Mega Roots, Burning Slow, & DJ KMOR
at

Deep Ellum Art Company
Deep Ellum Art Company Presents:
[ live music / art gallery / backyard / bar ]
>>> 4pm: BAR OPENS
>>> 8pm: BOX OFFICE
>>> 9pm: MUSIC STARTS
Happy Holidaze: A 4/20 Celebration!
Leroy Shakespeare & MEGA ROOTS
[ roots / dancehall / rock ]

"A powerful new sound with reggae rhythms, drum and bass to rock your feet with good messages, a uniquely powerful and intelligent roots reggae and dancehall. Action on stage can become interesting, just when it seems calm…he hits the listener with upbeat power chords and energy that makes you want to jump up! His music is perfect for young rastas.
Leroy Shakespeare was born in Kingston, Jamaica and come to the U.S. in the late 80's, based in Dallas and Los Angeles. The unique and powerful brand of roots reggae and dancehall, driven by good vibes across the U.S."
Burning Slow
[ alternative / rock /reggae ]
http://burningslow.wix.com/rock-music
BURNING SLOW is a 5 piece alternative/reggae/rock band which is heavily influenced by many genres such as rock, reggae, and experimental. Based out of DALLAS, TEXAS the band is known for engaging crowds and letting the music speak for its self.
Influences include: Nothing More, Red Hot Chili Peppers, Incubus, John Mayer, 12 Foot Ninja, Matisyahu
w/ Beats by Dj KMOR
>>> Tickets on Sale Now!
>>> $8 ADV / $12 DOS
PARKING:
Street parking available on Commerce (front) & Murray (side). Lot parking is available on Canton (back) across the street in the Equipment and Maintenance Services building after 6pm. We do not recommend parking in the business lot on Murray.
DRINK SPECIALS:
$5 Wells until Box Office opens (8pm)