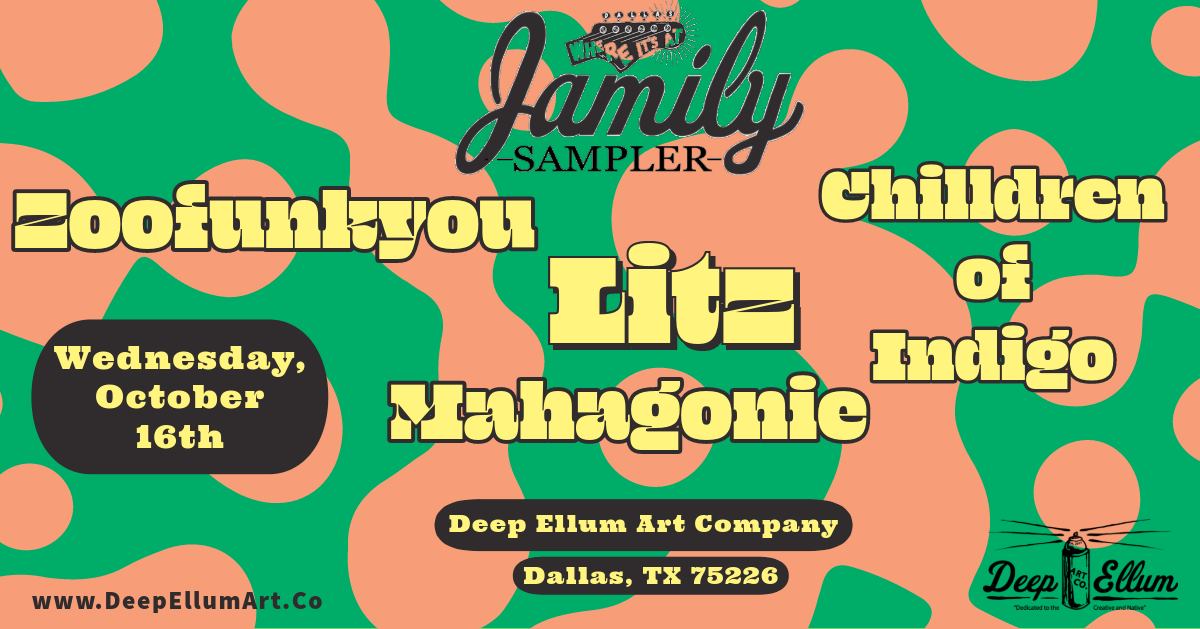 LITZ, Zoofunkyou, Chilldren of Indigo, & Mahagonie
at

Deep Ellum Art Company
Wednesday

,
October
16
2019
Deep Ellum Art Company Presents:
[ live music | art gallery | bar | art yard ]
http://DeepEllumArt.Co
Our Dallas Jamily Sampler featuring:
LITZ, Zoofunkyou, Chilldren Of Indigo, Mahagonie on Wednesday, October 16th, 2019
Tickets on Sale NOW!
LITZ – Frederick, MD
[Funk | Psychedelic |Jam]
Feels Like: Aqueous, The Magic Beans, The Werks
www.litzmusic.com
LITZ brings together a wide array of musical influences ranging from funk, jam, go-go, soul, electronica and just about everywhere inbetween to amalgamate a new sound for the ears of the world. Their sound strides to sonically transport it's listeners to another planet free of the stress, struggles, and tribulations of modern day life through the use of funky horn riffs, wah-wah keys, pounding bass, driving/progressive rhythms and melt your face guitar.
Zoofunkyou – Chicago, IL
[Blues | Psychedelic | Funk]
Feels Like: Doom Flamingo, Spafford, Lotus
Zoofunkyou is a modern day blues-infused psychedelic soulfunk phenomenon who have brought their quick-witted sonic expressionism and meaningful melodic lyrics to audiences all around the country. Zoofunkyou is a psychedelic stew featuring a Chicago based bluesy broth, sizzlin' with soul, chunks of funk, and meaningful melodic lyrics. Reminiscent of Jimi Hendrix, The Grateful Dead, The Alabama Shakes, and Funkadelic. The electric jams of Zoofü are guaranteed to tickle the soul, melt the face, and shake the booty!
Chilldren Of Indigo – Dallas, TX
[ Funk | Soul | Hip-Hop]
Feels Like: Illuminati Congo, Atmosphere, Del The Funky Homosapien
Chilldren of Indigo began in 2014 as a home studio project crafted by wordsmith Jo Indigo and the engineering wizardry of Jay Indigo. Following the departure of several rhythm players, the backbeat of Chilldren was established in 2016 with the addition of Tito the Indigo and Ryan Sneed on drums and bass respectively. After the release of their second album, 'Indigo Soul', Nic Indigo finalized the lineup as an alto saxophone and second guitar player. With a wide range of sonic influences from soul to punk, Chilldren emerge most unique in their ability to seamlessly blend genres. Eclectic styles arranged by the thick grooves of Ryan Sneed embraced by the dreamy, bluesy guitar and keys of Jay Indigo can be heard across their recordings. Conscious lyrics and psychedelic noises are the bread and butter of Indigo yet the main staple of this quintet is their union of vintage vibes with modern sounds. This self proclaimed future-hop band is out to bring the rock revolution to your city for years to come
Mahagonie – Dallas, TX
[psychedelic | funk | blues]
Feels Like: Khruangbin, Kikagaku Moyo, Jimi Hendrix
A good ol' classic power jam trio from Dallas, TX.