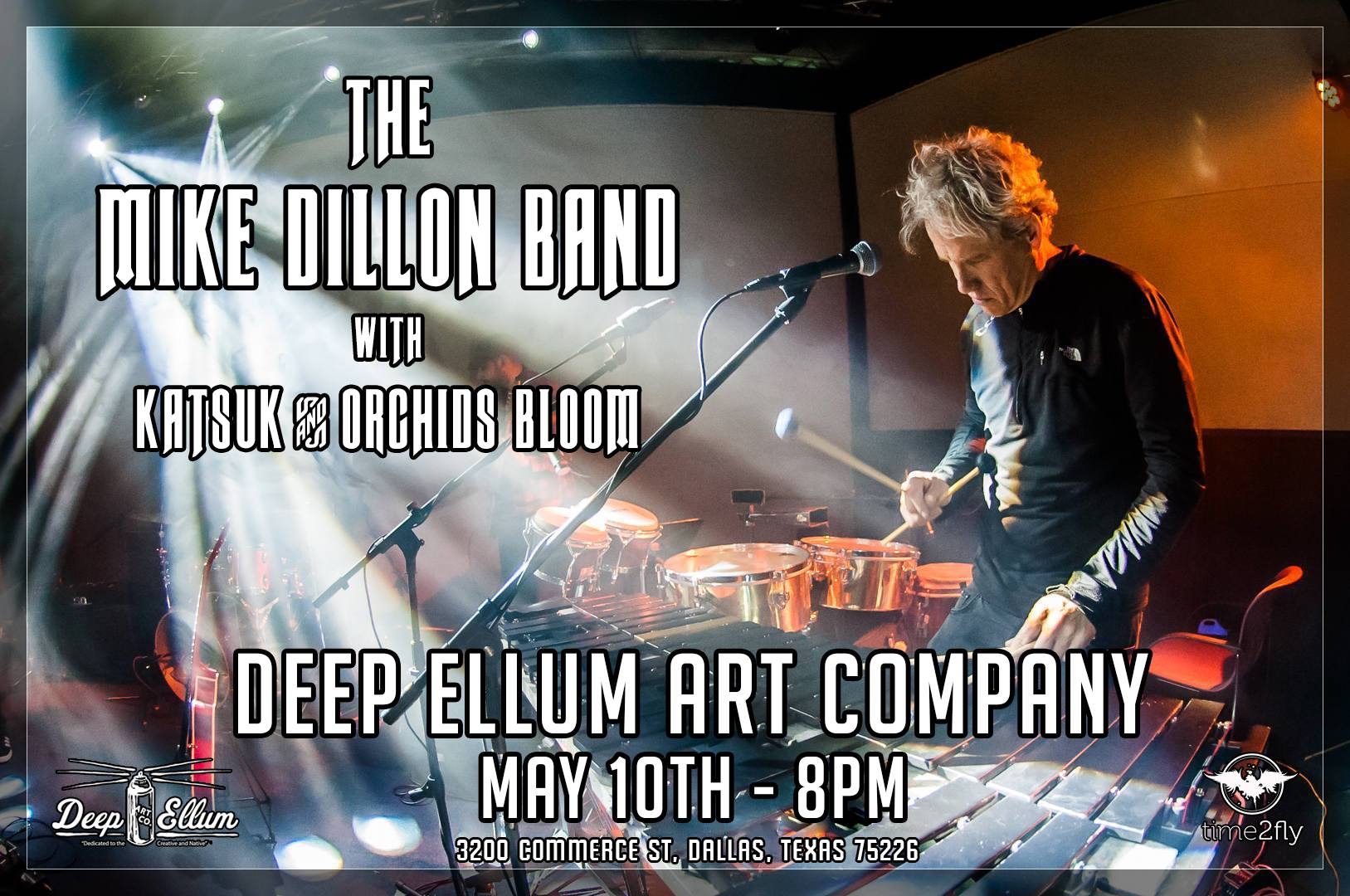 Mike Dillon Band with Katsuk & Orchids Bloom ‑ Primus AfterParty
at

Deep Ellum Art Company
Deep Ellum Art Company Presents:
[ live music / art gallery / backyard / bar ]
Pre-Game with us before Primus and Mastodon on May 10!
>>> 4pm: BAR OPENS
>>> 8pm: BOX OFFICE
>>> 8:30pm: ORCHIDS BLOOM
>>> 9:45pm: KATSUK (full band)
>>> 11:30am: THE MIKE DILLON BAND
Keep the Vibe Alive – Live Music until 2am
The Mike Dillon Band
[ punk / jazz / freak / funk ]
www.mikedillonvibes.com
Mike Dillon plays vibraphone and rants into the microphone. Combining styles and years of experience, MDB makes a noise that is unique in many ways.
The current lineup includes some of New Orleans best musicians. Nathan Lambertson is a top call upright jazz bassist with a punk rock heart of gold. Cliff Hines has been playing with Mike since 2012 and is the backbone of this group providing amazing counterpoint and power on the guitar. In the drum department, Paul Thibodeaux and Claude Coleman Jr. take turns battling providing the pocket and percussive artillery.
KatsüK (Live Band)
[ conscious world folk ]
www.katsuk.com
Like a breeze of fresh air resonating forth from the heart of Texas, KatsüK [n. catsook] is a powerfully magnetic group at the forefront of a fervent world transformation in conscious music. Cognizant in its lyrical message and veracious in its tone, KatsüK, seamlessly fuses world sounds with classical instrumentation, tribal percussion, infectious pop/folk melodies and a soaring and deeply odic quality of frontman and founder, Daniel Katsük's voice.
Orchids Bloom
[ singer / song-writer / violin ]
www.orchidsbloomofficial.com
Orchids Bloom were formed in late 2016 and consist of singer/songwriter/musician Lisa Marie Schalk and singer/songwriter/musician Scott Foster Harris. They both share an incredible passion for creating and delivering music that's real and that comes from a place of honesty and emotion…music that comes from the soul.
While in their company, no thought is safe, no idea too rigid, no emotion too delicate. Delight yourselves in the musical stories these two so enthusiastically tell, and, remember, the journey is the destination.
>>> Tickets on Sale Now!
>>> $10 ADV / $15 DOS
>>> Limited Number of ($7) Early Bird Tickets available
>>> http://bit.ly/PrimusAfterParty
PARKING:
Street parking available on Commerce (front) & Murray (side). Lot parking is available on Canton (back) across the street in the Equipment and Maintenance Services building after 6pm. We do not recommend parking in the business lot on Murray.
DRINK SPECIAL:
1/2 off Wines of Draft