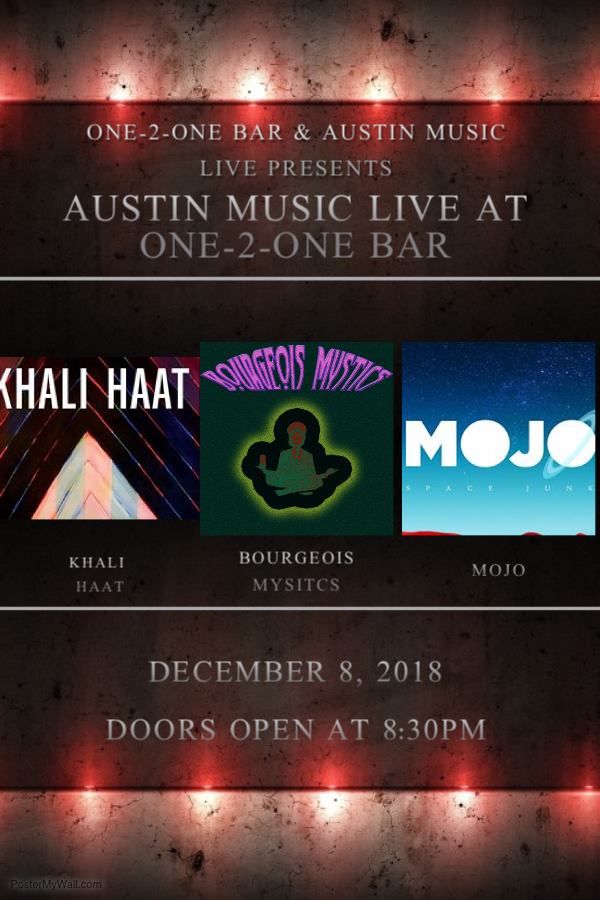 MOJO, Bourgeois Mystics & Khali Haat
at

One 2 One Bar
Saturday

,
December
08
2018
ONE-2-ONE BAR, Austin Music Live & XUMO are joining forces to share local Austin music with the rest of the country! Join us for a great show featuring Bourgeois Mystics, Khali Haat & MOJO. This show will be a live taping, so please help us fill the room and let everyone witness how ATX supports local music first hand!
MOJO-
An introspective look at funk and electronic music; MOJO offers funky riffs, spacey soundscapes, inviting vocals, and heavy grooves.
"MOJO an upcoming funk/electronic band are exactly what you need after a long week. Not only do they bring the grooves needed to wash away the stress of the week, the visuals provided are simply astounding. MOJO is like watching your own personal Pink Floyd, meets Rage Against the Machine, meets STS9, yes I went there. Do not miss these guys…" – DentonRadio.com
http://trymoremojo.com/
Bourgeois Mystics-
Bourgeois Mystics is a multi-regional, for-profit, personal growth cult and "genre-defying dance party waiting to explode," headquartered in Austin, TX. Founded in late 2014 by four acquisitive ascetics, they soon honed a distinct sound, oft described as "Zappa meets OutKast", and infused their music with the fundamental principle that profit should always trump basic human welfare.
The band has been recognized for their virtuosic musicianship & songwriting as well as their live shows, "an absurdist splatter of funk-rock, hip-hop, and jazz" that sets audiences ablaze with their "psychedelic Monty Python" tongue-in-cheek humor and bombastic energy. Notable accomplishments include sharing a bill with George Clinton, a national tour, over 150 shows, and nominations in the 2018 Austin Music Awards and Austin Music Video Awards.
2019 boasts a new 10-piece line-up, a slew of singles & video content, a fresh stage show, and a new EP titled, Turn On, Tune In, Sell Out (the follow-up to their fan-lauded, critically ignored debut, Eureka!).
bourgeoismystics.com
Khali Haat-
Afrobeat/Afro-Pop/Psychedelic/Funk Music from Austin, TX.
"Though Hard Proof and the Golden Dawn Arkestra get all the press in Austin, Khali Haat deserves a seat at the neo-Afrobeat table. The undulating octet masters groove as well as its colleagues, and the pop vocals it layers atop the high-life/funk mantra give it extra spice. See the band's eponymous 2016 debut for corroboration." – Michael Toland, Austin Chronicle
"Khali Haat plays a form of Afropop funk, specializing in rhythmic, horn-driven jams. The band is notably tight, able to pull off their hypnotic, circular sound with jazz intensity. Their compositions go from simple, repeated melodies to complex, multi-facet creations, deeply psychedelic, upbeat, and danceable. They even have a few vocal moments, but it's all about their improvised-sounding instrumental passages that command the band's far-reaching sound. Their debut record is adventurous, especially for pop-minded ears, but Khali Haat are quick to envelop on headphones and certainly on the live stage…" – operationeveryband.com
http://www.khalihaat.com/