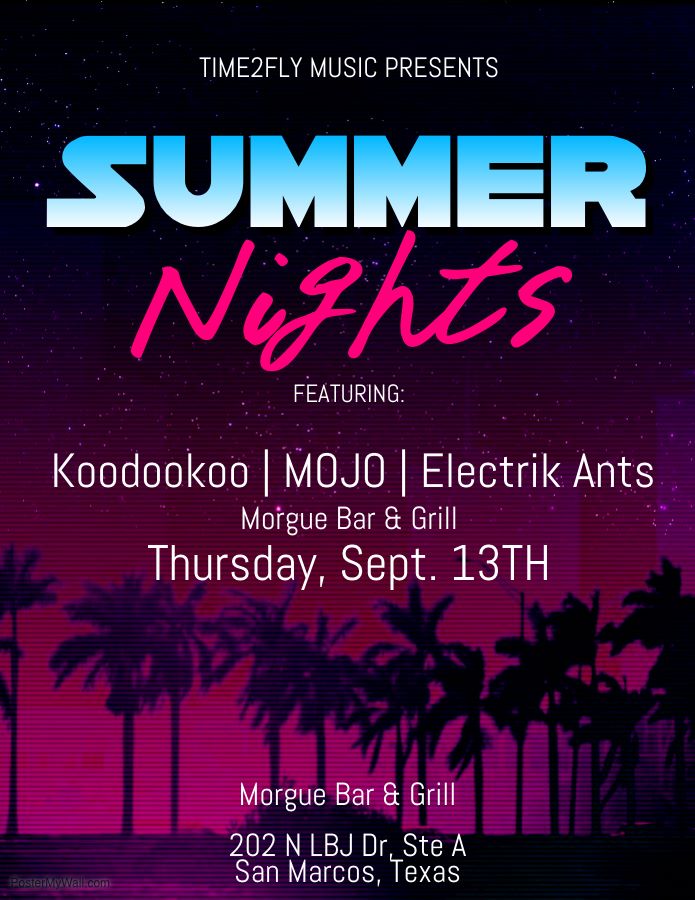 MOJO, Koodookoo, Electrik Ants | The Morgue Bar & Grill
at

Morgue Bar & Grill
Thursday

,
September
13
2018
Time2Fly Music Presents:
FREE SHOW THURSDAY!!
Featuring:
Electrik Ants (9:00 • Dallas • Funk/Hip-Hop/Rock)
trymoreMOJO (10:15 • Dallas • Jamtronica/Psych/Space-funk)
Koodookoo (11:30 • Austin • Prog/Funk/Jam)
MOJO -trymoremojo (Dallas, TX)
[ jamtronica | space-funk | psych ]
http://trymoreMOJO.com
Seeking the highest of interstellar peaks, we're just a few funky fellas trynna make you dance.
An introspective look at funk and electronic music; trymoreMOJO offers funky riffs, spacey soundscapes, inviting vocals, and heavy grooves.
"MOJO an upcoming funk/electronic band are exactly what you need after a long week. Not only do they bring the grooves needed to wash away the stress of the week, the visuals provided are simply astounding. MOJO is like watching your own personal Pink Floyd, meets Rage Against the Machine, meets STS9, yes I went there. Do not miss these guys…" – DentonRadio.com
Goes well with:
The Werks, Papadosio, Spafford, STS9, Lettuce, Pigeons Playing Ping Pong, Umphrey's McGee, Earphunk, Tauk, Tycho, Zoogma
Koodookoo (Austin, TX)
[ Jam | Prog | Psych ]
Koodookoo invites you to travel the furthest reaches of the multiverse and dive into the deepest parts of your heart and mind on a consciousness-expanding journey. From the live music capital of the world, Koodookoo has developed a tidal wave of sonic abilities that bend reality, push boundaries, and transform all preconceived notions of where music can go.
& Electrik Ants (Dallas, TX)
[ hip-hop | psychedelic | rock ]
http://electrikants.com
Electrik Ants live in the vibe of the music – a genuine blend of hip hop, funk, psychedelic, and groove, unique and exciting. They are a seven-piece band with sax, DJ, drums, bass, and three members that rotate between rapping, singing, guitar, keys, synth, and percussion.