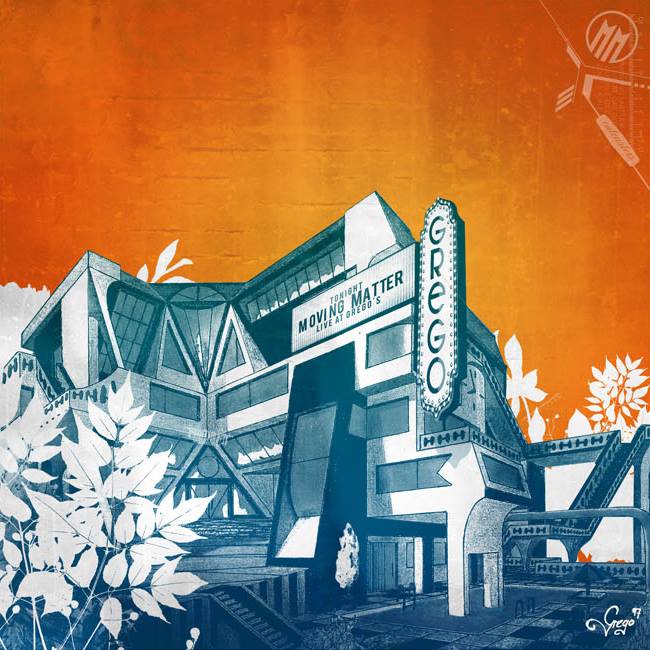 Moving Matter at Sundown
at

Sundown at Granada
Sundown at Granada & Time2Fly Music presents:
[ real food. real music. real local. ]
Moving Matter (Austin, TX)
[ rock / psychedelic / livetronica ]
www.movingmatter.com
Moving Matter, is an enigmatic Austin, TX-based rock and jam outfit. Their latest release, "Live at Grego's" is a 2-disc showcase of the band's raw, live power, unmatched improvisation, and noteworthy songwriting abilities.
Since relocating to the musical mecca of Austin from Ft. Collins, CO in 2003, the band has steadily progressed, continuing to hone its high-energy sound, and frequently garnering praise and comparisons to such acts as Sound Tribe Sector 9, Phish, and Particle. Bassist Chris Holland (deep pocket grooves) and guitarist Josh Pearson (soaring leads) share most of the song-writing duties, while drummer Dan Mcgreevy captains the ship with his rock-steady beats. Bozarth on keys has rounded out the sound with lush synth textures and screaming hammond organ.
Moving Matter's previous LP, "Infrablue" revealed the crafty songwriting and studio prowess that the band had found in recent years, but it is undoubtedly late at night, under the lights and in the smoky bars where Moving Matter creates its magic. Swimming the uncharted waters of live improvisation, the band has a knack for creating powerful music that is undeniably in tune with the present moment and teeming with the energy of those who bear witness from the audience. At their club gigs, its not uncommon to see the band rock into the wee hours, long past last call, as crowds refuse to let the party end and bar managers get sucked into whirling sounds and good vibes of the band.
Moving Matter has shared the stage with such artists as The Disco Biscuits, The Roots, Thievery Corporation, Sound Tribe Sector Nine, Tea Leaf Green, Little Feat, Particle, Tony Furtado, Brothers Past, and Big Head Todd & the Monsters. MM has rocked the stages of The Fox Theatre in Boulder, Antone's and the infamous Stubb's BBQ in Austin, the Granada Theater in Dallas, and Wakarusa Music Festival in Kansas.
NO COVER!
2 SETS – MUSIC UNTIL 2AM
www.sundownatgranada.com