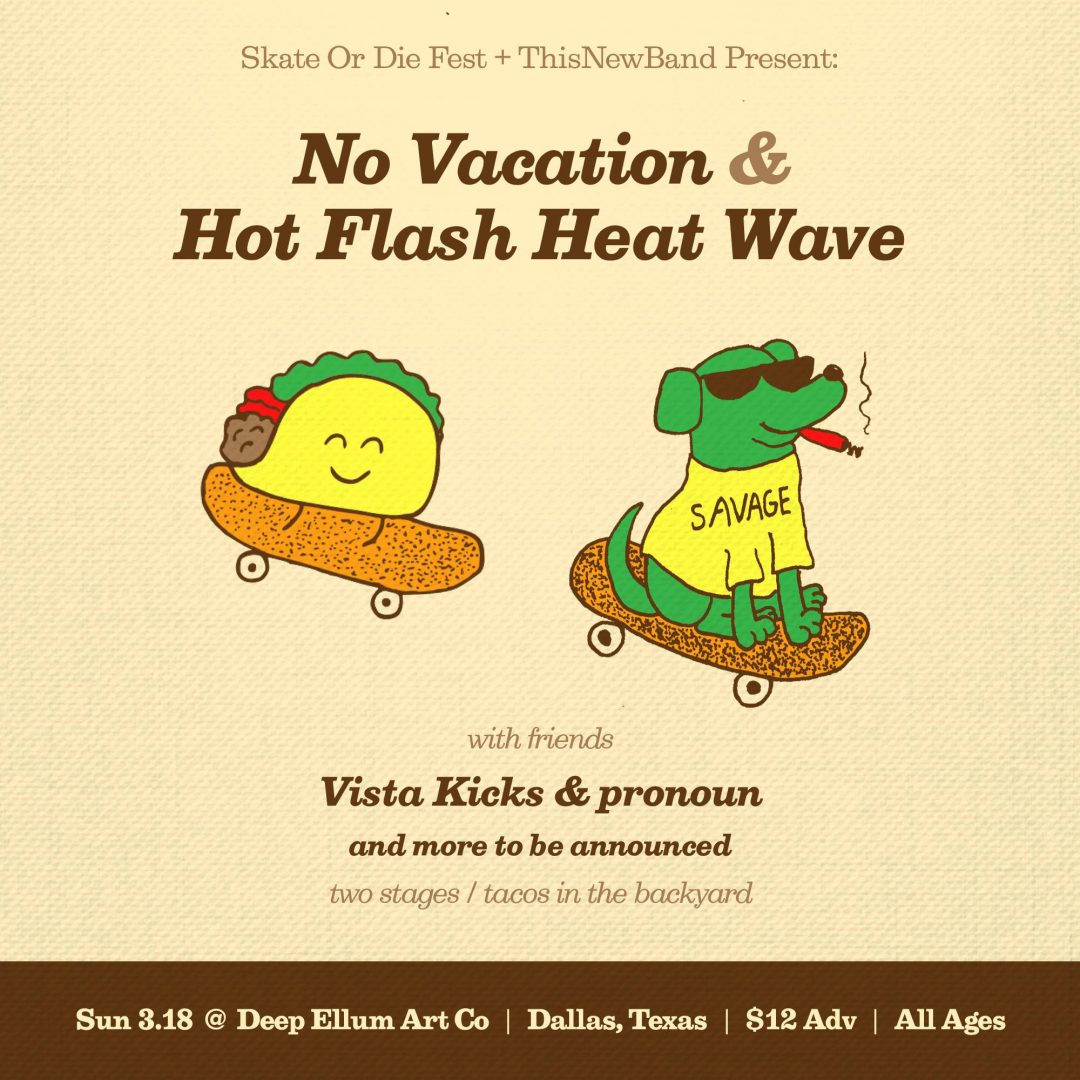 No Vacation, Hot Flash Heat Wave, Vista Kicks, Pronoun & More TBA!
at

Deep Ellum Art Company
Skate Or Die Fest & This New Band Present:
No Vacation & Hot Flash Heat Wave
with friends Vista Kicks & pronoun
With 4 more bands playing on the outside stage (to be announced)!
8 Bands / 2 stages / Tacos in the backyard
Sunday, March 18
7pm doors
Dallas, Texas @ Deep Ellum Art Company
$12 advance / $15 day of show
All Ages
Tickets available here: https://prekindle.com/promo/id/24898849322532492
—
Our second-annual post-SXSW party, featuring 8 incredible indie bands headed out of Austin after a week of playing way too many shows and eating lots of BBQ. We'll be sending them off in style, with tacos, southern hospitality, and plenty of good vibes.
P.S. — Some of our bands need places to stay on the night of the show. If you have a spare room and would like to host some amazing musicians, please message Harley Barnes or email harley@thisnewband.com ♥
—
* NO VACATION // Brooklyn, New York *
https://open.spotify.com/artist/32zeX1IoVKAGWMyy1isKUq?si=kShFdT7ETfOCqBsiggEUsQ
No Vacation began in early 2015, and quickly received attention for the nostalgic bedroom-pop sounds off of their debut mixtape, Amo XO, and surf-rock single, "Draem Girl". A few months following the release of their second mixtape, Summer Break, No Vacation went on an indefinite hiatus. After playing shows under various names and a few line-up changes, Sab Mai, Marisa Saunders, Nat Lee, and Harrison Spencer have reassembled to make up No Vacation.
Since their reunion, No Vacation has released 2 singles and an EP titled, Intermission, which was released by Topshelf Records in November 2017. As they transition out of San Francisco, No Vacation will bring the novice "wavy-gravy dream-pop" sounds of Intermission to Brooklyn.
—
* HOT FLASH HEAT WAVE // San Francisco, California *
https://open.spotify.com/artist/33LSz2nhC8pCPTb3pd5add?si=afnaKutATHirxHG1e-Fr7w
Hot Flash Heat Wave is the brainchild of four best friends from Davis, California. During their high school years, they met and bonded through participation in a small, tight-knit community of musicians that put on a slew of DIY shows in parents' garages and local venues, at the time each playing in a variety of different projects. After leaving Davis for various cities in California, the four eventually reunited in San Francisco to write and record under the same roof. Their debut LP Neapolitan, released in 2015, quickly launched them to the forefront of the Bay Area music scene with its candied hooks, fuzzy guitars and tunes reminiscent of The Smiths gone new wave.
The boys have wasted no time following up with their sophomore release Soaked (LP and cassette out June 2nd on OIM Records), introducing a more diverse and groovy approach to their shimmering dream-pop sound. The album was recorded at Skyline Studios in Oakland with producer Jeff Saltzman (Hot Fuss, Green Day) and mixed by Eric Broucek (The Drums, Cut Copy, DFA Records). Where dirty guitars and speedy garage rock anthems once held the reigns, Soaked brings forth a colorful array of tones and instrumentation over compositions filled with sweeping emotion, achieving a higher level of production value and pop sensibility. It is apparent how the band's sound has grown while still retaining loyalty to their classic, melody-centric songwriting.
After gigging up and down the west coast and opening for acts such as Alvvays, Daywave, Mild High Club & Surfer Blood, Hot Flash's growing reputation for energetic live performances has brought audiences together from across Northern California to sing, dance, and have fun together. The group will embark on their first national tour with the release of the album this April. See the story unfold in a city near you.
—
* VISTA KICKS // Los Angeles, California *
https://open.spotify.com/artist/6wnSPJpmVKFcn1TpRl5Uli?si=VZU8L36GQkmWPIhlmRXMug
It reads like the kind of story you'd see in an old rock rag or zine…
Four lifelong friends from Northern California grow up obsessed with the sounds of AC/DC, The Beatles, Black Sabbath, The Bee Gees and Michael Jackson. Living within a block of each other since kindergarten, they began playing anywhere and everywhere with a stage by the age of 16, taking over supper clubs, parties, and backyard barbecues. After their single "Make It Real" cracked 2 million Spotify streams, they made a collective decision to forego college and trade their small Sacramento suburb for Hollywood, forming Vista Kicks in late 2015. Living together in a cramped one-bedroom apartment, the quartet—Derek Thomas, Sam Plecker, Trevor Sutton, and Nolan Le Vine—quietly ignited a buzz throughout L.A. and beyond with two full U.S. national tours under their belts and recording with Tommy Lee behind the board.
Back in L.A., they'd sell out local shows and host intimate (and raging) booze-soaked "Vista Kick Backs" in the studio where they resided for four months. Within a year, the band's independent 2016 Chasing Waves EP and additional singles generated over 5 million cumulative Spotify streams and 3.2 million YouTube views. However, everything set the stage for the release of their 2017 full-length, Booty Shakers Ball—self-produced by the musicians themselves and engineered by their guitar player and vocalist Sam Plecker.
—
* pronoun // New York, New York *
https://open.spotify.com/artist/08q2kFjr9p4cJqTGU9xJgg?si=SZ67_dssToCU_Yne-OIE5A
—
and 4 more bands to be announced!